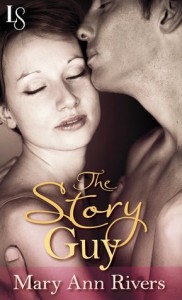 Format read: ebook
Series: N/A
Genre: Contemporary Romance
Release Date: July 8, 2013
Number of pages: 120 pages
Publisher: Loveswept
Formats available: ebook
Purchasing Info: Amazon, Barnes & Noble, Kobo, Sony, Goodreads
Format read: ebook
I will meet you on Wednesdays at noon in Celebration Park. Kissing only.

Carrie West is happy with her life . . . isn't she? But when she sees this provocative online ad, the thirtysomething librarian can't help but be tempted. After all, the photo of the anonymous poster is far too attractive to ignore. And when Wednesday finally arrives, it brings a first kiss that's hotter than any she's ever imagined. Brian Newburgh is an attorney, but there's more to his life . . . that he won't share with Carrie. Determined to have more than just Wednesdays, Carrie embarks on a quest to learn Brian's story, certain that he will be worth the cost. But is she ready to gamble her heart on a man who just might be The One . . . even though she has no idea how their love story will end?
My Thoughts:
You know any romantic story featuring a librarian is going to tug at a book lover's heart strings, right? But Brian's life is the real emotional focus and, understandably, affected me the most in reading The Story Guy. Truly, it's one thing when elements in life just make finding love harder, but when it's your own sense of duty and rightness that compound it, it's downright difficult for people on the outside to digest. This is what is explained beautifully by Mary Ann Rivers as she brings these two people together in a way that, for me, was so unique and interesting.
The idea of just meeting one day a week as a way to feel a connection outside of the harsh realities took me by surprise as much as it did for Carrie reading about it. She is a brave character in allowing herself to open up to someone knowing that one day is all she would get. What bothered me a little was, and I think this has more to do with the novella format than anything else, how quickly Carrie decided she wasn't satisfied with these restrictions, though she was fully aware of what she was getting into. She pushed her way into Brian's life despite his emphatic plea that he wanted it separate from the time they had together.
But for a short story, Rivers was able to bring this together in a way that showed while yes Carrie was a bit pushy, Brian needed this push to see his life in a different way. A lot was packed into the brevity of the story, with fully developed outside characters, the love story of Carrie and Brian, and the issue that sees Brian so dedicated that he only has one hour on Wednesdays available to indulge in something just for him. There was also room for heartache and recovery, a perfect roller coaster of emotions needed to really appreciate the happy ever after.
This is, simply, a lovely story with heart-wrenching moments and an HEA that resonates because of the costs and the benefits that come along with it.
I give The Story Guy 4 stars!
***FTC Disclaimer: Most books reviewed on this site have been provided free of charge by the publisher, author or publicist. Some books we have purchased with our own money and will be noted as such. Any links to places to purchase books are provided as a convenience, and do not serve as an endorsement by this blog. All reviews are the true and honest opinion of the blogger reviewing the book. The method of acquiring the book does not have a bearing on the content of the review.