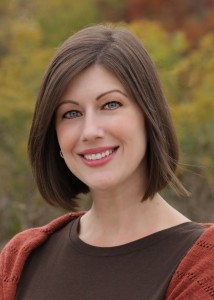 Today we are happy to have Macy Beckett, writer of the fun, sexy Sultry Springs series, visit us here at Book Lovers Inc.! Macy is stopping by to celebrate the release of the latest book in the series, Surrender to Sultry. So, let's all give her a warm welcome! And remember to enter the giveaway at the end, too.
Stella: Hi Macy, welcome to Book Lovers Inc! Can you please tell us a bit about yourself?
Macy: You bet—I'm thrilled to be here! In a nutshell, I'm a former teacher who left the classroom to write hot, humorous romantic comedies. Penning novels is a lot more fun than teaching grammar, so I never looked back.
Stella: Are you a planner or pantser? Can you tell us a bit about your writing process? How do your novels come to life?
Macy: I'm a hybrid, a plantser. I begin with a short synopsis, then I pants it from there.
Stella: What do you think is the difference between a reader and a real Book Lover?
Macy: My husband reads—mainly magazine articles and the occasional political text—but for him, it's a means to an end as opposed to a form of pleasure. That's a reader. I'm a book lover, always looking forward to immersing myself in a fictional world. (I should disclaim that Mr. Macy always makes time to read my books. He's sweet like that.)
Stella: Your latest novel, Surrender to Sultry (released last week, congrats!) is the third book in your Sultry Springs series, could you tell us a bit about this series and what our readers can expect of Surrender to Sultry in particular?
Macy: The series tagline is "Welcome to Sultry Springs, where first loves find second chances." And with the exception of book two, all the stories in the series reunite past loves. (I have a soft spot for that sort of thing.) The books are light and humorous with a lot of steam.
Stella: Could you introduce the hero and heroine (or any other character) of Surrender to Sultry to us?
Macy: Colt is a reformed bad boy, and trust me, he's been VERY naughty! He turns his life around after a tragic incident, and when his high school sweetheart, Leah McMahon, returns to town to care for her ailing father, Colt gets a second chance with the one that got away. But Leah's not the perfect "angel" he remembers. She's got secrets of her own, and they'll both have to forgive each other to find happily-ever-after.
Stella: Do you remember how the story (characters)/inspiration for the series came to be? Any specific event/moment that inspired it?
Macy: No, but I can tell you the song "There's No Gettin' Over Me" by Ronnie Milsap was tremendously inspiring for writing Colt and Leah's story. I must have listened to it a thousand times. The lyrics perfectly describe how neither was able to move on because their love had never died.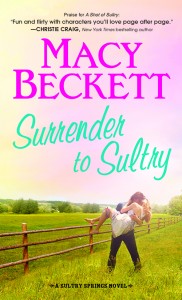 Stella: Now can you tell us 3 reasons why people should read Surrender to Sultry?
Macy: 1: Colt is a red-hot, dirty-talking lover who will make you blush. 2: He and Leah have chemistry like WHOA. 3: The epilogue made me ugly-cry a river of happy tears. I think it will tug at your heartstrings, too.
Stella: Could you please summarize Surrender to Sultry for us Twitter-style (in 140 characters or less)?
Macy: After a decade apart, the town bad boy and the preacher's daughter rekindle their scorching love affair.
Stella: Your Sultry Springs series is a small town romance series. Why did you choose to write one and what do you think is the appeal of setting a series/story in a small town?
Macy: It's funny, I've lived in towns that make Sultry Springs look like a booming metropolis, and I didn't enjoy the experience. I'm a suburb gal. But when it comes to fiction, I love writing tiny towns. I honestly don't know why. Maybe it's the quirkiness to the supporting characters and the way small communities pitch in to help one another.
Stella: Aside from your series, which other small town romance novel or series would you recommend?
Macy: Rachel Gibson writes the quirkiest towns, and I love them.
Stella: What is next on your schedule? Any future plans you'd like to share with us?
Macy: I have two new series coming in 2014. One is another hot and humorous contemporary romance releasing in April from Penguin, and the other is a YA sci-fi romance releasing in February from Disney-Hyperion. Here are Goodreads links to both:
PREMARITAL HEX: http://www.goodreads.com/book/show/17316805-premarital-hex
ALIENATED: http://www.goodreads.com/book/show/13574417-alienated
Stella: Could you share with us something, a trivia that not many people know about you?
Macy: Hmm. I get this question a lot, so I have dig deeper each time to come up with new trivia! Here's something most people don't know: when I'm reading a romance and I don't connect with it, I'll still skim ahead and read the sex scenes before giving up.
About the Book:
Feeling the Heat…
How do you stay under the sheriff's radar in a town that prides itself on knowing everyone's business? Leah's not sure it's possible, but she's determined to avoid Colton Bea for as long as she can. Seeing him again would be too heartbreaking—and she knows from experience his bone-melting kisses are way too tempting.

Colt still hasn't forgiven Leah for her sudden disappearing act ten years ago. He may no longer be the hellion he was in high school, but he's still willing to play dirty to get what he wants. And he won't let Leah get away again. Armed with chocolate éclairs, a killer smile, and an adorable niece, he will make sure that this time the love of his life has plenty of reasons to stay.

Praise for Surrender to Sultry:
"This heartwarming tale will pull at the heartstrings yet still leave the reader with a sense of satisfaction." —RT Book Reviews, 4 Stars

"Fans of Sultry with a Twist and Shot of Sultry will appreciate Beckett's humor and the reappearance of old friends." —Publishers Weekly
Buy it at: Amazon | Barnes and Noble | Kobo | Sony | Goodreads | Book Depository | Book Depository UK
About the Author:
Macy Beckett writes hot and humorous romances, including the Sultry Springs Series—where first loves find second chances: Sultry with a Twist, A Shot of Sultry and Surrender to Sultry. Additionally, Macy writes young adult science fiction under the name Melissa Landers. You can learn more about her books—for adults and teens— by visiting her: Website | Facebook | Twitter.
~~~~~~~~~~~~~~~~~~~~~~~~~~~~~~~~~~~~~~~~
~*~*Giveaway*~*~
Sourcebooks has generously offered a copy of A Shot of Sultry to a lucky commenter from the US or Canada!
All you have to do is leave a comment telling us:
What element of Texas living would have YOU longing to return there?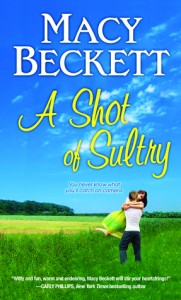 And for our international readers, BLI is offering an ebook copy of A Shot of Sultry! Please indicate in the comments which giveaway you qualify for.
(You can read our full giveaway policy here)
Please be sure to include a valid email address in the comment form (need not be in the actual body of the comment).
Giveaway ends on 31 August 2013 and we will announce the winner on Sunday.
Good Luck!