Viewing Category » L.A. Witt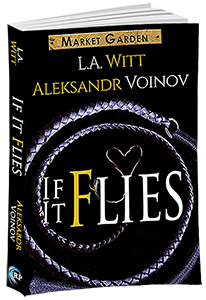 Today we're very happy to welcome L.A. Witt and Aleksandr Voinov  on Book Lovers Inc.  Their new series the Market Garden was written in collaboration. They are here today to give us a glimpse at how this series (and others) came to be. I can honestly say this is one of the hottest series I've ever read.  I couldn't be more happy about this collaboration =)  Let's give a warm welcome  to these wonderful authors and don't forget to comment to be entered in the giveaway.
Aleksandr Voinov and L. A. Witt, and we're thrilled to stop by and talk about If It Flies, the newest story in the Market Garden universe!
Comment on this post to enter in a drawing for a choice of two eBooks off my backlist (excluding If It Flies or Covet Thy Neighbor**) and a $10 Riptide Publishing store credit. Entries close at midnight, Eastern time, on March 17th, …

Aleksandr Voinov,Giveaways,Guest Post,L.A. Witt,The HEA Lover

13 Mar 2013

5 comments