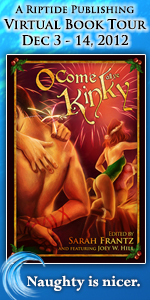 It is with pleasure that we welcome L.A. Witt on Book Lovers Inc to promote the O Come All Ye Kinky anthology! She will tell us how she got the idea for her story.  Since this is part of a fantastic Riptide Virtual Book Tour for the release of O Come All Ye Kinky (I never get tired of this title), don't forget to leave a comment to be entered in a very kinky giveaway 😉  Let's give  a warm welcome to L.A. Witt!
Thank you for joining us on the O Come All Ye Kinky virtual book tour! For two weeks, anthology editor Sarah Frantz and her merry band of authors will be stopping by some of your favorite blogs to spread kinky holiday cheer! How, you ask? Well, if you don't know what candy caning is yet, pick up your copy of O Come All Ye Kinky from Riptide Publishing today and see how these authors get into the holiday spirit.
Whether you've been naughty or nice, follow our tour for the chance to win one heck of a stocking stuffer—a $100 gift card to The Stockroom, where kinky dreams come true! Leave a comment on the post below by Dec. 16 and you'll be entered to win. Check out the complete tour listing to see all the places we'll be stopping by to chat about BDSM, the holidays, and all eight steamy stories, and comment on each post to earn more entries.
*Holds up mistletoe* Look at that—our lovely host today is under the mistletoe! You know what that means—a big kiss from the entire O Come All Ye Kinky group for hosting us today! We hope everyone enjoys today's post from L.A. Witt.

"It Started With a Title" by L.A. Witt
This is the story of my contribution to O Come All Ye Kinky, which is titled "Candy Caning." As with a number of my stories, the title came first, and the story followed. But how did that title happen? Was I just walking down the street, minding my own business, when my ADD kicked in and I started snickering to myself about "alternative uses" for candy store merchandise?
Not quite.
It all started innocently enough. I was in Chicago in May 2012 for a panel on kink in romantic fiction. Sarah Frantz, editor of OCAYK, had organized the panel, and thanks to the ridiculously expensive hotels in Chicago (seriously, you guys, it's like highway robbery, except in a hotel), roommates were a bit of a necessity. And one of my roommates was… Sarah.
Everything went swimmingly, and after the panel, everyone was slowly making their way to airports or freeways, depending on their chosen mode of transportation. I had planned to leave on Sunday morning, since I had several hours of driving ahead of me before I reached the glamorous metropolis of Omaha, but then Sarah mentioned that she and James Buchanan were heading to IML.
At which point I uttered the question that would alter the course of history: "IML? Whazzat?"
IML, they explained to my clueless ears, is short for International Mister Leather. A kink convention.
"We want to check out the vendors," Sarah said. "Wanna go?"
And I said, "I'll get my shoes."
Now, one thing you have to understand about me. While I have written a fair amount of kink, and I "get it," I'd never actually seen anything in person. Of course I'd seen various implements hanging innocently on shelves and racks in those shops that I've totally never been to, Mom, I swear. But seeing a flogger, or a gimp mask, or a coil of rope is not the same as seeing them in action. And they don't exactly demonstrate this on the Home Shopping Network. Or if they do, it's never been while I was channel-surfing.
At IML? They demonstrate them. All of them.
So, while my mind wasn't exactly a clean slate of wonder and naiveté when I strolled into IML, it was…an experience. A very cool one, and a very educational one, not to mention one that spawned at least two plot bunnies in my skull before we'd even had lunch.
Afterward, as I wandered with Sarah and James through the streets of Chicago with kink on the brain as we searched for dinner, the moment came. That moment when I shifted my attention from something shiny just in time to hear Sarah say, "…a submissions call for a kinky holiday anthology with holiday pervertibles and stuff like that."
Before my brain had even caught up, my mouth said, "Hehe. Candy Caning."
At which point Sarah LOLed, and then told me that I had to write it.
And when Sarah Frantz tells you to do something…well, you do it.
The title was created, the order was given, and thus was the beginning of my contribution to the O Come All Ye Kinky anthology… "Candy Caning."
Here's the blurb for my story, "Candy Caning."
Nate is dreading the annual Christmas visit with his family, during which they will ignore or insult his partner and Dominant. Stephen tries hard to take Nate's mind off the trip with the promise—and threat—of a three-foot-long candy cane. It's a race to see if Nate's resolve or the candy cane will shatter first.

And here's what you can expect to find in the anthology as a whole:
Christmas is a time of love and joy, and the New Year is a time of renewal. But they are also times of stress and strife, family drama, pressure and heartache—a potent mix of high expectations and conflicted emotions. Add in power exchange relationships, kinky gift swaps, and unconventional love in a sometimes unforgiving world, and you have a formula for a sizzling anthology of stories that tug at your heart.

From Ava March's forbidden Regency love between men, to Katie Porter's scorching hot contemporary tale of two women discovering holiday happiness, everyone will find a favorite here. Pervertible toys abound: Lambda Literary Award finalist L.A. Witt's candy cane, Jane Davitt's wrapping paper and tape, and Alexa Snow's Christmas candles all please and delight. Newcomer Elyan Smith and fan favorite Kim Dare both celebrate New Year's Eve with romantic flair and kinky fireworks, while bestselling author Joey W. Hill's poignant story of discovery and commitment will lead you home.

Whatever your desires, we invite you to explore new fantasies and old with these eight kinky tales of holiday happy endings.

20% of all proceeds from O Come All Ye Kinky will be donated to the Domestic Violence Project of the National Leather Association–International. (If you buy the book, digital or print, from Riptide's website, more money goes to the charity because we're not paying third-party vendor fees.)
You can find out more about the anthology and all the stories here.
About L.A. Witt:
L.A. Witt is an author of gay erotic romances, and has been recently exiled from Okinawa, Japan, to Omaha, Nebraska. She resides there with her husband, a telekinetic goldfish, and two incredibly spoiled cats. It's unclear if the exile was the result of the mostly classified "Aquarium Incident," or if she's actually being hidden, for her protection, from the Polynesian Mafia and her arch nemesis, erotic romance author Lauren Gallagher. Should you encounter Lauren, don't tell her L. A. is in Omaha. You can find L.A. at her website, her author blog, her personal blog, on Twitter and Facebook. Everywhere, in fact. Lauren shouldn't have any problems finding her.
——————————–
Kinky Giveaway
Riptide Publishing is giving away a $100 gift card to The Stockroom to one lucky commenter
All you have to do is leave a comment or a question for L.A. Witt and you'll be entered in this giveaway. Don't forget to comment on the other posts in this blog tour to earn more entries!
(You can read our full giveaway policy here)
Please be sure to include a valid email address in the comment form (need not be in the actual body of the comment)
This giveaway is open to everyone (18+) !
Giveaway ends on December 16th, 2012. Riptide will be picking the winner.
Good luck!