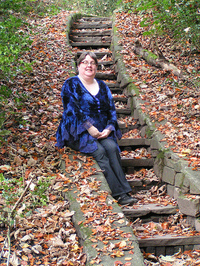 The Book Lovers are very happy to welcome today's guest, Misa Buckley, to BLI! Misa is here to talk abuot the joy of favorite places and happy places, and just how she works those themes into her science fiction romances. Her latest science fiction romance is the absolutely fantastic Tin Cat. (This was marvelous SFR, check out last week's review of Tin Cat for the details).
Halfway Up The Stairs
Is there any young child that doesn't have a favourite place? Mine was what we called a tree house, though in reality it was little more than a few planks wedged across the branches, where I would escape the nonsense created by my younger brother and his mates. I'd read. Books taken from my parents' bookshelves, from the school library, or ones I'd saved up my pocket money to buy.
There are several films that I fell in love with, that I …

featured,Giveaways,Guest Post,Misa Buckley

18 Mar 2013

8 comments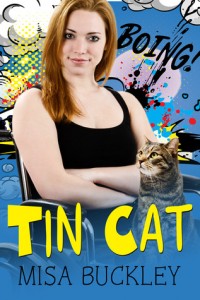 Format Read: ebook provided by the author
Number of Pages: 108 pages
Release Date: March 4, 2013
Publisher: Champagne Books
Genre: Science Fiction Romance
Formats Available: ebook
Purchasing Info: Amazon | B&N | Kobo | Author's Website | Publisher's Website | Goodreads
Book Blurb:
A year after the accident that put her in a wheelchair, Amber Gerald has more or less gotten used to living with her impairment. It doesn't make a difference to running a comic book store anyway, and the customers have been the best support group she could have wished for.

When she rescues an abandoned cat, Amber has no idea that she's interfering in the mad scheme of a time travelling bank robber. Or that the man that walks into her store dressed like Blade is about to become her bodyguard.

Between being an unwitting …

5 Stars,featured,Misa Buckley,Review,The Rocket Lover

14 Mar 2013

5 comments