Format read: ebook received from the publisher
Release Date: 15 August 2012
Number of pages: 165 pages
Publisher: Entangled Publishing, Indulgence line
Formats available: ebook
Purchasing Info: Goodreads, Author's website, Amazon, Barnes and Noble, Read an excerpt
Blurb:
Armed with a sassy haircut, a sharp wit, and a personal list of rules for all life's exigencies, Grace Santiago is a fiercely loyal Senate staffer who has everything under control. At least until famous political pundit Ethan Castle walks back into her life. Grace hasn't forgotten their disastrous affair in law school, but she can't resist his bad boy charm.

When Grace learns that Ethan has been hired as a political gunslinger for the other side, her loyalties—and her heart—are torn in two. Though their sexual chemistry can't be denied, they find themselves locked in political combat. Ethan believes that all is fair in love and war, but he won't throw the election—not even …

5 Stars,featured,Review,Stephanie Draven,The Latin Lover

7 Nov 2012

3 comments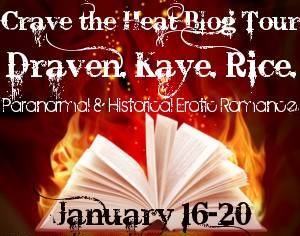 Heating Up Your New Year
Three HQN Authors Talk About How Erotic Novels Can Fit Into Your New Plan
While Harlequin is known primarily for romance, they also offer hotter fare. Today, the three fabulous authors Stephanie Draven, Laura Kaye and Leia Rice–all hailing from the great state of Maryland–are here to tell us why women should plan to read a little erotica in the coming year. 
———
Ladies, what can readers get out of erotic romance that they can't find in other novels?
Laura: Easy! Erotic novels are hot, and it's dang cold outside! *winks* But, seriously, erotic romance has a special intensity to it. The stakes are high. The emotions are strong. And the tension is so thick you can cut it with a knife. Erotic stories are a feast for your senses and can take you on a journey that will leave you breathless in the best possible way. …
Format Read: ebook copy provided by the authorRelease Date: 1 January 2011Publisher: Harlequin Nocturne BitesFormats Available: Ebook, KindlePurchasing Info: Goodreads, Author's website, Kindle store
Blurb:
When Chloe Karras sings, she knows that no one can resist her sensual allure—except for the sexy naval officer seemingly immune to her voice. But Captain Alex Shore is just the man she wants to take home after her performance—until he tells her what she thought were imagined powers are real…and dangerous.

Alexandros knows firsthand how seductive sirens are, as well as their potential to destroy. Yet the former sea soldier feels a powerful attraction to the beautiful rock singer that goes beyond her spell. Can he banish Chloe from the town he's vowed to protect—or will he be drawn into the siren's bed?
Our thoughts:
Stella: What I really liked about this novella …

3 Stars,Dual Review,Stephanie Draven,The Latin Lover,The Smutty Lover

16 May 2011

Comments Off

on Dual Review: Siren Song by Stephanie Draven