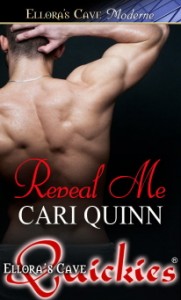 Format Read: e-Book purchased by reviewer
Length: Novella
Publisher: Ellora's Cave
Genre: Erotic Romance
Release Date: January 19, 2011
Series: Unveiled, Book I
Formats Available: eBook, Kindle, Nook
Purchasing Info: Publisher, Author's Website, Goodreads, Kindle, Nook, All Romance eBooks
Book Blurb:
Alana MacGregor craves excitement, but when her sometimes lover dumps her at a popular sex club, she wonders if she's outgrown her live-fast-and-recover-later lifestyle. The last thing she expects is to run into the nerdy guy she rebuffed in high school—or for him to rock her world in ways no other man ever has.
Hot on the trail of a story, Carter Nicholas can't believe his luck at encountering the one woman he's never forgotten. He's come a long way from being a wall-hugging geek. Now he gets all A's between the sheets. But can he convince Alana he's her sure ticket to an unforgettable night…and maybe much more?
My Thoughts:
Cari Quinn's stories …

4 Stars,Cari Quinn,Review,The Danger Lover

27 Oct 2011

2 comments