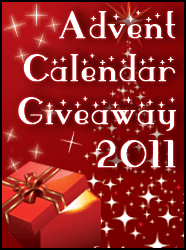 Welcome to the 21th day of Book Lovers Inc Advent Calendar. Each day we will offer you one great read in a giveaway on all 24 days till Christmas.
Today you will get the chance to win the final installement in Carolyn Crane's Disillusionists Trilogy–Head Rush. This book is a highly anticipated read for many, and it delivers exactly what we all crave. A wild ride you shouldn't miss.
Series:
Book #3 in the Disillusionists series
Release Date:
December 6th 2011 (paperback to come in 2012)
Number of pages:
360 pages
Publisher:
Samhain
Formats available:
ebook, paperback
Purchasing Info:
Goodreads
,
Author's Website
,
Samhain Publishing
,
Audible
,
Amazon
Blurb:
JUSTINE JONES FACES HER ULTIMATE ENEMY: HERSELF!

In an attempt to put her unhappy past behind her, Justine Jones throws herself into nursing school and planning her wedding to Otto Sanchez, the man of her dreams. But something is off. Random details aren't adding up…and is it her imagination, or are her friends and fiancé keeping secrets from her? And what's with this strange sense of unease, and her odd new headaches?

Justine tries to stay upbeat as Midcity cowers under martial law, sleepwalking cannibals, and a mysterious rash of paranormal copycat violence, but her search for answers leads her into the most dangerous mind game yet.

With the help of unlikely allies, including her paranoid dad and best frenemy Simon, Justine fights her ultimate foe…and unravels the most startling mystery of all.
The Review:
WARNING: We both just finished the book so the emotions still run hot and this review will contain an absurd amount of squeeing so people with tender ears get yourself some earplugs. You have been warned.
We're trying not to spoil anything but it's hard to miss who Susi and I root for. Just so you know…
Susi: I have to admit that I wasn't sure about the audiobook factor. I, in contrast to Caro, am not much of an audiobook gal but I HAD to get this one ASAP so well here we are. I'm officially converted.
Caro: Well I love Audiobooks but I'm often very particular about which book I listen to (I get easily bored). And narrators are very important in my choices. But I knew I would listen to this one without hesitation. I threw my worries about the narrator away and gave it a try. Good thing I ended up really enjoying this narrator! =P
Read the rest of the review.
~~~~~~~~~~~~~~~~~~~~~~~~~~~~~~~~~~~~~~~~
~*~*Giveaway*~*~
Thanks to Carolyn's generosity one lucky commenter will be able to choose her/his prize:
–  a copy of Head Rush (ebook now or the print copy late in 2012 when it releases)
or
– a copy of one of Carolyn's backlist titles in print or ebook (as available) !
All you have to do is tell us if you have a secret dream holiday escape you would love to visit instead of suffering through the pre-holiday craze?
(You can read our full giveaway policy here)
Please leave a valid email when placing your comment so we can inform you if you win.
This giveaway is open to everyone!
Giveaway ends on Saturday, 31 December 2011; and we will announce the winner on Sunday.
Good luck!