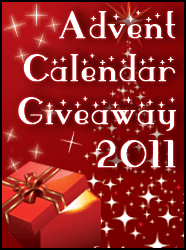 Welcome to the 24th and final day of Book Lovers Inc Advent Calendar. Each day throughout December you had the chance to win one of our favourite reads of 2011.
Today you have the chance to win Karma Girl, first book in Jennifer Estep's Bigtime series. You might know Jennifer's other two series: the Elemental Assassin (adult urban fantasy) and the Mythos Academy (YA urban fantasy) series, but if you haven't yet checked out her Bigtime series, you have been missing out on a fantastic series! The Bigtime series is colourful, fresh and laugh out loud funny. If you want to have fun and escape to an incredible universe, you'll just have to follow Carmen Cole alias Karma Girl, ordinary human reporter girl as she uncovers the secrets of superheroes and ubervillains.
The Bigtime series is a wonderful series you definitely should discover!
Series:
Book #1 in the Bigtime series
Release Date:
1 May 2007 (reissued as ebook on 12 July 2011)
Number of pages:
360 pages
Publisher:
Berkley
Formats available:
ebook, paperback
Purchasing Info:
Goodreads
,
Author's Website
,
Amazon
Blurb:
Bigtime, New York, is not big enough for both Carmen Cole and the superheroes and ubervillains who stalk its streets. An intrepid reporter, Carmen's dedicated her life to unmasking the spandexwearers, all because her fiancé turned out to be a superhero, and a cheating one at that-sleeping with none other than his nubile nemesis.

Exposing the true identities of the nation's caped crusaders and their archenemies has catapulted Carmen from her sleepy southern hometown to the front pages of the country's biggest newspaper, The Exposé. Hobnobbing with millionaires and famished fashionistas is all in a day's work for a woman on the trail of the Fearless Five and Terrible Triad. But when Carmen gets the scoop of her career, her life comes crashing down around her. And even Bigtime's sexiest superhero, Striker, may not be able to save her.
The Review:
I'm a big fan of Jennifer Estep's Elemental Assassin series and immediately fell in love with the premise and characters of her Mythos Academy series, so I had a hinch that I would be in for a great story when I started reading Karma Girl, but I never expected to be blown away this much!
Karma Girl is a wonderful mix of mystery, adventure, romance and heaps of cheeky humour! I loved the wonderfully colourful characters, the exciting worldbuilding, the puzzling mystery, all the heart pounding action and of course the wonderful love story deleoping between Carmen and Striker!
Karma Girl is such a laugh out loud funny, incredibly witty, amusing, breath of fresh air story, I loved every second of it and cannot wait to read more about the superheroes and ubervillains' adventures!
~~~~~~~~~~~~~~~~~~~~~~~~~~~~~~~~~~~~~~~~
~*~*Giveaway*~*~
Thanks to Jennifer's generosity we have an ebook copy of Karma Girl for one lucky commenter!
All you have to do is tell us: do you have a favourite holiday movie?
(mine is While You Were Sleeping and Home Alone, we rewatch them every year, the 1st one with my whole family, Home Alone only with my lil sister)
(You can read our full giveaway policy here)
Please leave a valid email when placing your comment so we can inform you if you win.
This giveaway is open to everyone!
Giveaway ends on Saturday, 7 January 2012; and we will announce the winner on Sunday.
Good luck!