Welcome to this week's news post and I hope everyone had a great Christmas break and that y'all have a great upcoming New Years from everyone from Book Lovers Inc.
We have some great links to freebies and offers and some interesting tidbits to celebrate the New Year!
Amazon has reported that in the month of December that they have been selling over a million Kindles per week, with the Fire as the number one bestseller, closely followed by the Touch and the Kindle. Christmas day also heralded a huge jump in sales of Kindle books with the 'biggest day' of books being sold, with two of the top selling ebooks as self published ones.
HarperCollins also reported a bumper sales day during Christmas with over 100,000 titles being sold internationally, (this figure does not count US sales) – The best selling ebook was Game of Thrones by GRR Martin whose series was given a boost of popularity due to the HBO series.
And talking about GRR Martin – He has given fans a Christmas present with an excerpt taken from a draft of The Winds of Winter,  the next book in the Game of Thrones saga. You can see the excerpt here.
There is also more Christmas treats on the offing – Ilona Andrews is offering a free Kate Daniels novella, Magic Gifts, at her blog but this will only be available  until January the 6th. You can download the novella here in a variety of formats – Please pass on the word to other fans about this freebie.
But if anyone has missed their chance to download the novella, it will be included in the Andrea spinoff, Gunmetal Magic, which is slated for the summer.
News in Brief:
Orbit has a cute deal with some of their ebooks right now, they include authors, Brent Weeks, Karen Miller and Jaye Wells.
YA author Lauren Kate, has signed a new deal for a spinoff collection of stories connected to her Fallen series. The new collection will bec called Fallen in Love and is slated early in the year. The final full book of the series will be published in the summer.
And now for the books to watch out!
The 3rd book in the Hex Hall series is released in March, I really love the covers for this series.
Hailed as "impossible to put down," the Hex Hall series has both critics and teens cheering. With a winning combination of romance, action, magic and humor, this third volume will leave readers enchanted.

Just as Sophie Mercer has come to accept her extraordinary magical powers as a demon, the Prodigium Council strips them away. Now Sophie is defenseless, alone, and at the mercy of her sworn enemies—the Brannicks, a family of warrior women who hunt down the Prodigium. Or at least that's what Sophie thinks, until she makes a surprising discovery. The Brannicks know an epic war is coming, and they believe Sophie is the only one powerful enough to stop the world from ending. But without her magic, Sophie isn't as confident.

Sophie's bound for one hell of a ride—can she get her powers back before it's too late?
Michelle Sagara has a new YA out in the New Year – Silence which is a dark Paranormal.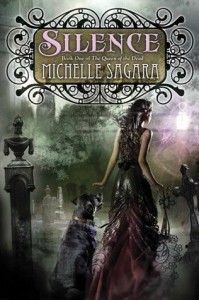 "It began in the graveyard. Ever since her boyfriend Nathan died in a tragic accident Emma had been coming to the graveyard at night. During the day she went through the motions at her prep school, in class, with her friends, but that's all it was. But tonight was different. Tonight Emma and her dog were not alone in the cemetery. There were two others there—Eric, who had just started at her school, and an ancient woman who looked as though she were made of rags. And when they saw Emma there, the old woman reached out to her with a grip as chilling as death…."
This book looks fantastic – This is Not a Test Courtney Summers.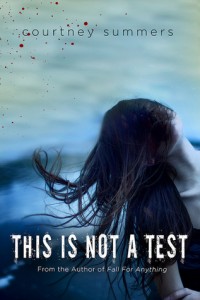 It's the end of the world. Six students have taken cover in Cortege High but shelter is little comfort when the dead outside won't stop pounding on the doors. One bite is all it takes to kill a person and bring them back as a monstrous version of their former self. To Sloane Price, that doesn't sound so bad. Six months ago, her world collapsed and since then, she's failed to find a reason to keep going. Now seems like the perfect time to give up. As Sloane eagerly waits for the barricades to fall, she's forced to witness the apocalypse through the eyes of five people who actually wantto live. But as the days crawl by, the motivations for survival change in startling ways and soon the group's fate is determined less and less by what's happening outside and more and more by the unpredictable and violent bids for life—and death—inside. When everything is gone, what do you hold on to?
And finally we have the cover for the tenth Kitty Norville book, Kitty Steals the Show.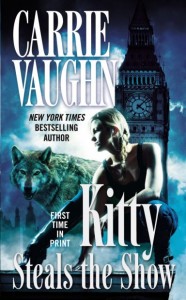 What books are you eagerly looking forward to for the next year? And did anyone get any ereaders for the Holidays? And do you think of your new devices?