Welcome to this week's news post! We have more Pottermore ebook news, another racism over people of colour in new casting choice for The Hunger Games and new excerpts from the anticipated releases by Nalini Singh and Thea Harrison as well as books to look out for!
I reported a couple of weeks that Pottermore ebooks will be available in public libraries well, they have signed an agreement with Amazon's lending library this week. So those who are members of Amazon Prime will be able to borrow the books which will also be available in French, Spanish, German and Italian as well as English language. At the moment, the Amazon lending library is not offered to those who are outside the US.
Talking about libraries and lending, the Douglas County Library in Colorado, is doing something different in its approach towards ebook lending, by purchasing the ebooks directly from the publishers, hosting the ebooks on its own servers as well as issuing DRM. This will allow the library to own the ebooks as well as bypassing third parties, but how they are doing this seems to be revolutionary, because the system is laid out to the library patrons. According to this Boing Boing article, more publishers as well as other libraries are interested in installing and joining in this scheme.
Another row over racism over casting choices erupted  over The Hunger Games, when actor Jesse Williams had a core fangroup campaigning him to be up for the role of Fenick for the second movie, Catching Fire. This article highlights some of the ugly comments, but I think Williams' casting is perfect and fits the description of the character who is described as having tanned skin and sea green eyes, but it is disappointing to see such a crazy and racist reaction towards a casting choice base on race.
News in Brief:
This week much anticipated releases by Nalini Singh and Thea Harrison unveiled new excerpts.
Chapter 2 excerpt from Lord's Fall, the 5th book in the Elder Races by Thea Harrison.
Nalini Singh's excerpt from Archangel's Storm.
A Tennessee school has banned Looking for Alaska by John Green, due to an oral sex scene. The author has responded to this, stating that the book isn't pornagraphic in a video. It is also not the first time, his books have been targeted – however his books will remain in the state libraries.
And now for upcoming books!!!
Rescue my Heart by Jill Shalvis – the 3rd Animal Magnetism book!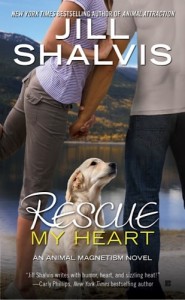 After a tragic stint in the National Guards, Adam Connelly returns to Idaho and to Belle Haven, the animal shelter he owns with his brothers. All Adam wants is to be alone. Then he opens the door to the past—the woman whose heart he once broke. Still gorgeous, still tough-as-nails, but this time, unusually vulnerable.
Holly learned the hard way to never depend on a man for anything. Now, of all men, it's the last one she wants to see, and the only one she needs. Her father has gone missing in the Bitterroot Mountains and she could use someone with tracking skills to help find him.

For Holly and Adam, each with their ghosts, a trek this desperate, this unpredictable, and this intimate, will have its share of risks—including opening their hearts one more time.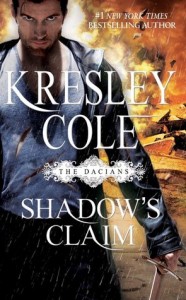 Kresley Cole has posted the cover for her new spinnoff series, The Dacians – Shadow's Claim is the first book in this series.
He won't be denied

Trehan Daciano, known as the Prince of Shadows, has spent his life serving his people, striking in the night, quietly executing any threat to their realm. The coldly disciplined swordsman has never desired anything for himself—until he beholds Bettina, the sheltered ward of two of the Lore's most fearsome villains.

She's bound to another

Desperate to earn her guardians' approval after a life-shattering mistake, young Bettina has no choice but to marry whichever suitor prevails—even though she's lost her heart to another. Yet one lethal competitor, a mysterious cloaked swordsman, invades her dreams, tempting her with forbidden pleasure.

A battle for her body and soul

Even if Trehan can survive the punishing contests to claim her as his wife, the true battle for Bettina's heart is yet to come. And unleashing a millennium's worth of savage need will either frighten his Bride away—or stoke Bettina's own desires to a fever-pitch….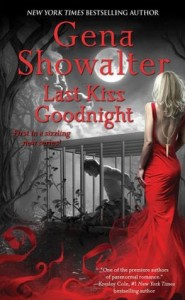 Another new series from Gena Showalter has been unveiled too- Last Kiss Goodnight – the first book in the Otherworld Assassins series.
The breathtaking first novel in New York Times best selling author Gena Showalter's new paranormal romance series, Otherworld Assassins, featuring a black ops agent who is captured and enslaved…and the beautiful deaf girl who holds the key to his salvation…

THE SWEETEST TEMPTATION…

Black ops agent Solomon Judah awakens caged and bound in a twisted zoo where otherworlders are the main attraction. Vika Lukas, the owner's daughter, is tasked with Solo's care and feeding. The monster inside him yearns to kill her on sight, even though she holds the key to his escape. But the human side of him realizes the beautiful deaf girl is more than she seems—she's his.

THE ULTIMATE PRICE…

Vika endures the captives' taunts and loathing, hoping to keep them alive even if she can't free them. Only, Solo is different—he protects her. But as hostility turns to forbidden romance, his feelings for her will be used against him…and he'll be put to a killer test.
So what do you think of the racism blowup on the Hunger Games casting? Do you think casting roles that fit the descriptions is important?