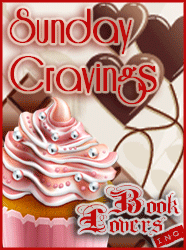 Happy Sunday Book Lovers all around the world! I hope you have a most beautiful and relaxing weekend 🙂 We're here for yet another week, ready to show you all those titles that are scheduled to hit the shelves this week. And believe me,the first week of June comes with a bang, especially in the YA genre, where some of the most anticipated titles are releasing this week.
So, let's start with our Sunday Cravings for the first week of summer 🙂
Marlene: Hex Appeal by P.N. Elrod (Editor), Jim Butcher, Carrie Vaughn
Fall under the intoxicating spell of their hex appeal… In the magical world that lies hidden beneath our own, witches and conjurers play deadly games. They know just the right spell to kill a man with one kiss—or raise him back again. And they're not afraid to exact sweet revenge on those who dare to cross them. But what if you're the unlucky soul who falls victim to a conjurer's curse? And if you had the power to cast a magic spell of your own, would you use it?In this bewitching collection, nine of today's hottest paranormal authors tell all-new, otherworldly tales. Spellbinding stories featuring bigfoot, albino vampires, professional wizards, resurrected boyfriends and even a sex droid from the twenty- third century named Silicon Lily. But as our conjurers are about to discover, it's all fun and games until someone gets hexed. And sometimes, even the best spun spells can lead to complete and utter mayhem. Includes Stories From:Ilona Andrews, Jim Butcher, Rachel Caine, Carole Nelson, Douglas P. N., Elrod Simon, R. Green, Lori Handel and Erica Hayes, Carrier Vaughn
The latest Jim Butcher Dresden Files short story is in it.Harry Dresden meets Bigfoot. Even better, Harry helps out Bigfoot's kid, who is, get this, a college student! This is going to have to tide me over until the next Dresden Files book comes out.
Anna: Mirage by Kristi Cook
Seventeen-year-old Violet McKenna is back for her senior year at Winterhaven, and thrilled to be with Aidan after a long summer apart. But when a violent and disturbing vision begins to haunt her, Violet suddenly feels unsure of everything: who to trust, if she is in danger, and—worst of all—whether she and Aidan are really meant to be together.
I quite enjoyed the first book in the series and as soon as I finished it, I just wanted the sequel to the story. There's a spin on this series of the much used myth of vampires that really made a difference to me.