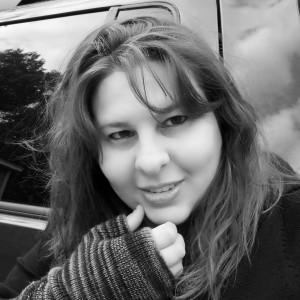 Happy Monday, ladies and gents! We here at BLI are ready to start this new week off right with a visit from Jus Accardo, author of YA paranormal romance and urban fantasy.
We're fortunate that Jus was gracious enough to answer our barrage of questions about her writerly life and her acclaimed YA series, Denizen.  Oh yeah, and some about her love of gaming and comic lore (which by itself already makes her freakin' badass, in our book.) Please give her a warm welcome (and don't forget to check out the end of the interview, for more giveaway goodness)!
——-
Amanda: Jus can you please tell us a bit about yourself?
Jus: I'm a World of Warcraft addict that drinks entirely too much coffee and spends 90% of her time hanging with people who don't exist.
Amanda: Describe a typical day of writing? Are you a planner or pantser?
Jus: Totally a pantster. I can't plan for crap. If I try, it's a mess. Trust me. Ugly in the way spiders are ugly… My day usually starts around 5 or 6 with coffee. I usually write between 9 and twelve hours a day depending on what's going on or what I'm immersed in.
Amanda: What do you think is the difference between a reader and a real Book Lover?
Jus: The best way to answer this is to tell you about a picture I saw on Facebook recently. Authors are my rock stars. That screams Book Lover to me—because that's exactly how I feel about my favorite authors 😀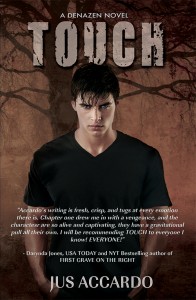 Amanda: What can we expect of Toxic?
Jus: A handful of new Sixes, secrets, betrayal—maybe a death or two… It's gonna be a good time for all! Well, maybe not for Dez and Kale… 😉
Amanda: Will there be more books in this series? What is next on your schedule? Are there going to be any spin-offs in the works for the stories of the other sixes ?
Jus: More books in the Denazen series? *whistles innocently* As for spin offs, the second novella set to release after TOXIC is about someone other than Dez and Kale. As for my current schedule—I'm working on a few things, one of them being book 3 of the series.
Amanda: You make references to Stan Lee's mutants in Touch. Were the X-Men your favourite comic growing up? Did you have favourite mutant?
Jus: Stan Lee is a God. Plain and simple. If I had to pick a fave, it would totally be Shadowcat. She's awesome, her ability rocks, and seriously—Lockheed FTW!
Amanda: You must've been asked a million times by now, but If you were a Six, which power would you have (I would love to be telekinetic myself)?
Jus: I'd love to be able to talk to animals. That, or Mimic!
Amanda: Dez's power is one I find very unique, death touch (Kale's power) is horrid but not unheard of, but mimicery is not something I saw coming, how did her power come about for you?
Jus: It's funny. My husband is really the one who thought it up—without even knowing it. We'd been talking a few days before about getting some things fixed on the house. Of course in this economy, money is tight all over. He had a paper towel in his hand and said if only I could turn this towel into cold hard cash. BINGO. Mimicking was born!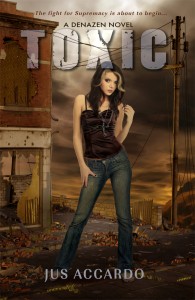 Amanda: In my opinion this series has great potential to become a movie series, who would your ideal stars be to portray your characters?
Jus: Dez is always going to be Avril Lavigne to me. When writing the book, Kale was always a young Ben Barnes—until I saw the cover. Now it's nameless cover guy without a doubt. I haven't given a lot of thought to the rest of the cast, but I bet Betty White would be a kickass Ginger…
Amanda: You wrote Untouched from Kale's point of view. Was it difficult to keep track of just how much he didn't know about the outside world because of his time locked up at Denazen while you were writing?
Jus: It wasn't as hard as you might think. Kale is so vivid in my mind. It's like I've known him for years. I've written so many off camera "extras" about his time at Denazen so I have a perfectly clear picture of it.
Amanda: Now can you tell us 3 reasons why people should read your books?
Jus: Hmm. 1. Dez is full of spunk and attitude. 2. The Denazen series has Ginger—a granny with more bite than a bear trap and an odd fruit punch fetish. 3. Kale!
Amanda: Can you summarize the Denazen series for us twitterstyle (140 characters or less)?
Jus: An adrenalin junkie and her new friends—people with super human abilities—work to take down the men who want to use them for evil.
——-
About the Book:
Untouched (Denazen #1.5) by Jus Accardo

Until he met Dez, Kale's days were filled with violence and death. He was used as a weapon of destruction by the power hungry men of Denazen. He's a Six. A person with an abnormal ability. Some people call them gifts, but not Kale. Kale's touch means instant death.

But now there's Dez, the girl he can touch, and they're hunting down Sixes and warning them about Denazen. Kale is learning about the world outside captivity and trying to put his dark past behind him. But they underestimated how badly Denazen wanted him back.

When Dez sacrifices herself to save the new Six they'd rescued from falling into the corp's hands, Kale is lost. Denazen has brought out its best to get the job done. Samsen, a nightmare from Kale's past—the only person he's ever truly feared—has come for them, and it soon becomes obvious he has his own twisted agenda.

Kale will need all his training to get Dez back and ensure they make it out, free—and alive. But will it be enough?

Find Untouched at: Goodreads – Amazon – B&N

***Check it out…***

Touch, the first novel in the Denazen series, is set to re-release in mass market on June 26th (Complete with additional scenes from Kale's POV!). You can pre-order your copy here.

Toxic (Denazen 2) hits shelves on September 11th 2012. As a thank you to those who pre-order, Jus is giving away a book plate and magnet of choice (Touch, Untouched, or Toxic) Get the details here.
About the Author:
Jus Accardo is the author of YA paranormal romance and urban fantasy fiction. A native New Yorker, she lives in the middle of nowhere with her husband, three dogs, and sometimes guard bear, Oswald. Her first book, Touch, is available now from Entangled Publishing. She is represented by Kevan Lyon of Marsal Lyon Literary Agency.

Give Jus a yell on Twitter, or visit her on Facebook, and her website.
~~~~~~~~~~~~~~~~~~~~~~~~~~~~~~~~~~~~~~~~
~*~*Giveaway*~*~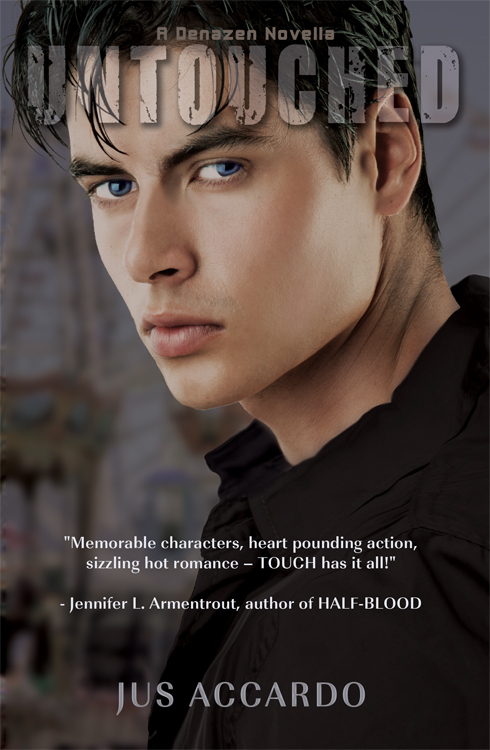 Entangled Publishing has generously offered an ebook copy of Untouched to a lucky commenter!
All you have to do is tell us: Surprise! Turns out you're one of the Sixes of the Denazen series. What kind of superhuman ability would you possess?
(You can read our full giveaway policy here)
Please be sure to include a valid email address in the comment form (need not be in the actual body of the comment).
This giveaway is open to all!
Giveaway ends on Saturday, June 30th, 2012; we will announce the winner on Sunday.
Good luck!