We are excited to welcome author Elisabeth Barrett to BLI today. Elisabeth is here to celebrate celebration her forthcoming novel Deep Autumn Heat which will be available ebook format from Loveswept/Random House on July 9, 2012! Deep Autumn Heat is the first novel of Elisabeth's Star Harbor series and introduces the sexy Grayson brothers, specifically Master Chef Sebastian Grayson. Eisabeth is going to talk about a topic that is a favorite for many of us romance lovers – alpha males…specifically EntitledAlpha males.
Take it away Elisabeth!
The Entitled Alpha:
I've been thinking a lot about alpha males lately, in large part due to the discussions I've been having with fellow authors regarding the nature of the alpha/beta dichotomy. I enjoy reading about both types of men, and I don't think that the line between alpha and beta is as clear-cut as many would like to believe. Good men, real men, especially those in contemporary romance (who aren't military) can have a bit of both alpha and beta in them.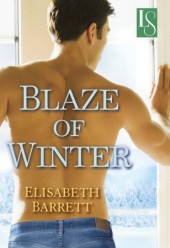 The issue presented itself when I wrote back-to-back novels about the Grayson twins (Deep Autumn Heat and Blaze of Winter). The books are set on Cape Cod, Massachusetts, and my debut novel, Deep Autumn Heat, is the story of two stubborn chefs who find that despite their very different personalities, they can't resist each other. Lexie Meyers wants to open a catering business as an extension of her already-successful Star Harbor restaurant, but Sebastian Grayson, a famous New York City chef and former local bad boy, is back in town and has Lexie in his sights.
But let's get back to the men. Twin brothers Sebastian, a celebrity chef, and Theo, a novelist, couldn't be less alike, and while I was writing, I was going for a kind of yin/yang effect. Or, should I say, alpha/beta. When I finished the books, I sent them to my agent and my editor, each of whom independently pronounced both men alphas.
Wait…what?
And then I realized they were right. I'd had such a devil of a time keeping Sebastian in line because he was too arrogant, too heavy-handed, and dare I say it…too alpha! Theo was also an alpha, but in a much less overt way than Seb, and I'd confused his quiet mien for beta-ness. Nope. He wasn't a beta at all. So what made Seb such an überalpha (at least, until I reined him in with loads of editing)?
His sense of utter entitlement.
While Seb understands that becoming a celebrity chef takes more than just hard work, and that things outside of his control—like luck, timing, and even looks— come into play, his sense of hubris is, shall we say, lacking. Seb has way too much talent but not enough humility. He uses his looks, charm and fame to get whatever he wants, whenever he wants. Lexie, however, is completely unfazed by his swagger and presumption—and this throws Seb for a loop. His entitled attitude doesn't work with her, and in fact, it hurts his chances to get to know her better. Very quickly, he realizes this, and while he doesn't do a complete about-face, he loses the attitude and figures out how to get an in with Lexie pretty fast (hint: food).
It takes a strong, spunky woman like Lexie to get to the heart of the beast, and to instill in Seb respect, understanding, and finally, love.
Question: Which do you prefer, in books or real life—alphas, betas, or alphabetas (a mix of alpha and beta)?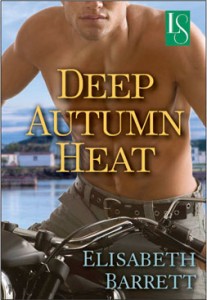 Genre: Contemporary Romance
Release Date: July 9, 2012
Publisher: Random House / Loveswept
Formats Available: eBook, Kindle, Nook
Pre-order Info: Publisher, Author's Website, Goodreads, Kindle, Nook, iBooks
Book Blurb:
In this sexy new Star Harbor romance series, featuring the too-tempting Grayson brothers, a celebrity chef turns up the heat for a local café owner—and things start to sizzle.

Lexie Meyers decides there's nothing sweeter than watching Sebastian Grayson's perfect, wicked mouth devour her coconut cake. He's hot, he's hungry, and he's sizing her up like she's the best thing on the menu. But she's been burned in the past and flings just aren't her thing. Too bad Sebastian can't resist a challenge.

Worldly, famous, and notorious with the ladies, Seb had planned a weekend of fishing and relaxation with his brothers. Until Lexie, with her kissable lips and frosty "get lost" attitude, makes him want to forget his culinary empire and create some magic with her. After he fires up his charm—including challenging her to a televised cook-off to break through her resistance—it's now hotter in the bedroom than it is in the kitchen and Lexie isn't sure whether she's lost her mind . . . or just her heart.
About Elisabeth:

Raised in a sleepy little Connecticut town, Elisabeth draws on her upbringing to write small-town romances. Her summers spent living and working on Cape Cod and Martha's Vineyard were the inspiration for the Star Harbor series, which kicks off with Deep Autumn Heat (coming July 2012) and continues with Blaze of Winter (coming September 2012). Currently, Elisabeth lives in Northern California with her husband and three children.
Where to find Elisabeth: 
Website | Blog | Facebook | Twitter | Goodreads
~~~~~~~~~~~~~~~~~~~~~~~~~~~~~~~~~~~~~~~~
~*~*Giveaway*~*~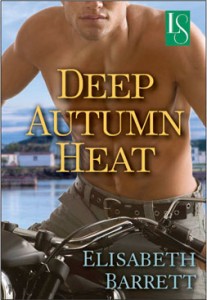 Random House Publishing has generously offered a digital copy of Deep Autumn Heat for one lucky winner. The winner will pick up their copy through NetGalley
, the winner will therefore require a NetGalley Account.
All you have to do is answer the question noted above or leave a meaningful comment for Elisabeth!
(You can read our full giveaway policy here)
Please leave us a way to contact you.
(Email in blogger profile or twitter name – no way to contact you – no entry).
This Giveaway is open Internationally!
Giveaway ends on Saturday, June 30, 2012; and we will announce the winner on Sunday.
Good luck!