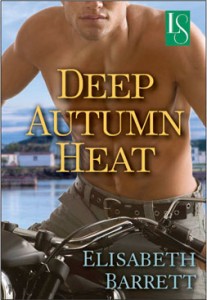 Format Read: e-book provided courtesy of Publisher for Review
Length: 300 pages
Genre: Contemporary Romance
Series: Star Harbor Book 1
Release Date: July 9, 2012
Publisher: Random House / Loveswept
Formats Available: eBook, Kindle, Nook
Purchasing Info: Publisher, Author's Website, Goodreads, Kindle, Nook, iBooks
Book Blurb:
In this sexy new Star Harbor romance series, featuring the too-tempting Grayson brothers, a celebrity chef turns up the heat for a local café owner—and things start to sizzle.

Lexie Meyers decides there's nothing sweeter than watching Sebastian Grayson's perfect, wicked mouth devour her coconut cake. He's hot, he's hungry, and he's sizing her up like she's the best thing on the menu. But she's been burned in the past and flings just aren't her thing. Too bad Sebastian can't resist a challenge.

Worldly, famous, and notorious with the ladies, Seb had planned a weekend of fishing and relaxation with his brothers. Until Lexie, with her kissable lips and frosty "get lost" attitude, makes him want to forget his culinary empire and create some magic with her. After he fires up his charm—including challenging her to a televised cook-off to break through her resistance—it's now hotter in the bedroom than it is in the kitchen and Lexie isn't sure whether she's lost her mind . . . or just her heart.
My Thoughts:
As is tradition the Grayson brothers, Valentine, Cole and twins Theo and Sebastian have gathered in Star Harbor to commemorate their father's tragic passing in a hurricane 20 years-ago. It's a solemn occasion but also an important way for the boys who had a reputation as hell-raisers in their youth, to reunite. Elizabeth Barrett introduces four independent alpha males in the debut novel of her Star Harbor series, the Grayson boys are hometown born and bred but they took diverse paths in life and each have unique personalities.
Deep Autumn Heat is Master Chef Seb's story. He is renowned and now makes his home in New York City where he owns and operates Helena, his high class, well attended and respected restaurant.  Seb has achieved celebrity status and recently been cast in his own television food show. Returning to Star Harbor offers the opportunity to not only bond and reminisce with his brothers but proves to be a time of reflection and renewal for the extremely handsome and confident Seb who is not short on arrogance. What causes Seb to rethink and consider the management of his affairs and life is a woman he finds in the place he lease expects: a little eatery in Star Harbor.
Chef Lexie Meyers has worked hard and offers excellent food to the patrons of her little Star Harbor restaurant the LM Kitchen. Lexie has a way with people which shines through not only in her customer relations but also in her calm, firm management style. She is considered no-nonsense and spunky. The other thing I loved about Lexie was her kindness which is in evidence throughout the story but particularly in her relationship with her grill cook Buster, an intriguing and standout secondary character.
Lexie's initial meeting with the mesmerizing Sebastian Grayson is when he and his brothers come into her restaurant for breakfast. It's a stellar scene, Seb has a powerful presence, he knows he is hot, and famous. Lexie, however will have none of his enormous ego.
Lexie was rooted to the spot. She had to move, had to say something, had to do something.

"You know who I am now, right?" he asked, quirking an eyebrow at her and leaning back in the booth. Challenging her. Daring her.

A few long seconds passed before Lexie could will herself to speak. "Oh, I know who you are," she said smartly, blinking away his gaze. "Sebastian Grayson. Born in Star Harbor. Nationally renowned chef. No formal training. Dropped out of college at age twenty-one to apprentice with Bobby Flay in New York City. Later apprenticed with Guy Martin at Grand Véfour in Paris. Returned to New York to open your own restaurant, Helena, named after your mother. Focus is on American food with a heavy French influence. You favor seafood entrées. Last year, you won the James Beard Foundation's award for 'Rising Star Chef of the year." Recently got signed with the Cooking Channel for your own show." Lexie ticked off the facts with precision. "Oh and I'd like to add an additional credential to your already impressive résumé," she said. "Unbelievably presumptuous."

When she was done, she placed her free hand on her hip. Knowledge was power.
Gotta love it. Lexi impresses Seb, who is accustomed to having women fling themselves at him, and when he pursues her she surprises him by spurning his attention. Lexi is very attracted to the talented, sexy chef who does prove to have considerable substance beneath the arrogance that is revealed over the course of the story. The thing is Lexi's experience with men, one in particular, is traumatic and she is terrified of getting hurt, which she is sure will happen if she gets involved with the captivating Sebastian Grayson. In essence, Lexi doesn't trust her judgement when it comes to men. Seb, however, proves persistent and impossible to resist. The eroticism is light in nature but there is significant sexual tension and I felt the protagonists had excellent chemistry, their attraction is intense, sizzling. And, they have a love and talent for cooking good food in common.
As a side note: The Grayson brothers certainly aren't short on sex appeal, and Seb in particular rides a hot Harley amplifying the testosterone quotient.
You wouldn't think there would be a lot going on in small town Star Harbor, Massachusetts that's main economy comes from summer tourism, however Barrett adds a two-pronged suspense subplot involving Lexi's psycho ex and, a surprising crime element. Readers can look forward to action and underlying mystery. As town Sheriff, the handsome Cole Grayson plays a key role in the story.
I felt Barrett did an excellent job in her portrayal of Seb, a confident, intelligent, very talented Chef who has earned his way competing in the big leagues. Creating and presenting enticing meals is an art and the author does give considerable page time detailing the intricacies and stresses involved in achieving success in this competitive arena. Seb's self importance didn't bother me, I felt it was fitting given his history and what was required of him to achieve success. Thanks to Lexi, Seb learns life lessons and he shows compassion and understanding in providing the support she needs to trust and love again. It isn't an easy path.
I enjoyed Deep Autumn Heat, for the most part, Barrett establishes a solid foundation for her series in a small town setting and integrates varied and intriguing characters. I have to comment that I did become bogged down in what can best be described as ponderous descriptions which took me out of the story on a few occasions. I felt the prose could have bee crisper, more concise. This didn't stop me from becoming invested in Seb and Lexi's story, I wanted to see how the author would resolve their issues.
Blaze of Winter, Theo's story, is scheduled for release September 10, 2012.


I give Deep Autumn Heat 3 1/2 Stars
***FTC Disclaimer: Most books reviewed on this site have been provided free of charge by the publisher, author or publicist. Some books we have purchased with our own money and will be noted as such. Any links to places to purchase books are provided as a convenience, and do not serve as an endorsement by this blog. All reviews are the true and honest opinion of the blogger reviewing the book. The method of acquiring the book does not have a bearing on the content of the review.