We are very excited to welcome award winning author Laura Navarre to BLI today. Laura is here on the next stop of her virtual book tour in celebration of the release of her historical romance By Royal Command, which is available today from Carina Press! Laura is an extremely interesting lady with a fascinating background and she is here to talk more about her writing process and new novel.
About Laura Navarre
In her other life, Laura Navarre is a diplomat who's lived in Russia and works on weapons of mass destruction issues. In the line of duty, she's been trapped in an elevator in a nuclear power plant and has stalked the corridors of facilities churning out nerve agent and other apocalyptic weapons. In this capacity, she meets many of the world's most dangerous men.
Inspired by the sinister realities of her real life, Laura writes dark medieval and Renaissance romance with a dash of political intrigue. A member of Romance Writers of America's Published Author Network (PAN) and a 2009 Golden Heart finalist, she has won the Emily Award for Excellence, the First Coast Romance Writers Beacon Award, the Georgia Romance Writers Maggie Award, the Golden Pen, the Duel on the Delta, Hearts through History's Romance through the Ages, and other awards.
Previously published with Samhain and Dorchester, Laura's newest releases are her epic medieval romance By Royal Command (Harlequin/Carina, July 2012) and her sexy romantic intrigue The Russian Seduction (Affluent Press, October 2012, as Nikki Navarre). She teaches writing workshops on "Sympathy for the Devil: Dark Heroes inPopular Fiction." Laura holds an M.F.A. in Writing Popular Fiction from the University of Southern Maine. Living in Seattle with her screenwriter fiance and two Siberian cats, she divides her time between her writing career and other adventures for U.S. government clients.
Lea: Laura! Congratulations on the publication of By Royal Command and welcome to Book Lovers Inc. It's such a pleasure to be able to chat with you today.
Laura: Hello Book Lovers! I was just browsing all of your reader bios and love the international diversity of this group, which is just perfect for me. Thanks so much for having me!
Lea: You have traveled internationally, and have a very unique and interesting background. Can you please tell us a little about your travels and how your experiences have influenced your work.
Laura: Like many writers, I came to this career sideways—unexpectedly—and my background is a bit unusual. As my bio mentions, for many years I was a diplomat, working on programs to control the spread of weapons of mass destruction, mostly with Russia and the former Soviet Union. This meant I was working with many of the world's most dangerous men—nuclear, chemical and biological scientists whose research (in many cases) was capable of destroying the world and all of us many times over. Surprisingly, as we worked together to find peaceful alternatives for their deadly skills, some of these guys became my pretty good friends. Once I overcame my initial wariness, I realized there were lessons I could bring to my fictional dark heroes from these real-life dark protagonists who inhabited my non-writing hours.
For instance, in both real life and fiction, many dark deeds can be justified by noble intentions. Every villain is the hero of his own story. These real-life dark heroes were motivated by a strong sense of patriotism and the desire to build a better life for their families and their nation. In fiction, I discovered the same device—a strong and worthy motivation—can inspire reader sympathy for even the darkest heroes. However, the darker his deeds, the stronger and more admirable the hero's motive must be to justify his conduct.
Also, my stories in general tend to be rife with twisty plots, court intrigue, international espionage, political conflict and the sense of unfriendly eyes watching—another legacy from my other world.
Lea: I'm a real animal lover so I have to ask about your familiars Pandora & Delilah. 😉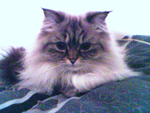 Laura: Pandora and Delilah are the sweetest and the best! They're exotic little creatures I picked up while living in Russia. Pandora's a Siberian—a cat engineered to survive the harsh Russian winters, with big tufted feet designed to walk on snow, a sleek rain-shedding layer of fur to keep her dry, and a downy layer underneath to keep her toasty warm. Delilah's a rare Siberian sub-breed called a Neva Masquerade which is not common in the U.S.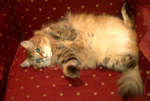 Pandora is the alpha in the relationship: very smart, strong-willed, dark and sleek and minx-like. Delilah is the shy beta, with big blue eyes, creamy fur and seal-colored paws. Mostly she gets by on cuteness. They're essential writing accessories—I never write well without Delilah curled up next to the keyboard.
Both Pandora and Delilah want me to ask why there is no Russian representative in your multinational Book Lovers collective—and can they apply for the job? 🙂
Lea: Absolutely, we'll welcome their applications and there are already a couple of resident cats that keep myself and fellow Book Lovers company so they'd have to share. 😉
I noticed on your website that you enjoy Shakespearean theatre. Did your love of the Bard's work have any impact on your decision to write historical romance?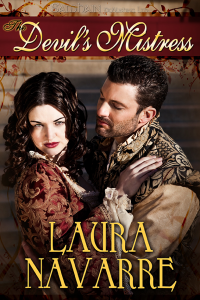 Laura: You know, Lea, no one has ever asked me this before! I started writing romance in grade school, before I ever met the Bard, but I did turn to historicals around the time I was discovering Shakespeare. Since Shakespeare lived and wrote during the Tudor period and my first published novel (The Devil's Mistress, Samhain, 2011) was a dark Tudor romance about a lady assassin, as thick with dastardly deeds as any Shakespearean tragedy, I think it's fair to say there may have been some influence.
The Elizabethan language of Shakespeare's time has definitely influenced the Tudor paranormal trilogy I just sold. I'll say more about below!
Lea: Describe a typical day of writing? Are you a planner or pantser?
Laura: It took me many years to embrace my plotting nature. 🙂 I yearned to be an organic writer, so creative, so free…but alas, I do tons of pre-writing before I ever sit down at the keyboard. My stories are known for a wealth of historical detail. I do considerable research on the period and detailed character sketches, including for the real historical characters in my pages. My sense of the story flows from immersing myself in the world and knowing my characters at a bone-deep level, which give me the inspiration I need for the plot.
Like most professional writers, my schedule is madness. I get up super early and write for two hours in the morning before heading off to my government work. In the evening, I'll spend another couple of hours doing research or promotion. If I'm very good, I'll do a full day of writing and writing-related work on Saturday and another on Sunday. So that's two full time jobs for me. Until recently, I was also a full time MFA student in Writing Popular Fiction through a low-residency program at the University of Southern Maine, which absorbed all my vacation time until I graduated.
Basically, I work and I sleep, and that's my life. That's the only way I can get it all
done. Fortunately I'm blessed with an exceptionally understanding fiancé who also writes, so we squeeze in a little together time too.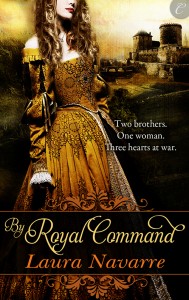 Genre: Historical Romance, Medieval
Release Date: July 2, 2012
Publisher: Harlequin/Carina
Formats Available: eBook, Kindle, Nook
Purchasing Info: Publisher, Author's Website, Goodreads, Kindle, Nook.
Book Blurb:
Two brothers. One woman. Three hearts at war.

Katrin of Courtenay's husband is dead—and she doesn't mourn him. He was cruel and
controlling, and she doesn't need a husband to hold her northern keep. But her
vengeful uncle, the King of England, has other ideas: intent on marrying her off, he's
ordered his Viking-bred warrior to return her to court.

On the journey, the Viking captures her interest, and for the first time Katrin
understands passion. But her guard is honor-bound to deliver her to the king, and so it
is settled—she must wed the mysterious Rafael le Senay, the Baron of Belmaine.

A forced marriage to a stranger slowly becomes something more, and Katrin realizes
she is in love with Rafael. But with the shadow of her former lover hanging over her,
and Rafael's powerful brother making dangerous plans, can Katrin negotiate the
delicate balance between survival and happiness?
Excerpt

When a step sounded on the stair, Katrin turned swiftly. Apprehension snatched her breath.

The sword-theyn filled her doorway, eyes sweeping the colorful spill of faded tapestries draping her walls, the clutter of scrolls and parchments among racks of burning candles, the great curtained bed. Harsh and forbidding, he could have been a Viking invading her home, tawny hair blazing with firelight.

When his gaze lit on her, she braced for an explosion of wrath.

"You have a facile tongue, Lady Katrin," he said, low and dangerous.

In the gathering dusk that pressed against her window, his presence strung her nerves tight. Yet his expression was inscrutable. Impossible to tell if her lies had angered him. Still, her knowledge of men told her to step quietly.

Trying to pacify, she strove to flatter him. "I dare swear you were not long taken in."

"By the time we reached this hunting lodge, I had my doubts," he said grimly.

"You revealed yourself by your ease of command."

Perhaps she need not endure a thundering tirade, or summon her housecarls to restrain him. Still, she didn't make the mistake of thinking this formidable warrior would easily forgive her deception.

Well, reduced in fortune and desperate she might be, but let him recall her rank.

She was no serving wench to cower before him, no matter how shabby her estate.

"I pray you'll pardon my small deceit." Gracefully she sank into a chair, the table standing safely between them. "You and I were alone in the ruins, far from any assistance, and I couldn't be certain of you. Do be seated."

Frowning, he lowered himself into the opposite chair. Despite her gnawing worry, she was forced to concede he drew the eye: broad-shouldered and larger than life, even without his armor. Tonight he wore a tunic of ocher cloth bordered with knotwork, a dragon gripping the bronze buckle of his belt. He was certainly not handsome, his features too harsh for it: his nose too prominent, cheekbones slanting too sharply, skin chafed by sun and wind—a man who spent too much time frowning into the weather. His eyes seemed to penetrate the flimsy veil of her deceptions, to seek out her hidden truths.He would be perilous to oppose. But oppose him she would. When Gwyneth bustled in with the winecups, relief surged through her. Perhaps this long-traveled nuisance will drink himself insensate.

They await my word outside. We can leave him somewhere, lost in the wood, and bar the door against him. In any event, she would find some way to be rid of him.

She smiled. "Will you take wine?"

After a token swallow, he lowered his cup to the table. Dismayed, she realized he intended to spill out his business. Thus far, drink had not forestalled him.

She said the first thing that came into her head. "Pray tell, how fares my uncle?"

He checked himself on the edge of speaking. Impatience drew his brows together. "That tale's long in the telling."

Praise God for that. She slid the flagon toward him.

Glancing around with a courtier's caution, he propped his elbows on the table and hunkered forward. Firelight glowed on the bronze-hammered torques that banded his forearms, sinuous with a warrior's strength.

"The king mourns the loss of another son. Edward died of a hunting accident on Lammas Day. All of England grieves for him."

"God's mercy! It's the second son he's lost, in as many years."

"Aye, and he needed Edward badly for alliance. That marriage will never be made now. Five sons, four daughters, and all spoken for, with the king himself wedded to Normandy's sister." He leaned forward. "The Danes are overrunning these shores. Every summer the Forkbeard and his dragon-ships bring more of them. Ethelred's spread thin as oil over famine bread—he needs more allies."

"Need them he may, but he can find them elsewhere. I've done my duty."

"Aren't you eager to hear his bidding, lady?"

Nay, he would have sensed by now she was anything but. Dread constricted her chest.

"To the contrary, sword-theyn. I'd prefer to hear nothing at all and be forgotten utterly. But I see 'tis too much to hope for."

"The man's your king, and you his sworn vassal."

"The man is the Devil, and my husband was his sworn vassal! I swore nothing, nor was asked to."

"He's your kinsman." Eomond frowned. "I thought your relations must be cordial."

"When last I saw him, I was a pawn to be placed where it suited him, no matter my wishes or my grieving mother, my father barely cold in his grave." Simmering, she thrust to her feet. "And here you find me. I assure you cordial is the last word to describe our relations."

Restless, she strode to the casement and struggled to regain her composure. "I suppose you'll relate what he sent you to say, whether I wish to hear it or nay."

"So I've sworn." He studied her through narrowed gaze, as though she spoke a foreign language.

Mercy, she could burn in those eyes of his—dark embers, no Viking blue at all.

And he stared at her as though he saw nothing else.

She swallowed against the dryness in her throat. "I would hear it straight out, without softening."

"My charge is to bring you to court," Eomond said flatly. "You're summoned to appear by Midwinter."

Whatever she'd expected, it was never this. Her stomach sank with dismay. Her gaze flew to Gwyneth, who clearly shared her alarm.

Blindly, Katrin gripped the casement behind her, and anchored herself against the sweeping tide of fear. Still she felt small and helpless—a condition she despised—before this redoubtable warrior whose presence in her chamber was an unmistakable

threat.

"So he'd end my exile at last," she whispered. "To what purpose?"

"Ethelred seeks another great alliance, and all his kin are spoken for, save the babes in arms. He'll seal it with your marriage."

She felt as though she were falling from a vast height. Her blood hammered painfully in her chest. She couldn't seem to catch her breath. Try though she might to think, her thoughts swirled like a rising river.

"Another marriage?" she breathed. "To whom?"
Lea: The synopsis of By Royal Command would lead a reader to believe you've written a significant amount of intrigue into the plot. Please share more about this story and it's heroine Katrin.
Laura: Yes, there's a bit of intrigue! By Royal Command holds a special place in my heart. Although it's my third published novel, it's the first one I ever wrote, the book of my heart.
Exiled royal Katrin of Courtenay believes she murdered her brutal husband when she prayed for his death, and that a vengeful God will punish her for it. Struggling alone to defend her lands, she believes manipulation and deceit are a woman's only weapons. But they won't be enough to save her from her vengeful uncle: Ethelred, the King of England. Katrin's remarriage is the cornerstone of his scheme to defeat the Danish invasion and save the English throne. When she resists, Ethelred dispatches his sworn man Eomond—a Viking warrior of rough edges but unbending integrity—to "escort" Katrin to the marriage. When she sets out to seduce him from his duty, Eomond's loyalty will be tested to its limits.
Blackmailed by the king, Katrin denies her passion for Eomond to undertake a political marriage with the most reluctant of bridegrooms: the brilliant and enigmatic would-be bishop Rafael le Senay, brother to a powerful earl, who harbors ambitions for the papal throne. Torn between her longing for Eomond and her increasing fascination for Rafael, Katrin becomes locked in a battle of wills that pits desire against loyalty, love against honor, and brother against brother. She must journey through the darkness of one family's secrets on a quest for redemption from the sins of her past to discover the truth of love.
By Royal Command won the Maggie Award for Excellence back in 2005, and finaled in the Heart of Denver Molly Awards and other RWA contests. I was thrilled this month when Romantic Times gave it a 4 ½ star review.
Lea: What year is By Royal Command set in Laura?
Laura: The story takes place in the turbulent era of Anglo-Saxon England before the Norman Conquest—in 1005, to be precise! England was struggling to rise from the long night of the Dark Ages, staggering beneath the onslaught of successive waves of Vikings who sought not only to plunder England, but to occupy and settle the entire island. The situation I describe in By Royal Command was a national calamity—perfect for a nice, dark romance. 🙂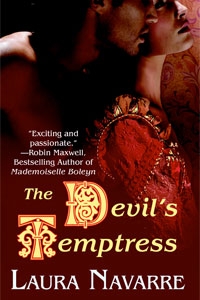 Lea: You describe your romances as dark medieval and Renaissance. Is it the setting, characterization or plot that makes the tone of your stories dark? Or is it a combination of all three?
Laura: I love that you're asking me questions no other interviewer has ever asked! I think it's all three. I tend to write dark protagonists—heroes who are tortured by their fatal flaws, who are notorious in some way, who live under the uneasy sense of watching eyes and are tortured by the sins of their past. For instance, Rafael in By Royal Command was raised in a monastery and destined for the priesthood, but he killed his first enemy (in self-defense) at the age of nine and had a secret affair with a French noblewoman, both sins that torment him. He views his carnal passion for Katrin, the political bride who cost him his bishopric, as a mortal sin—yet he falls deeply in love with her all the same.
Thematically, I write redemption stories teeming with emotional intensity. I definitely don't write light and bubbly reads, though sometimes I wish I could. To find salvation, my heroes and heroines must face the prospect of their own damnation. I guess that's what makes my stories dark!
Lea: Women of that age were really at the mercy of men and were expected to essentially do what they were told. Can readers expect to find an intelligent and feisty heroine in Katrin?
Laura: Katrin is strong-willed, clever and devious when the situation demands it. As an aetheling—Anglo-Saxon royalty, the king's niece and widow to one of England's premier magnates—she's politically savvy. She knows how to play the game of intrigue, how to say one thing and mean another, how to bide her time and wait for her moment. She's keenly aware that her royal blood and her unconventional beauty give her a certain power over men. But using that power troubles her Christian conscience. This is a woman who believes she's destined for Hell because she rebelled against her abusive husband.
Katrin's dilemma mirrors to some extent the quandary of highborn women in the medieval world. How much power could they really hold? Despite their many drawbacks, a medieval woman enjoyed some advantages. Noblewomen like Katrin shared the position and rank of their husbands and could inherit land in their own right. When the king summoned men to war, the medieval woman need not throw her life and health into the fray of combat; she could stay safely home. Of course, as it turns out, Katrin's northern lands during the Viking conquest are anything but safe…
Lea: So, there are two gents interested in your heroine. Does "The Viking" actually remain in the picture once she finds herself married and in love with Rafael? Would you describe this romance as a triangle?
Laura: The Katrin-Eomond-Rafael story is definitely a love triangle! Katrin falls deeply in love with Eomond, but he proves unwilling to sacrifice his honor and loyalty to the King by claiming her. As for Rafael, he is keenly aware of Katrin's feelings for Eomond, as that forbidden passion has made her notorious at court. At one point, Rafael declares that Katrin can love whomever she wishes in her secret heart, as long as she remains physically faithful to him. Later in the story, however, Rafael confesses that he lied. He falls profoundly in love with Katrin, and wants her heart for himself.
Lea: Please tell us more about Rafael le Senay. 🙂
Laura: Rafael is one of my most complicated heroes. He begins the story as an elegant, foreign-reared scholar whose star is rising at the papal court when an untimely death summons him home to become Baron of Belmaine. Powerfully committed to his religious calling, his reputation leads Katrin to believe he will have little appetite for the bridal bed.
En route to her arranged marriage with Rafael, whom she's never met, she encounters the mysterious Black Fox—a masked swordsman from Anjou who creates a scandal when he sweeps her from the tourney field as his prize. Katrin is stunned to learn that the darkly beautiful young gallant with his lethal fighting prowess is her unenthusiastic bridegroom. He wants nothing to do with marriage, but Rafael finds himself unwillingly drawn to his sensuous and strong-willed bride.
Lea: Can readers expect a light level of sensuality in By Royal Command or is it more erotic in nature?
Laura: This is a definitely sensual read. Romantic Times labeled it "hot". But it's not erotica and it's not a ménage. Katrin consummates her passion for Eomond early in the story and her love for Rafael later on, but the three never occupy the same bed. 😉
Lea: Is By Royal Command part of a series? What can readers expect next from the desk of Laura Navarre?
Laura: There is actually a sequel to By Royal Command that holds a lot of surprises! But I've been so busy with other projects that I haven't had time to submit it, and I wrote By Royal Command to be a solid, satisfying standalone read.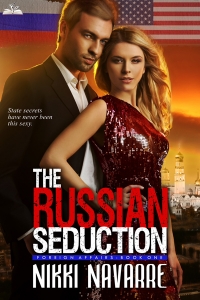 I'm extremely excited about the historical paranormal trilogy I just sold–a trio of dark Tudor romances with elements of Arthurian legend and fallen angel heroes. Release dates and titles are still being worked, but I hope you'll see these Laura Navarre titles on sale in 2013.
As a sideline, taking advantage of my background in diplomacy, I'm also writing a trilogy of Russian-set romantic suspense, with lots of international intrigue and glamour, under the pen name Nikki Navarre. Think spies, champagne and seduction. State secrets have never been this sexy! The first book is The Russian Seduction (October 2012). You can check out Nikki's first chapter and other goodies here.
Lea: Please summarize By Royal Command for us twitterstyle (in 140 characters or
less).
Two brothers. One woman. Three hearts at war. BY ROYAL COMMAND by @LauraNavarre for @CarinaPress #medieval #historical #romance
Lea: Now the tough BLI question: Please tell us 3 reasons why people should read your books?
Laura: If you love a rich tapestry of historical detail, a cast of complex characters who are neither entirely good nor entirely evil, and an emotionally intense journey, I think you're going to like By Royal Command.
Lea: Laura, thank you so much for taking time out of your busy schedule to share more about yourself and By Royal Command today. It's been lovely chatting with you!
Laura: Thanks so much for the opportunity and your thoughtful, unusual questions! It's been a lot of fun.
Where to find Laura:
Website | Blog | Facebook | Twitter | Goodreads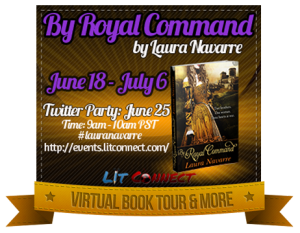 ~~~~~~~~~~~~~~~~~~~~~~~~~~~~~~~~~~~~~~~~
~*~*Giveaway*~*~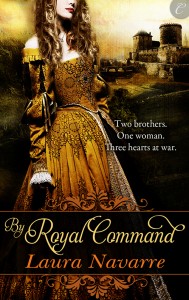 Laura is generously offering a $25 Amazon or Barnes & Noble eGC to one commenter from the blog tour which runs June 18th – Friday, July 6th.

All you have to do is leave a question for Laura or a meaningful comment about the interview!
(You can read our full giveaway policy here)
Please leave us a way to contact you.
(Email in blogger profile or twitter name – no way to contact you – no entry).
This Giveaway is open Internationally!
Giveaway ends on Friday July 6, 2012; Blog Tour host LitConnect will be choosing a lucky winner from ALL commenters who have visited Laura's posts during her virtual tour. *The winner will be posted by July 13th on the LitConnect By Royal Command Event Page so please click the link and check to see if you won!.
Good luck!