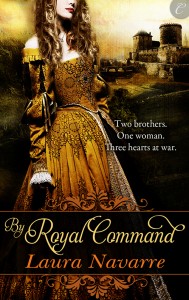 Format Read: E-book provided courtesy of Publicist for Review
Length: Novel
Genre: Historical Romance, Medieval
Release Date: July 2, 2012
Publisher: Harlequin/Carina
Formats Available: eBook, Kindle, Nook
Purchasing Info: Publisher, Author's Website, Goodreads, Kindle, Nook.
Book Blurb:
Two brothers. One woman. Three hearts at war.

Katrin of Courtenay's husband is dead—and she doesn't mourn him. He was cruel and controlling, and she doesn't need a husband to hold her northern keep. But her vengeful uncle, the King of England, has other ideas: intent on marrying her off, he's ordered his Viking-bred warrior to return her to court.

On the journey, the Viking captures her interest, and for the first time Katrin understands passion. But her guard is honor-bound to deliver her to the king, and so it is settled—she must wed the mysterious Rafael le Senay, the Baron of Belmaine.

A forced marriage to a stranger slowly becomes something more, and Katrin realizes
she is in love with Rafael. But with the shadow of her former lover hanging over her,
and Rafael's powerful brother making dangerous plans, can Katrin negotiate the delicate balance between survival and happiness?
My Thoughts:
By Royal Command is written from the third person point of view and told by the novel's heroine Lady Katrin of Courtenay. There are two-parts to the story. The first: "The Devil's Minion", chronicles Katrin's meeting and relationship with Eomond, a soldier or sword-theyn in liege to the English King Ethelred. Part Two: "The Would-Be Bishop" takes readers through the next stage in Katrin's life when she meets her future husband Raphael le Senay, the baron of Belmaine.
The year is 1005 and the English king is struggling to keep the Viking threat (who have already pillaged and burned much of the island) at bay. Katrin is the niece of King Ethelred, she is an aetheling or related to nobility and therefore a valuable asset during negotiations for fealty with rich landowners. At 14 years-old Katrin was banished to an unwilling marriage to Mordred, the pious, brutish Lord of Courtenay to seal his fealty to Ethelred. Mordred showed her no kindness or tenderness. Her abusive husband has been dead from plague for 2 years, the castle is destroyed and Katrin has struggled to maintain the lands and feed the few retainers who are left alive. Katrin is determined to remain out of her cruel, conniving uncle's reach, her husband terrified her and she has no desire to be used as a pawn in another monstrous marriage arranged by Ethelred. However, the English coffers are running dry and Ethelred needs his beautiful niece to use as a bargaining chip to seal an alliance with a powerful, wealthy family.
Ethelred dispatches Eomond, his sword-theyn and captain to Courtenay with specific orders to bring Katrin to court. Eomond is of Viking/English heritage, he is strong and skilled in the art of battle, and completely committed to serving his liege. Eomond is an intimidating sight clothed in battle armor astride his great warhorse and Katrin is frightened of him on first meeting despite the fact he rescues her from certain death from a wolf attack. When she learns who he is and why he has come, her fear turns to horror. Katrin will use whatever means at her disposal to thwart Eomond's mission including lies and feminine wiles. Eomond will not be deterred and makes it clear if he has to drag her before Ethelred using brute force he will. Katrin is intelligent and cunning but proves no match for the skilled warrior.
It was such a dark time in history and Navarre paints a realistic portrait of what these people face and endure on their long journey including predators, the threat of exposure to pox plaguing the small, sparse towns, outlaws and the elements. In the midst of it all Eomond and Katrin are drawn together in a forbidden tryst both know can go nowhere. They are leagues apart in rank and the king has specific plans for his niece. However, the formidable Viking captures Katrin's heart by introducing her to passion and tenderness. Eomond, however is devoted to Ethelred for a variety of reasons and determined to fulfill his commitments. He will not forgo his duty to do as Katrin wants and spirit her away.
The perfidy and subterfuge of the brutal, amoral Ethelred's (the Devil as Katrin calls him) court presents significant challenges for Katrin as she negotiates and tries to avoid his minions and mechanizations. Katrin suffers emotionally and physically at the king's hands particularly when Eomond goes to battle leaving the stink of betrayal with another woman in his wake. When Katrin discovers she is to be married to Raphael of Argent, a man formally destined for the priesthood she is heartsick but has no choice but to travel to Mercia. This opens Part Two of the story where readers are introduced to the splendor of Caerwyne castle and the next chapter in this fascinating woman's life.
Silently he placed a cup of wine before her, the silver goblet etched with crossed spears.

Sweet mercy, my uncle was utterly misled—or else he lied to me. This was no bookish monk, to be ruled through a clever wife. How on earth had Ethelred been so wildly inaccurate? For weeks she'd been preparing to marry an unworldly scholar who'd have little appetite for her bed, not this urbane and beautiful young lord with his watchful eyes. Close to panic, she wondered if it was too late to change her mind.

Rafael le Senay folded himself into the opposite chair. Damp ringlets fell around his face; sweet cloves scented the air. As she eyed him cautiously, he lifted his goblet in a wry salute.

"Forgive me for saying so, monseigneur," she murmured. "But you're not exactly what I was expecting."

One brow arched, framing a wary green eye. "What were you expecting?"

By Royal Command © Laura Navarre
Raphael is, as Katrin describes, urbane and beautiful, he has an enticing on page presence. He is extremely intelligent and doesn't easily give his trust. Raphael struggles with his decision to abandon church for familial commitments but despite his history of education with, and devotion to the Pope he is not pious or unschooled in the art of love. In a word, the guy is hot, for a variety of reasons. In contrast Eomond has a powerful warrior presence, an appealing hero for sure in many respects, but I really liked how the author handled the devolution of his relationship with Katrin, matching her with the enigmatic, sexy Raphael who is an equally adept warrior and leader. Great passion ignites between Raphael and Katrin, the eroticism is light, but the love scenes are intense. Katrin is an intelligent woman and educated, she is well read and has interests in the arts. They bond over hawking (falconry) a lovely and one of the less blood thirsty sports of the period.
Among the novel's many well-drawn secondary characters is Borovic, Raphael's brother, a fearsome warrior with no head for the administrative details of the family's vast concerns. Borovic fancies his brother's future wife which opens a Pandora's box of problems for Katrin as she does her best to repel his attentions. One of the many things that impressed about this novel is the juxtaposition established between the two brothers and how the tension escalates between them leading to violence and a riveting climax. Readers can expect plenty of action (including jousting matches), a number of plot twists and tense intrigue.
By Royal Command is a complex historical romance with very dark undertones. There were some scenes, particularly in relation to treatment of animals, that I found deeply disturbing because of who I am but pushed through and was glad I did. The time-line is post Dark Ages and pre Danish Conquest, an extremely turbulent period in Anglo-Saxon history. I think Navarre has done a stellar job of layering sensuality into a story that remains true to the historical facts, particularly underscoring the power of the Church over people's lives. By Royal Command isn't a quick, light read, the prose is lush and descriptive giving an excellent visual of Katrin's story. I hadn't read a medieval historical in a number of years so it took me a little while to become comfortable with the language and terminology but once I got into the novel, I thoroughly enjoyed it. There is significant depth and many layers to the plot but suffice to say, at its heart, By Royal Command is a moving epic tale of an 11th century woman's difficult life and discovery of a great love.

I give By Royal Command 4 1/2 Stars
***FTC Disclaimer: Most books reviewed on this site have been provided free of charge by the publisher, author or publicist. Some books we have purchased with our own money and will be noted as such. Any links to places to purchase books are provided as a convenience, and do not serve as an endorsement by this blog. All reviews are the true and honest opinion of the blogger reviewing the book. The method of acquiring the book does not have a bearing on the content of the review.