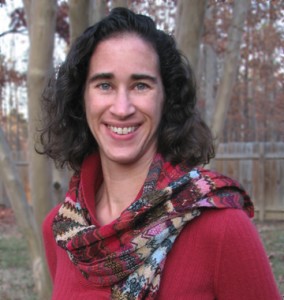 Good morning, lovely book lovers! We here at BLI are pleased to start this week of right with a blog visit by author Heather Massey. She stops by today to answer questions on a range of topics, including some of her favorite cult films, the different between clockpunk and steampunk, and the growing popularity of science fiction romance. Lots to learn, so check out the interview below (then read on for giveaway goodness!).
———
Marlene: Heather can you please tell us a bit about yourself?
Heather: Would you believe that 90% of my genetic makeup is coffee? I know! And I might be able to reach 100% capacity by the year 2086. I'll keep you posted. In the meantime, I'm a lifelong fan of science fiction romance. I've been blogging about SF-romance blends in books, films, and television shows at The Galaxy Express since 2008.
Flash-forward to 2010: I expanded my endeavor to include entertaining readers with stories of my own, starting with my erotic sci-fi romance Once Upon a Time in Space from Red Sage Publishing.
When I'm not writing, I'm mom to a fantastic daughter and wife to a spectacular husband.
I also moonlight as an iguana.
Marlene: On your bio you say you love cult films. Want to share some of your favorites with us?
Heather: Sure! Here's a random list off the top of my head in no particular order:
Battle Beyond The Stars (science fiction)
World of Drunken Master (martial arts)
Happy Accidents (sci-fi romance)
Shaolin Soccer (martial arts)
Repo Man (SF, comedy)
The Green Slime (SF)
They Live (SF)
Supervixens (comedy)
Suspiria (horror)
The Beyond (horror)
Barbarella (SF)
Santa Sangre (horror)
Santa Claus Conquers The Martians (SF)
Two Thousand Maniacs (the horror film by shlockmeister Herschell Gordon Lewis, not the band!)
Paprika (SF; anime)
Marlene: On your site, The Galaxy Express, you promote science fiction romance in a big, big way. If you were going to recommend one book to introduce someone to SFR, what would it be. and why?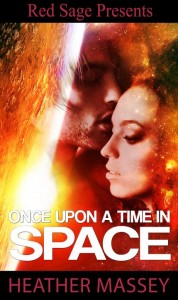 Heather: Great question and I really need to split my answer into parts. Science fiction romance is not only diverse, but readers come to it from various backgrounds.
So, if you've…
Read romance, but not science fiction: Touched By An Alien (Gini Koch). This story features a hot, out-of-this world Alpha hero whose superpowers include empathic abilities! The heroine is kick-butt yet accessible. Plus, the story's comedic elements make it easy to engage with the characters and setting.
Read science fiction, but not romance: Alpha (Catherine Asaro) and The Outback Stars (Sandra McDonald). These books make ideal start points because they deliver high-concept premises, action-adventure, mystery, and riveting characters along with the romance—perfect for SF fans who want to take it slow.
Never read romance or science fiction: Finders Keepers (Linnea Sinclair). This story features an accessible space opera setting, a strong heroine, a dashing hero, and quirky secondary characters. The blend of romance drama and intergalactic intrigue make for a relaxing introduction to this subgenre.
For anyone who'd like a recommendation tailored to their individual tastes, I invite you to email me at sfrgalaxy at gmail .com.
Marlene: And how do you see steampunk as fitting into science fiction romance in general (a subject that's near and dear to both of our ticky little hearts)?
Heather: I was very excited to witness the birth of steampunk romance, let me tell you! I began covering it on my blog in 2008, around the time that Dru Pagliassotti's imaginative Clockwork Heart came onto the scene. Since then, I run a periodic feature called "Steampunk Romance Watch," wherein I do a roundup of the latest steampunk romance news and titles.
If a steampunk romance story is all or mostly science-based, meaning that the setting features steam-driven technology (as opposed to fantasy/magic/supernatural elements), then to me it's one of the sub-subgenres of science fiction romance. Other readers may feel differently about that distinction, but that's the basic guide I use regarding covering such stories on my blog.
Sci-fi romance can take advantage of so many settings and steampunk was ripe for the picking. The aesthetic and historical components of Victorian-style science fiction are ones that can be very accessible for readers new to SFR. These days, editors are routinely calling for this delightful combo and readers have increasingly more book choices.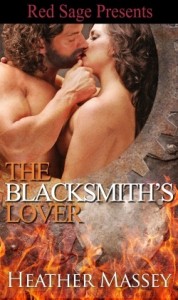 Marlene: How made you choose "Clockpunk" for The Blacksmith's Lover and The Watchmaker's Lady?
Heather: Clockpunk has fascinated me ever since I saw the Rankin-Bass television special Jack Frost as a youth. That show features an unbelievable amount of eerie yet alluring clockwork devices. The visuals cast such a strong spell on me that I couldn't look away.
I'm pretty sure that the Jack Frost experience influenced me when I came up with the idea for the trilogy. Erm, with the exception of that annoying groundhog narrator. It was a no-brainer to leave him out of the equation entirely!
Marlene: Why clockpunk specifically, and not the more general steampunk? What exactly do you see as the difference between clockpunk and steampunk?
Heather: Basically, clockpunk refers to stories involving clockwork-driven technology. Stories that focus largely on clockwork devices tend to take place in pre-Victorian times. In steampunk, the technology is steam-driven. That said, many, many stories mix the two since they work very well together.
For The Watchmaker's Lady and The Blacksmith's Lover, clockpunk made the most sense given the time period and location I chose for the stories. The idea of technology ahead of its time, *especially* in the early 1800s, has always intrigued me. I love to speculate about how such a concept would influence society as well as personal relationships.
I also thought it'd be entertaining to explore heroes who were geniuses at their respective crafts and yet also limited by the available technology and industry of the time. How would that situation impact their personalities and love lives?
Another reason I chose clockpunk is because clockwork-based devices are often more primitive than their steam-driven counterparts and hence, scarier and even a bit creepy. The devices and gadgets often lack a certain safety net, which adds a delicious sense of danger.
Aesthetically, clockwork devices are absolutely gorgeous and infinitely intricate, which I think makes for an interesting counterpoint to their primitive natures.
Marlene: Describe a typical day of writing. Are you a planner or pantser?
Heather: Typical day of writing: Coffee, write, coffee, write, lunch, coffee, write.
I'm a planner. I do a general chapter-by-chapter outline and won't start writing until I know the ending.
Marlene: What do you think is the difference between a reader and a real Book Lover?
Heather: A reader is a real Book Lover in training. Given the right book/genre, anyone can become addicted.
Marlene: Can you summarize The Blacksmith's Lover for us twitterstyle (140 characters or less)?
Heather: In 1840, a scullery maid on the run begins a lusty affair with a rugged blacksmith whose uncanny talent with iron may be her salvation.
Marlene: What can we expect of The Blacksmith's Lover?
Heather: A hot Russian blacksmith hero, an intrepid scullery maid heroine, earthy sensuality, a mysterious forge, volcanic sex, lots of eerie clockwork devices, and a Conan The Barbarian-style climactic battle!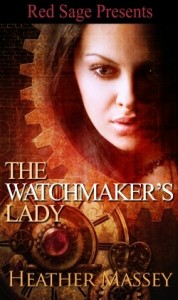 Marlene: Will there be more books in this series? What is next on your schedule?
Heather: Thanks for asking! The final installment in my clockpunk trilogy will feature an inventor hero. Readers first meet him in The Blacksmith's Lover.
As far as what's next, I contracted an action-packed Western steampunk romance with Lyrical Press. The title is Iron Guns, Blazing Hearts and will release in 2013. Here's the premise:
True Grit gets steampunk'd when Violet Whitcomb, an inventor's daughter, joins forces with dangerous outlaw Logan McCoy and an automaton gunslinger to rescue her father from the clutches of an evil overlord known as the Iron Scorpion.
And, of course, I will continue to blog about all things science fiction romance at The Galaxy Express!
Marlene: Now can you tell us 3 reasons why people should read your books?
Heather:
1) You seek stories that push romance boundaries, and yet at the same time are hopelessly romantic.
2) You'll meet characters who are enticing, unique, and full of surprises.
3) You can escape to a place and time that delivers a fresh type of fantasy.
———-
Heather Massey is a lifelong fan of science fiction romance. She searches for science fiction romance adventures aboard her blog, The Galaxy Express.

When she's not reading, she's watching cult films and enjoying time with her husband and daughter.

Where to find Heather:
…
The Blacksmith's Lover by Heather Massey
The Clockpunk Trilogy, #2

The year is 1840. On the run after being caught in a scandalous incident, scullery maid Sarah Bailey must find refuge before her vengeful former mistress has her killed. When she stumbles upon a blacksmith's shop in need of an apprentice in West Boylston, Massachusetts, she applies for the position.

Viktor is a brawny, reclusive blacksmith who creates strange clockwork and steam-powered devices. The gruff man makes it clear that Sarah's plight is no concern of his, but ghosts from his past dictate otherwise. Viktor agrees to protect the spunky maid, but only until her trail of henchmen runs cold.

Sarah quickly discovers that the fire of this blacksmith's forge runs volcanic hot. Unable to resist one another, she and Viktor begin a lust-filled affair. But how long will their idyllic arrangement last before Sarah's former mistress destroys it?

Read an excerpt of The Blacksmith's Lover

Find it at: Goodreads | Amazon | Barnes & Noble | Red Sage Press
~~~~~~~~~~~~~~~~~~~~~~~~~~~~~~~~~~~~~~~~
~*~*Giveaway*~*~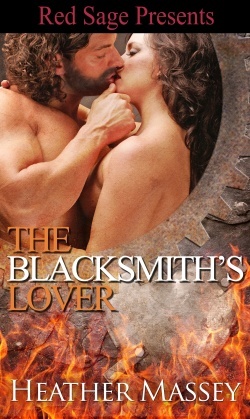 Heather Massey has very generously offered a copy of her book The Blacksmith's Lover for not just one but TWO lucky commenters!
All you have to do is leave a meaningful comment or tell us: are you a fan of Sci-Fi romance? If so, what book introduced you to the subgenre?
(You can read our full giveaway policy here)
Please be sure to include a valid email address in the comment form (need not be in the actual body of the comment).
This giveaway is open to all!
Giveaway ends on Saturday, July 21st, 2012; we will announce the winner on Sunday.
Good luck!