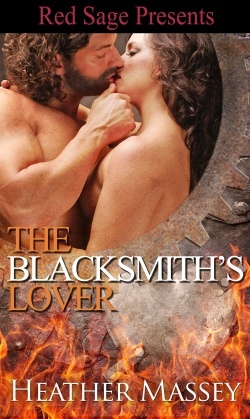 Format Read: ebook from author
Number of Pages: 100 p.
Release Date: June 1, 2012
Publisher: Red Sage Publishing
Series: The Clockpunk Trilogy #2
Genre: Steampunk
Formats Available: ebook
Purchasing Info: Amazon | B&N | Kobo | Book Depository US | Book Depository (UK)
Book Blurb:
The year is 1840. On the run after being caught in a scandalous incident, scullery maid Sarah Bailey must find refuge before her vengeful former mistress has her killed. When she stumbles upon a blacksmith's shop in need of an apprentice in West Boylston, Massachusetts, she applies for the position.

Viktor is a brawny, reclusive blacksmith who creates strange clockwork and steam-powered devices. The gruff man makes it clear that Sarah's plight is no concern of his, but ghosts from his past dictate otherwise. Viktor agrees to protect the spunky maid, but only until her trail of henchmen runs cold.

Sarah quickly discovers that the fire of this blacksmith's forge runs volcanic hot. Unable to resist one another, she and Viktor begin a lust-filled affair. But how long will their idyllic arrangement last before Sarah's former mistress destroys it?
My Thoughts:
There aren't a lot of romances with working-class heroes. In historic romances, everyone's a nobleman. In contemporary romances, everyone is either a white-collar worker, military, or police.
That's a broad generalization, but maybe not too far off.
In an early scene in The Blacksmith's Lover, the heroine, Sarah, sees Viktor, the Blacksmith, bathing nude, and it does kind of make you wonder why there aren't more blacksmith-heroes, at least in erotica.
While you're fanning yourself, think about it.
However, that's not the point of the story. There's plenty of steam in this steampunk, but it doesn't get there until later. There's also not a lot of steampunk, or clockpunk, in this story at the beginning. It sort of eases its way in, too.
What we have throughout is the subversive story of two people who rescue each other. Viktor and Sarah are really equals. It just takes them a good chunk of the story to figure that out.
It works as a story. Viktor's no nobleman, although he is very noble in his own way. And Sarah's no simpering miss, either. They are both strong. Not just strong -willed, but physically strong. He needs her as much as she needs him. And not just for sex, although that turns out to be a big part of what happens.
They also have one heck of a lot of secrets, and they are keeping way too many of those secrets from each other to have a happily ever after. It almost costs them everything.
One big secret involves the steampunk/clockpunk element. Viktor learned some really cool stuff back in Russia. He learned to make mechanical marvels. He wants to train an apprentice, to pass his secrets on. Instead of getting an apprentice blacksmith, he gets Sarah.
She wants a refuge. And finds a protector. Together, they make a formidable team. It's all a matter of learning to trust.
It made sense that Viktor was keeping the more "outlandish" aspects of his blacksmithing a secret from the general populace. Trust does not come easy to him. Neither does communication. He's used to working with his hands, not talking. Yet he needs to find someone to train. It's a very real problem.
This story begins because Sarah is being hounded by her previous employer, Mrs. Reynolds. The issue with Mrs. Reynolds does have to be resolved before this story can come to an end, and it does involve Viktor's clockworks and steamworks. All does get revealed.
But I'm glad we don't really see much of Mrs. Reynolds. I found her motivations completely unbelievable, even in fiction.
The Blacksmith's Lover is a more "traditional" steampunk romance than The Watchmaker's Lady. Both the lovers are fully human, and the reader doesn't find themselves wondering if the hero is out of his mind.  Without that challenge, the story is not quite as haunting.
Which makes it very steamy steampunk with a down-to-earth hero and a heroine who is his equal. For that, I give The Blacksmith's Lover 4 stars.

***FTC Disclaimer: Most books reviewed on this site have been provided free of charge by the publisher, author or publicist. Some books we have purchased with our own money and will be noted as such. Any links to places to purchase books are provided as a convenience, and do not serve as an endorsement by this blog. All reviews are the true and honest opinion of the blogger reviewing the book. The method of acquiring the book does not have a bearing on the content of the review.