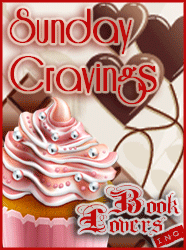 Hello everyone? How is this weekend for you so far? Mine is hot and not as in sexy hot but as in "I can't even breathe from the high temperature and humidity" hot. The only good thing from all that is that I try to stay inside so, I have more time to spend reading 🙂
Next week bookwise is poor. Not many titles are hitting the shelves giving us some time to manage our overflowing TBR lists. So, for this week's Sunday Cravings I will have a surprise for you. Since Stella was away the previous week and she didn't have the time to share her Sunday Cravings at the time, we will revisit the previous week with her and her choice of book 🙂
Let's start!
Marlene: The Ravenous Dead by Natasha Hoar
This time the dead are hungry…

Rachel Miller doesn't just see dead people, she rescues them. As a member of The Order of Rescue Mediums, she spends most of her time helping stubborn spirits move on from the world. But after she learns the details of three brutal murders, she knows the culprit can only be a reaper, an undead monster that relentlessly stalks its victims to feed on their souls.

A reaper once consumed the soul of Rachel's mentor as she watched frozen in fear. Now, Rachel is in the role of teacher to Kit Elkeles, a rodach just learning to control his wraithlike powers. After Kit and Rachel rescue a half-vampire, they work to protect him while searching for a way to stop the reaper. But when Rachel realizes who the monster is really after—and just what kind of dark magic she'll need to stop it—will she be able to do what is necessary before it devours one of her friends…or even herself?
I loved the first book, The Stubborn Dead. The heroine doesn't just see dead people, she rescues them. The Order of Rescue Mediums isn't just a great idea, it's a great name for an organization in an urban fantasy series. I'm glad to see more of this UF series.
Stella: Keeping Secret by Sierra Dean
It's a nice day for a white wedding. At least that's what Secret McQueen is hoping for, with her poofy-princess-dress marriage to a werewolf king looming closer and closer by the day. But as ever, nothing can be that easy for a vampire/werewolf hybrid for whom someone still harbors a death wish.

Summoned to the south by her werewolf uncle, who makes no bones about the fact her mate bond with Lucas doesn't pass muster, Secret learns her furry heritage looks more like a tangled vine than a family tree. Getting her royal uncle's blessing hinges on finding one of the missing twigs. Even with vampire sentry Holden Chancery at her side, she manages to land up to her neck in a swamp of trouble.

As an assassin's scope zeroes in, family dramas boil up and a fast-collapsing love square threatens to bury her alive, making it to the church on time could be the least of Secret's problems.

Product Warnings
Contains a grumpy bride who shouldn't be wearing wedding white, a motley crew of bridesmaids, a dangerous scenic drive in the woods and a smoking-hot trio of suitors who might be too scorching to touch.
I LOVE Sierra Dean's Secret McQueen series! It has everything a girl could dream of: a kickass sassy-mouthed heroine, lots of nailbiting action and of course heaps of yummy potential heroes 😉 (but no, nothing á la Anita Blake mess!).
Sierra Dean's stories are addictive: I inhale them (be it novella or full length novel) in no time and as soon as I've finished withdrawal symptoms set in, so I try to read them prudently. I just devoured the 3rd book Deep Dark Secret last week so now I am fully prepared and ready to take on Keeping Secret by Sierra Dean, the 4th book in the Secret McQueen series!!! Can you tell I'm excited? 😉 LOL 😛
Is there a book you can't get wait to get your hands on next week?