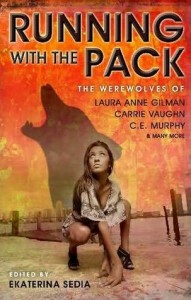 Format Read: ebook
Number of Pages: 339
Release Date: May 4, 2010
Genre: Urban Fantasy, Anthology
Publisher: Prime Books
Formats Available:  ebook, paperback
Purchasing Info: Author, Amazon, Goodreads
Book Blurb:
Remember the werewolves of classic stories and films, those bloodthirsty monsters that transformed under the full moon, reminding us of the terrible nature that lives within all of us? Today's werewolves are much more suave – and even sexy – and they've moved from British moors to New York City lofts, shaved, and got jobs. But as the tales of these writers will show you, they remain no less wild and passionate, and they still tug at the part of our being where a wild animal used to be. Running With the Pack includes stories from Carrie Vaughn, Laura Anne Gilman, and C.E. Murphy, and they will convince you that despite their gentrification, werewolves remain as fascinating and terrifying as ever.
My Thoughts: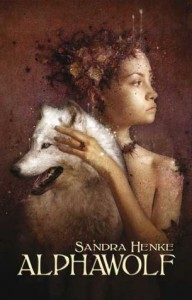 Why did I buy this book? It's Susi's fault. She told me this kick ass cover was all Romancy. In revenge I decided to read about WOLVES. But I couldn't decide on what kind of wolf. Werewolf, direwolf, talking wolf, psychic wolf, cursed wolf, heritable wolf, angry wolf, mopey wolf, wolf in sheep's clothing….. so many choices. I settled on the wolf-tasting menu. Why pick one when I can have them all? MWHAHAHAH!
Note: Not really sure how to review an anthology. Each story gets its own commentary, and then I'll rate the collection as a whole.
*****
Wild Ride by Carrie Vaughn: I think this is a Kitty-verse story. But a wicked boring one. Zzzz. Skip it. (-)
Side Effects May Include by Steve Duffy: Racism and other bullshit imperialism. (-)
Comparison of (Title Longer than the Story) by Marie Brennan: This is utterly hilarious. Granted, I've spent quite a bit of time buried in academia reading dry studies. I also greatly enjoyed it when the public health commissions starting making plans for zombie outbreaks.  (+)
The Beautiful Gelreesh by Jeffrey Ford: Yes, I get it. People are easily duped. This is literary fiction at it's worst. I can pratically hear myself arguing with an Lit professor over endless nuances and hidden meanings. (-)
Skin in the Game by Samantha Henderson: Hahahahah. That's one way to add spice to game night. And vet your new players. Somebody introduce these ladies to poker and start casting for the television series. (+)
Blended by C.E. Murphy: Now this is how Regency Romance should be done. No mindless drivel about clothes. Lots of bloodshed. I want the whole story of Marketa's childhood! Show those snobby English bitches what's what. (+)
Locked Doors by Stephanie Burgis: Intriguing. Family Loyalty vs. Survival. One glaring flaw though lady; you really think 30 cans of soup will last your kid for a year? Moving past the poor comprehension of a child's dietary requirements, I want MORE. Please be a companion piece to a book, please be a….damnit! (+)
Werelove by Laura Anne Gilman: Way to take the figurative blood from the Courtroom and make it literal. I need to start distributing this story to my clients. If you are going to throw-down, then THROW-DOWN. (+)
In Sheep's Clothing by Molly Tanzer: Sometimes political scifi makes you think. Sometimes it's preachy. This one is so preachy I needed to go eat some fastfood off a plate coated in toxins from the 3rd world sweatshop it was manufactured in. (-)
Royal Bloodlines by Mike Resnick: Never read a Lucifier Jones book. This did not inspire me to seek one out. (-)
The Dire Wolf  by Genevieve Valentine: I dislike indecisiveness. Make up your bloody mind already. Whine, whine, whine. It's your fault you're miserable, and you are trying to make me suffer with you. Whatever. Go find a tar pit to swim in. (-)
Take Back the Night by Lawrence Schimel: I love the idea of an all night bookstore! With or without the werewolves. I am so into this setting that all plot holes are instantly forgiven. On a side note, super-irritated that the feminist-all-night-bookstore-owner things she's a conservative pissing in the face of her dreams. (+)
Mongrel by Maria V. Snyder: BRILLIANT! This, right here. Totally worth the whole damn anthology. Thankfully it's the first one I read. If I'd started at the beginning like a normal person, I probably wouldn't have kept going. Everyone, go get this book, and read this story. Right now. Then write to Maria Snyder requesting she turn this into a full-length novel. Go old school and use pen and paper. Authors appreciate eccentricity, right? (+)
Deadfall by Karen Everson:  Kicking ass and taking names. Love it. This is small town life. Every small town needs a werewolf who will go around breaking the bizarre hold misogynist racist assholes hold over the weak-willed. Then we'd have fewer problems down the line with the Good Ole' Boys club sweeping things under the rug. In fact, we have an opening in Kenai. Any angry werewolf ladies want to move to the tundra and terrorize perverts for me? I have a spare bedroom. And our building is dog-friendly. (+)
Red Riding Hood's Child by N.K. Jemisin: Very nice. Taking the Red Riding Hood = woman embracing her own sexuality in the face of Puritanical pressures motif to it's logical conclusion. Also, TAKE THAT sexual predators! (+)
Are you a Vampire or a Goblin Geoffrey H. Goodwin: Why is this even in a book about werewolves? The werewolf bit was tacked on at the end. (Oopsy, I'm writing a werewolf story. Better toss some howling and fur in there.) I'd have preferred an answer to the title question. (-)
The Pack and the Pickup Artist by Mike Brotherton: No. Just no. (-)
The Garden, the Moon, The Wall by Amanda Downum: I'm digging the Greek mythology references, but where the hell are my wolves? (-)
Blamed for Trying to Live by Jesse Bullington: I find it hard to believe an avowed vegan would seek out lycanthropy out of boredom without considering the dietary consequences. (-)
The Barony at Rodal by Peter Bell: Nazi Werewolves make great B-movies, and interminably long short-stories. (-)
Inside Out by Ezrebet Yellowboy: Tragic and lovely. Very reminiscent of Robin McKinley. The story closes totally unresolved, but with enough to let you know how heartbreaking the next 40 years will be for these people. Just the way it is in real life. (+)
Gestella by Susan Palwick: What the…..that ASSHOLE! I want vengeance! I want to paint the walls with his blood! I want him to SUFFER! WHY DOES HE NOT SUFFER?! (+)
*****
And the verdict is……
Huh.
Half awesome, half crap. I was hoping for something a bit more, you know, definitive. So I could passionately order you all to read it. Or vehemently revile the time wasted on compiling this collection.
In the end, this anthology is a good sampler of the multitude of subgenres available within werewolf fiction. Start reading from the back. The last story is one of the best. But be prepared to leave wanting more. Only 2 of these stories take place in established fictional universes. The rest are tantalizing scraps of non-existent novels.

I give Running With the Pack 4 stars. Though it was a 50/50 split on worthwhile vs. worthless, the good so completely trumped the bad, that I'll bump it up to B.
****FTC Disclainer. Most books reviewed on this site have been provided free of charge by the publisher, author or publicist. Some books we have purchased with our own money and will be noted as such. Any links to places to purchase books are provided as a convenience, and do not serve as an endorsement by this blog. All reviews are the true and honest opinion of the blogger reviewing the book. The method of acquiring the book does not have a bearing on the content of the review.