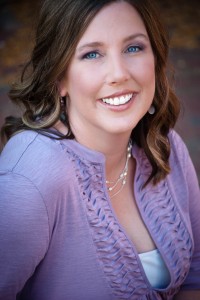 Today we're very happy to welcome Laura Kaye on Book Lovers Inc. Laura's new Fantasy Romance, West Of Want came out earlier this month. This is the 2nd book in the Hearts of the Anemoi series.  Laura is here today to tell us all about her heroine Ella Raines.  Stay tuned and you could win a copy of the book. Let's give a warm welcome to Laura!
I'm very excited to be celebrating the release of my new fantasy romance West of Want, the second book in my Greek-mythology-based Hearts of the Anemoi series! As much as I love the Greek gods in this series—their supernatural powers, the fraternal dynamics between them, their distinct hurts and wants and needs, their abs (look at that cover!)—I've really enjoyed writing the heroines, too. These women need to be equals to incredibly powerful, paranormal creatures. They need to be able to handle the knowledge that this whole other world exists. And they need to be up to the task of giving each of the Anemoi heroes his redemption.
And that's why, one of the things I love about West of Want is the heroine, Ella Raines. So, here are ten reasons you just might fall in love with her, too:
10. She refuses to let life knock her down. Ella has been through the ringer when West of Want starts, and yet she remains resilient. She refuses to give up. She refuses to give in to the heartache. Instead, she uses those hard knocks to motivate herself to be more.
9. She's an expert sailor. This expertise takes years of practice and hours and hours out on the water to achieve, which is admirable to begin with. Personally, I've always loved the water, and Ella's expert knowledge allows her to thrive there and be great at something I'd love to know how to do.
8. Ella's open-minded. She's willing to hear someone out before judging. She's willing to keep an open mind before ruling something out. And she really, truly listens. Along with her open-mindedness, she's forgiving, too. And all of these qualities are ones Zeph truly admires in her.
7. She keeps a head in stressful situations. And boy does she go through some stressful situations! A god almost kills her? Then she wakes up in a room with a strange man, a strange man that has light coming from his eyes and hands? And that's just in the first pages! LOL Her ability to keep her wits about her in the middle of a crisis shows her strength and is another reason I love her.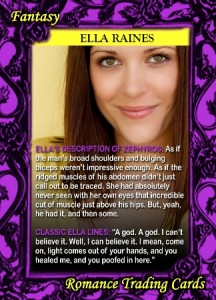 6. Ella wants to give back. Despite everything that's happened to her, Ella determines to not only live, but thrive. And one way to do that is to contribute her time, money, and energy to a good cause, one that fits into what she holds dear in life. I find this a truly admirable quality.
5. She fights back. At a particularly dark moment in the book, Ella knows she's out-powered and trapped, but she still fights until the very last, and refuses to give in to fear or despair. She's a real person, but in this moment she's particularly bad ass, and I like to think I'd be as courageous as her in a similar situation.
4. She refuses to cower before evil. In another dark moment, Ella stands strong in the face of true evil. This shows not only her courage, but also her integrity and character, and is one of the reasons I truly fell in love with writing this heroine.
3. She is understanding and compassionate, but refuses to be a doormat. Ella is willing to listen, consider, and forgive, but that doesn't mean she's going to let someone get away with bad behavior without also being totally honest with how she was hurt. I respect someone who is strong enough to stand up for themselves and strong enough to forgive wrongs and hurts.
2. She takes good care of Zeph. When Zeph is injured, caring for him becomes her first thought and first priority. In that moment, she can be strong for him, and he is overwhelmed by her caring and attention.
1. She's got a good dose of bad ass power running through her veins. You're just going to have to trust me on this, because it's too big of a spoiler to explain! Mwuhaha!
For me, all of these add up to one relatable, strong, and even kick-ass heroine, and I hope you'll agree that she's completely lovable and totally worthy of Zephyros, Supreme God of the West Wind and Guardian of Spring.
GIVEAWAY! Would you like to know more about Ella? Post a question for her or her author lady, and we'd both be happy to chat with you! One commenter who leaves their email address will win an ebook of West of Want!
Don't miss the West of Want in the Wild (thru 8/24) giveaway events, too!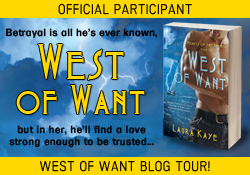 Thanks for reading!
Laura Kaye
Buy Laura's Books Website | Blog | Facebook | Twitter | Newsletter SignUp
"Laura Kaye's captivating writing and vibrant world-building will have readers hooked on the gods of the Anemoi. WEST OF WANT is steamy, spellbinding, and a must-read for all romance fantasy fans." ~Elisabeth Naughton, author of the Eternal Guardians series
About West of Want:
Betrayal is all he's ever known, but in her, he'll find a love strong enough to be trusted…

When Marcella Raines' twin brother dies, she honors his request to be buried at sea, never expecting the violent storm that swamps her boat. Though she's gravely injured–and still emotionally damaged from her recent divorce–Ella fights to survive.

Zephyros Martius is the Supreme God of the West Wind and Spring, but being the strongest Anemoi hasn't protected him from betrayal and loss. Worse, he's sure his brother Eurus is behind it. When Zeph's heartbreak whips up a storm that shipwrecks a human, his guilt forces him to save her.

Ella is drawn to the vulnerability Zeph hides beneath his otherworldly masculinity and ancient blue eyes. And her honesty, empathy, and unique, calming influence leave Zeph wanting…everything. When Eurus threatens Ella, she and Zeph struggle to let go of the past, defend their future, and embrace what they most want–a love that can be trusted.
About Laura Kaye:
Voted Breakout Author of the Year in the 2011 GraveTells Readers' Choice Awards, Laura is the bestselling and award-winning author of over a half-dozen books in paranormal, contemporary and erotic romance. Growing up, Laura's large extended family believed in the supernatural, and family lore involving angels, ghosts, and evil-eye curses cemented in Laura a life-long fascination with all things paranormal. A published non-fiction author, Laura's work as an historian and training as an archaeologist help her create vivid and accurate portrayals of other times and places. She lives in Maryland with her husband, two daughters, and cute-but-bad dog, and appreciates her view of the Chesapeake Bay every day.
~~~~~~~~~~~~~~~~~~~~~~~~~~~~~~~~~~~~~~~~~~~~~~~~~~~
~*~*Giveaway*~*~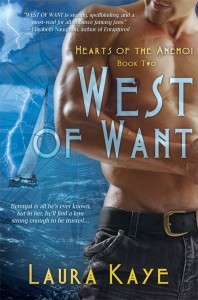 Laura is generously offering an ebook of West of Want for 1 lucky commenter
All you have to do is leave a question for Ella or Laura and you'll be entered in the contest
(You can read our full giveaway policy  here)
Please be sure to include a valid email address in the comment form (need not be in the actual body of the comment).
This giveaway is open to all!
Giveaway ends on Saturday, August 11th, 2012; we will announce the winner on Sunday.
Good luck!