This just in, if we are to believe our sources, BLI journalist Has The Smutty Lover  is celebrating her birthday today! These rumors haven't been confirmed yet. Let's hear more from our correspondent…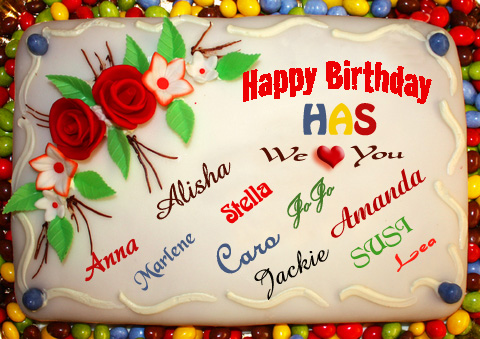 *MIC in hand* Yes thank you the studios…Today is  indeed a special day for us because we're all here to celebrate our Smutty Lover's Birthday!!! Happy birthday Has ! It's a pleasure to know you and  we all wanted to tell you how much we care about you!
Happy Birthday hon!!! And well we couldn't safely bring you a #peenpresent but this might work too 😉 Because nothing says Happy birthday like Asian male strippers, right?
Caro:
*drum rolls* HAAAAAAAAAppy birthday Haaaaas! May this new year bring you everything you want! Mostly books and hot delicious men! If possible hot delicious men holding books in their hands to hide their nakedness *g* It's really a pleasure to know you and I am very happy to be here today to wish you the most fantastic birthday ever! Joyeux Anniversaire . May the force be with you.
Stella: Happy Birthday dearest Has! 😀 Wishing you lots of joy and laughter, and fantastic reads and delicious heroes in this year as well, one can never have too many of those 😉 Big hugs and enjoy your day, sending you some delicious virtual chocolate truffle cake and pomegranate bubbly! So happy to have "met" you via BLI! 😀 *hugs*
Lea: Has! Happy, Happy Birthday! Wishing you everything wonderful on your special day, including cake, chocolate and lots of special gifts! I hope you enjoy the best birthday ever! It's wonderful knowing you through BLI! ((((HUGS)))))
Marlene: Wishing you the absolute bestest of birthdays, Has! And if that includes delicious books with hot men bringing you gifts and chocolate, so much the better! Have a splendiferous day. It's fantastic knowing you through BLI! HUGS! (and chocolate)
Amanda: Happy birthday Has! I hope you have an absolutely fantastic day and you get everything you've wished for….plus a bit extra 😀 Here's hoping that your day is full of yummy cake and even yummier men!!! ((MASSIVE HUGS))
Susi: Alles Liebe und Gute zum Burzeltag meine Süße!!! Cheers to a year full of great books, funny books
, LOLy books and many peen Fridays to come. ENjoy your day- hopefully with a big chunk of chocolate cake and an super-size champagne glass for you!! Huge hugs. xoxoxo
Anna: Happy Birthday Has!!! Hope you all the best and have in your life everything that is important to you. Happy Birthday Girl!
Alisha: Have a wonderful birthday, my beautiful bookish Brit! I feel fortunate to be able to say we're a crew! I hope today is a beautiful one, filled will smiles and loud laughter. ::hugs::
Jackie: Has, I hope you have a fantastic birthday filled with all the things you love and here's hoping that the day includes beautiful weather and a book you just can't put down. Sending big hugs and best wishes. Cheers!
And to end on a creepy note! Here's a video of us singing you a song! 😉 Enjoy *g*