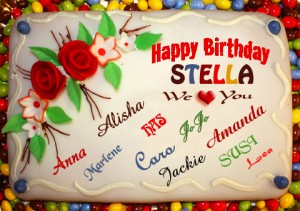 Today we're very happy to celebrate our very own Latin Lover's Birthday!!! As the cake says..We <3 you!!!
Happy Birthday Stella!! *g* 
Everyone's getting ready to celebrate with you! So take your party hat (or party thong because it's too hot outside) and let's get ready to rock this birthday!
Has: Happy Happy Birthday hon!!!!!!! Have a brilliant day which I hope is full of books and other goodies and that your birthday wish comes true for you!!!!!!!!!!!!! Lots of *HUGS* Love Has xxx
Lea: Happy Birthday Stella!! I hope your day is filled with wonderful surprises, lots of chocolate, wine and a BIG cake with drool worthy icing!! Enjoy your special day! ((((HUGE HUGS)))))) Lea. 😀
Anna: Happy Birthday Stella!!!!!!!!! Hope you all the best for your special day, health and happiness 🙂
Marlene: Happy, Happy Birthday Stella! I hope you have the bestest of all possible birthdays, with lots of yummy books and wonderful cake and prezzies! And many many HUGS!!!!!
 Jackie:  Big birthday hugs and wishes for the sweetest, craziest, Christmas obsessed Book Lover I know. Hope you're day is filled with all the things you love. You deserve it 😉
Caro: Joyeux Anniversaire Stella!!!  Wish you a wonderful day filled with presents and family and all the good stuff! Will open a bottle of Champagne for ya! *g* *throws confetti in the air*.  I hope you'll have a sunny day (but not the horrible heatwave we're suffering these days) to celebrate this happy day *g*
Susi: Happy Birthday sweety. I hope you will have a day full of books, family, cake and champagne. Enjoy being pampared!!! *cheers*
Amanda: Happy Birthday Darling!!! I hope you have the most fantastic day today, Stella you are so well deserving of it 😀 May you be showered with much champagne (literally if you want to…it's your day), chocolate and amazing books. (((Massive Humongous Hugs)))
Alisha: Ah, Stella. I hope you know that I simply adore you, my dear! I look forward to many more chats about random stuff under the sun. May your special day be filled with laughs and relaxation! Double, triple, quadruple hugs from me to you!
We wish you all the best of days!!
And just because I found this video hilarious…
And after all this you deserved some real eye-candy *g* 
Happy birthday hon!