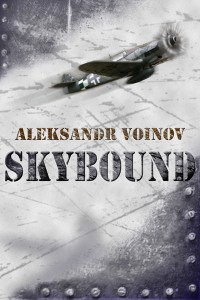 Today it's a pleasure to welcome Aleksandr Voinov on Book Lovers Inc.  If you've missed my previous raving posts about his work, here is your chance to learn more about Aleksandr and his new book, Skybound, which was released earlier this week.  Meet Aleksandr and his muse! 
Hi, I'm Aleksandr Voinov, and I'm happy to join you guys at Book Lovers Inc. It's my first time, so be gentle. 🙂 You might know me from my dark and sexy mafia series Dark Soul, but today I'm going to talk a little about Skybound, my new release from Riptide Publishing.
Skybound is one of those stories that hit me like lightning. Now, that sounds about as much fun as it is (though, unlike real victims of lightning, I did not physically explode or my heart didn't stop—sorry, too much research into killing people). I was perfectly happily minding my own business, working on a historical novel (which has been going for ten months or so), when the Muse showed up and demanded I should stop right now and write about a gay airfield mechanic falling in love with a pilot during the last dying days of the Third Reich.
I think my response was something grown-up like, "WHUT? R U kidding?"
Now, we've all heard the old cliché from the Muse kissing authors. In my case, my Muse is more like a gangbanger. He's not gentle, he's not polite, he grabs me by the shoulders wherever he finds me (asleep in bed, under the shower, at work, on the bus, attending family weddings), and is as excited as a kid when he shouts at me.
"But!" he'd go, "The idea is awesome! It'll be a moody, literary piece and it's all tragedy and horror and at the end it's the triumph of the human spirit via love! You dig that! It's Totally Your Thing!"
At which I told him that I've forsaken my literary pretensions when my German agent told me I'm too complex for the mainstream and too weak a stylist for the high-falutin "literary crowd", or, as he put it, "Congratulations—you're trapped in sales and reputation hell."
"Screw that," the Muse would growl. "You're writing this, now. Selling is irrelevant. Your mortgage is paid. Who cares about money? Literary Immortality Awaits!"
(He can get dramatic like that.)
"Last time you told me it's "just a short story", it turned into a 70k novel. I can't trust you. All my novels started as short stories, and it's your fault!"
"This time's different."
"Yeah, right. Okay, so tell me more. Maybe I can make a few day's time. No more than two weeks. I'm working on a really complex novel at the moment, As You Very Well Know."
"Mortals! You moan when I'm taking a break, and you moan when I'm doing my job. Anyway. The story is awesome. It's all first person . . ."
"Are you kidding? First person? Do you remember our last attempt to write first person? The character talked for fifty pages about his childhood and self-perception and nothing ever happened, and we killed the project as a waste of time."
". . . present tense, airfields and planes and . . ."
"Present tense? I've never done that. I can't make it work. People think it's pretentious. Reviewers hate present tense. The last thing I need is people hating it even more because it's first person and present tense."
". . . and all the big stakes of World War II, with a totally new viewpoint! They've never read anything from the German point-of-view, which is why I think you should totally write it, with you being German and all . . ."
"I can't do that. People much prefer the Regency period or the Crusades, and by the way, I really need your help with my Crusades action-adventure. Hey! Hey, are you listening?"
"No." At this point, we entered the pouting stage. Then the passive-aggressive stage. He kept pushing the story into my head. I tried to argue I'd give it a shot, but only in third person and past tense. No go. It was first person, present tense of nothing.
We struggled like Jacob and his angel. Anybody ever tried wrestling a Muse? I'd say mine has thousands of years of experience dealing with reluctant authors. No trick works. He's an Olympics-level wrestler, too.
So he knotted me into a pretzel and put me to work. And I sat down and cursed him, and while it was a short story, it was weeks and months of work, because I know nothing about either fighter planes or mechanics or even very much about Germany just before the war ended.
But I wrote it. There was just no winning that fight.
And you know what? The most grating thing of all of this—the struggle, the moaning, the whining, the hard, hard work, the being-struck-by-lightning-but-not-exploding part—is: He's right. When I do trust him and let him do what he wants, nine cases out of ten, he's right and the story is totally worth it. This one is one of those rare stories that I re-read and thought, "Holy mackerel, this is actually any good." And: "Wow, I wrote that?"
To which he'd say, "Actually, I did, but I'll let you take he credit, even though you fought making this with all you had. Next time, just trust me, willya?"
I guess that's fair enough.
Blurb:
Love soars.
Germany, 1945. The Third Reich is on its knees as Allied forces bomb Berlin to break the last resistance. Yet on an airfield near Berlin, the battle is far from over for a young mechanic, Felix, who's attached to a squadron of fighter pilots. He's especially attached to fighter ace Baldur Vogt, a man he admires and secretly loves. But there's no room for love at the end of the world, never mind in Nazi Germany.
When Baldur narrowly cheats death, Felix pulls him from his plane, and the pilot makes his riskiest move yet. He takes a few days' leave to recover, and he takes Felix with him. Away from the pressures of the airfield, their bond deepens, and Baldur shows Felix the kind of brotherhood he'd only ever dreamed of before.
But there's no escaping the war, and when they return, Baldur joins the fray again in the skies over Berlin. As the Allies close in on the airfield where Felix waits for his lover, Baldur must face the truth that he is no longer the only one in mortal danger.
Biography :

Aleksandr Voinov is an emigrant German author living near London, where he makes his living editing dodgy business English so it makes sense (and doesn't melt anybody's brain). He published five novels and many short stories in his native language, then switched to English and hasn't looked back. His genres range from horror, science fiction, cyberpunk, and fantasy to contemporary, thriller, and historical erotic gay novels.
In his spare time, he goes weightlifting, explores historical sites, and meets other writers. He singlehandedly sustains three London bookstores with his ever-changing research projects and interests. His current interests include World War II, espionage, medieval tournaments, and prisoners of war. He loves traveling, action movies, and spy novels.

Visit Aleksandr's website , his blog , and follow him on Twitter, where he tweets as @aleksandrvoinov.

 Thank you for reading and stopping by!
If you have any questions, I'll be here to respond.
~~~~~~~~~~~~~~~~~~~~~~~~~~~~~~~~~~~~~~~~~~~~~~~~~~~~~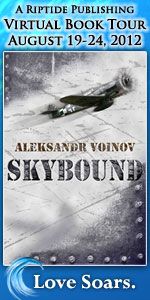 Giveaway
To celebrate the launch of Skybound, Aleksandr is giving away a $25 Amazon gift certificate to one commenter on the tour, with two more receiving book swag
(so please leave your email address so he can be in touch).
All you have to do is leave a comment and/or question for Aleksandr Voinov
Open internationally
The giveaway for this tour ends on August 26th
Good luck everyone!