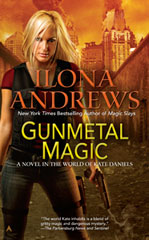 Format Read: Paperback provided by publisher via Literary Escapism.
Number of Pages: 448.
Release Date: July 31, 2012.
Genre: Urban Fantasy.
Series: Magicpocalypse #6.
Publisher: Ace.
Formats Available: Paperback, ebook, audiobook.
Purchasing Info: Bookdepository, Amazon, Goodreads, Author's Site.
Book Blurb:
Some people have everything figured out — Andrea Nash is not one of those people. After being kicked out of the Order of Knights of Merciful Aid, Andrea's whole existence is in shambles. All she can do is try to put herself back together, something made easier by working for Cutting Edge, a small investigative firm owned by her best friend, Kate Daniels.

When several shapeshifters working for Raphael Medrano — the male alpha of Clan Bouda and Andrea's former lover — die unexpectedly at a dig site, Andrea is assigned to investigate … and must work with Raphael. As her search for the killer leads her into the secret underbelly of supernatural Atlanta, Andrea knows that dealing with her feelings for Raphael might have to take a backseat to saving the world.
My Thoughts: 
Gunmetal Magic is the first novel-length spin off in the Kate Daniels series. Though we've previously taken short detours into the lives of some of our favorite side characters (see: Magic Mourns and Magic Dreams), this time around someone other than Kate takes the lead. How does it turn out?
Pretty damn good.
Sometimes when a series goes on long enough, the main characters' exploits start to feel a bit, well, repetitive. Are there really an unlimited number of sociopathic quasi-immortals to get into pissing contests with in Atlanta?
I'm not saying the Kate series has gotten to that point. Because it totally hasn't. (KEEP WRITING ILONA.) I'm just saying that this sort of thing can, in fact, happen. (Why yes, Sookie, I am looking at you. And Anita Blake, Merry Gentry, Cassie Palmer, and Eve Duncan.) One of the ways to keep things plausible is to show your supporting cast kicking ass and taking names on their own time. Now we know when Kate is busy, as she is aptly demonstrated to be in the bonus novella at the end of the book, Andrea is more than capable of stepping up to the plate.
Andrea absolutely shined throughout the book. Her psychotic break and subsequent ….. readjustment (?) were equal parts magnificent and tragic. More importantly, we got insight into Andrea's brain. Fans of Andrea will discover just what was driving her when she slapped Aunt B in Magic Slays.  (Which is one of my top 5 moments in the entire series. Because Andrea was totally fucking right. And Aunt B knew it. Or else she'd have ripped off the offending hand long before Kate suggested gold plating it.)
Andrea's personal growth aside, the case was epic. I had to watch Raiders of the Lost Ark after finishing the book. It was the only way I'd stop hearing Indiana Jones saying, "Snakes, why did it have to be snakes?" World-building is always a delight in Magicpoclypse, but this is the first of Ilona's books I've actually been able to envision as a movie.
Of course the crowning glory of the book was found in Andrea's brushes with the law …. and Barabas.*
"Barabas Gilliam." A business card materialized in Barabas's long elegant fingers. "I'm her attorney."

Tsoi glanced at the card. "You're a Pack lawyer. What are you doing here?" "Working." Barabas grinned, displaying sharp white teeth. "You see, even us dirty Pack lawyers have to pass the bar just like everyone else. If you check, you'll find that I'm a member in good standing. I'm licensed to practice law in the lovely State of Georgia and several of her illustrious neighbor states, which means Ms. Nash can hire me to represent her."

Tsoi pointed at me. "Is she a member of the Pack?"

"No, Ms. Nash is a private citizen, who has retained my services. Now I do make it a point to keep up with current legislation, but perhaps I missed something—is there a new law that states a Pack attorney can't practice outside the Pack? If so, thank you ever so much for bringing it to my attention, Detective."

"You think this is some sort of comedy going on here?" Collins gave him his tough stare.

A little red spark flared in Barabas's eyes. "Excuse me."

He struck with preternatural quickness and yanked a five-foot snake from the counter, an inch away from Tsoi's elbow. Tsoi jumped, clearing half the room in a single bound.The snake body flailed in my lawyer's fist. Barabas jerked the snake to his mouth and bit its neck.

"Jesus Christ!" Collins took a step back.

Tsoi clamped her hand over her mouth.

Barabas spat the head onto the counter. "Pit viper—my favorite. Where were we? Ah, yes. You were trying to intimidate me. I apologize for the interruption. Please, resume your staring."

"That snake is evidence," Collins growled.

"I would be happy to surrender it to you. Considering that I just saved your partner from being bitten, I had expected more gratitude."
Mwhahah! That right there is pure wish fulfillment for every lawyer who ever had to deal with asshole police officers. The ones who have only the vaguest understanding of "law" and "enforcement." I can only imagine how such an incident would color all future police interactions. (Insert wistful sigh.)
Sadly, there is a lame-ass love triangle keeping Gunmetal Magic out of 5 star territory. In order for a love triangle to have any dramatic merit, the heroine should at least be vaguely interested in both parties. Otherwise, you're just mired in pointless pissing contests and male entitlement. Snore.
I give Gunmetal Magic 4 stars.

Anyone who is a fan of Kate Daniels should most assuredly read this book. Who am I kidding? Kate Daniels fans have already read it. For those of you who haven't jumped into the Magicpocalypse just yet, Gunmetal Magic would be a good starting point. This would also be a good transition book for anyone who prefers paranormal romance to urban fantasy. The romance is all wrapped up in one book (instead of spread out over several), but you'll still get to experience an interesting story in an amazing world. Everybody wins.
*My opinion on the subject of Barabas is in no way shaped by one of my favorite authors asking me to extend my legal opinion on Barabas' lawyerly activities. That's right Book Lovers, that's me in the acknowledgements. Boo-yah!
UPDATE: Look even closer at the acknowledgements page my lovely minions. Susi is also representing the Book Lovers. It looks like Ilona sought out her advice about accessing hidden underground vaults after you level a building.
****FTC Disclainer. Most books reviewed on this site have been provided free of charge by the publisher, author or publicist. Some books we have purchased with our own money and will be noted as such. Any links to places to purchase books are provided as a convenience, and do not serve as an endorsement by this blog. All reviews are the true and honest opinion of the blogger reviewing the book. The method of acquiring the book does not have a bearing on the content of the review.