Welcome to this week's news post! And it has been very eventful with Amazon's announcements on their new Kindle and tablet releases, and they weren't the only ones with Kobo releasing information on their new devices too.  Along with the  DOJ has finally confirmed their settlement with four of the Big Publishers as well as our usual covers/books to look out for – I think its time to get that cuppa and  a plate of cookies to sit back and catch up!
Amazon unveiled their new Kindles and Kindle Fire tablets, which looked pretty impressive especially with the new prices that is very attractive. In the US, Amazon is offering a new Kindle, with a lighted screen called the Paperwhite, which will have both a Wifi and 3G version and a two month battery life. Several Kindle Fire were also released and in a larger size, 8.9 inches as well as the original size. They also come in HD and a choice of 8 gig,  16 gig and 32 gig memory. The cheapest Kindle also got a price cut but with an upgrade of better speed and more fonts and is now for available for only $69. Europe is also getting the new HD Fire Kindle and the normal sized Kindle Fire but no sign of the Paperwhite at the moment.
It seems Kobo was anticipating this, and yesterday morning announced their new ereaders and tablet, like  Amazon, they also had a lighted screen – Kobo Glo ( $130) ,  the Kobo arc( – a new tablet ( $199 for 8GB and $249 for 16GB) and a Kobo mini ($80). These should also be available in the UK too. For more info on the specs and details, click here:  But it does look like  ereaders and even tablets are becoming much more affordable and the market is definitely heating up.
The DOJ settlement, with publishers, Simon & Schuster, HarperCollins and Hachette have been finalised. Jane from Dear Author has written a fantastic summary about the ruling which explains how Judge Coates came to the decision, after dismissing the filings to dismiss the case by Penguin, Apple and Macmillan. The Anti-trust trial will probably be held sometime next year, although it is interesting to note that the big publishers are looking for a settlement in the EU which is having its own investigation into Agency pricing.
The sockpuppet issues is not going away guys, and it is the turn of the crime authors who are behind this  – author Jeremy Dun has outed two authors who have committed this.  Blogger VacuousMinx has compiled all the recent shenanigans in this great post. 
News in Brief:
I reported a sometime last year that Sherrilyn Kenyon Dark Hunter series has been picked up with the Nick Chronicles to be turned to a movie series and the adult books to be turned into a tv series. According to her Facebook page, it looks like things are starting to get going with filming to start sometime next year.
Plus it seems the love affair with YA book is not going to end with more books being turned to movies. Director David Slade has been attached to Ally Condie's Dystopian YA series – Matched with filming to commence next year.
Ilona Andrews has posted a mini snippet from Kate 6.
And now for the books to watch out for!
Death's Rival by Faith Hunter, the 5th instalment in the Jane Yellowrock series is out in October.
Jane Yellowrock is a shapeshifting skinwalker you don't want to cross—especially if you're one of the undead…

For a vampire killer like Jane, having Leo Pellisier as a boss took some getting used to. But now, someone is out to take his place as Master Vampire of the city of New Orleans, and is not afraid to go through Jane to do it. After an attack that's tantamount to …a war declaration, Leo knows his rival is both powerful and vicious, but Leo's not about to run scared. After all, he has Jane.

But then, a plague strikes, one that takes down vampires and makes their masters easy prey. Now, to uncover the identity of the vamp who wants Leo's territory, and to find the cause of the vamp-plague, Jane will have to go to extremes…and maybe even to war.
I got the first book, Full Blooded  this week, which looks like an exciting new UF series by Amanda Carlson. Hot Blooded is out early next year.
 

It hasn't been the best week for Jessica McClain.

Her mate has been kidnapped by a Goddess hell-bent on revenge — but Jessica is playing for keeps.

Because she's the only female werewolf in town…it comes with its own set of rules…and powers.

Aided by two vamps, two loyal Pack members, and one very reluctant human, Jessica must rescue her man while coming to terms with what being a wolf really means.

All in a day's work for a girl.

The second novel in the Jessica McClain series is a full on action adventure featuring one angry Goddess and plenty of monsters, demons, and a few newly risen beasties…
And finally, I didn't get the chance to post this last week, but Ilona Andrews has unveiled the special  collector's  edition of  Magic Bites which is slated for released in late December. This edition will have Curran's POV stories and an encyclopaedia  of Kate's world.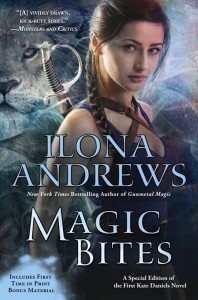 So what do you think of the new tablets/ereaders announced this week? Any of them take your fancy? And what do you think of the upcoming movie and tv adaptations?