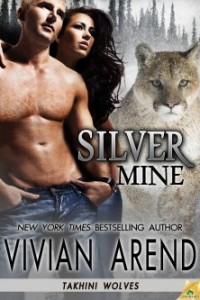 Format Read: e-book provided by Novel Sidekick courtesy of Author for Review
Length: 214 Pages
Series: Takhini Wolves, Book 2
Genre: Paranormal, Shapeshifters
Release Date: September 11 2012
Publisher: Samhain Publishing
Formats Available: eBook, Kindle, Nook
Purchasing Info: Publisher, Author's Website, Goodreads, Kindle, Nook, iBooks
Book Blurb:
If a tree falls in the forest, duck…

Life in isolation is the safest place for Chase Johnson, a crossbreed who doesn't know which form he'll assume next—cougar or wolf. Once a year, his unelected position as spokesman for the Yukon outcasts forces him to visit civilization. This time he runs across someone unexpected. She's not his mate, but she pushes all the right buttons.

It's taken years for Shelley Bradley to gather the courage to return to her home pack. In spite of being the lowest of the low—a shifter who can't shift—she's determined to make a place for herself as the Whitehorse locals' new vet-slash-doctor.

There's definite electricity between her and Chase, but sex with fellow shifters and the inherent mind games got old a long time ago. Ignoring him seems best. When he shows up at her office with a wound that won't heal, she's stuck—yet drawn to solve this medical mystery.

As they journey deep into outcast territory in search of answers, their powerful sexual attraction crumbles her resistance. But time is of the essence. If a cure can't be found before his human and cougar succumb to his injury, he—and others like him—will die.

Warning: Contains a silver-tongued, hairy-chested, lean-muscled Alpha who's got what it takes to lead in the wilderness and in the bedroom. Yeah, I know…not really much of a deterrent, is it? Throw in continuing territorial wars and a domestic cat. Stir and enjoy the chaos.
My Thoughts:
Vivian Arend returns us to the breathtaking beauty and inherent dangers of the Yukon Territory in the second of her Takhini Wolves series. Sliver Mine is a unique shifter story for a number of reasons but most of all it's about those considered misfits who don't fit into pack life and therefore have chosen a solitary existence in the wilderness. Arend has obviously spent time in this part of the country because through evocative descriptions she brings realism that compliments a sometimes violent imaginary world that is brimming with humor.
These shifters are an irreverent bunch who normally enjoy life and their sexuality to the fullest. In fact, their biology is programmed so their wolfie side is triggered to emerge during the post pubescent period through sex. Half human/wolf shifter Shelly Bradley's wolf has remained dormant, and attempts to trigger her she-wolf have historically failed. Shelly suffered significant ridicule by the Takhini pack during her youth which increased during her teen years and her suffering eventually drove her away to school where as mentioned in the synopsis she earned her credentials as a Veterinarian with a specialty in shifter medicine. Shelly has returned to Whitehorse determine to carve out her place administering to the locals. The other attraction is that Shelly's headstrong human half-sister Caroline lives there and she is an accepted member of the pack for more reasons than one. Shelly has no intention of trying to ingratiate herself into pack life, however she is unaware of the positive changes that have occurred under the leadership of new pack Alpha, Evan and his brother Shaun who is the Beta.
Things change when the enticing, amicable Chase Johnson arrives in town and seeks Shelly's expertise in treating a wound he received while fighting off an attacker in the bush. Normally shifter wounds heal when they shift into their animal form but Chase's is worsening. When usual methods of treatment don't improve Chase's situation at all Shelly is stymied and insists on going into the bush to find the shifter that caused the wound. Shelly tries to resist, and keep her professional hat on but finds herself sensually drawn to the shifter who hails from unusual origins. Chase can shift into both cougar and wolf, but the thing is, he has no control over which of his 'others' will appear.
Like Shelly, Chase is an outcast but has eked a place out of the bush where he must fight and work hard daily for survival. That being said, he loves his life and as Shelly embarks on the adventure of a lifetime and spends intimate time with Chase she learns there is far more to this remarkable man then meets the eye. Sliver Mine offers sizzling sexual attraction and hot eroticism. What I liked, is this isn't your typical shifters meet their mates and bond forever scenario, its quite different regarding two relationships that are integrated into the storyline. Moreover, there is back-country action and battle scenes as the author vividly depicts the protagonists quest for survival while faced with the outbreak of a vicious and deadly disease.
If you enjoy a paranormal shifter tale, Silver Mine has it all, plot twists, memorable characters, laugh-out-loud sarcastic dialogue, fun shifter high-jinks, action and suspense that will have you sitting on the edge of your seat, and an endearing love story. As well, there is a feisty little kitten named Enigma. Oh, and an unusual use for duct tape! 😉 What I also loved is that Arend uses the poetry of Robert Service as the foundation for each of 3 parts of the story. I was surprised, I thought one would be Evan's story but the author creatively took the tale in an entirely different direction adding depth to the world, making for a winning read. I'm looking forward to the next tale in the Takhini Pack stories.

I give Silver Mine 5 Stars
***FTC Disclaimer: Most books reviewed on this site have been provided free of charge by the publisher, author or publicist. Some books we have purchased with our own money and will be noted as such. Any links to places to purchase books are provided as a convenience, and do not serve as an endorsement by this blog. All reviews are the true and honest opinion of the blogger reviewing the book. The method of acquiring the book does not have a bearing on the content of the review.