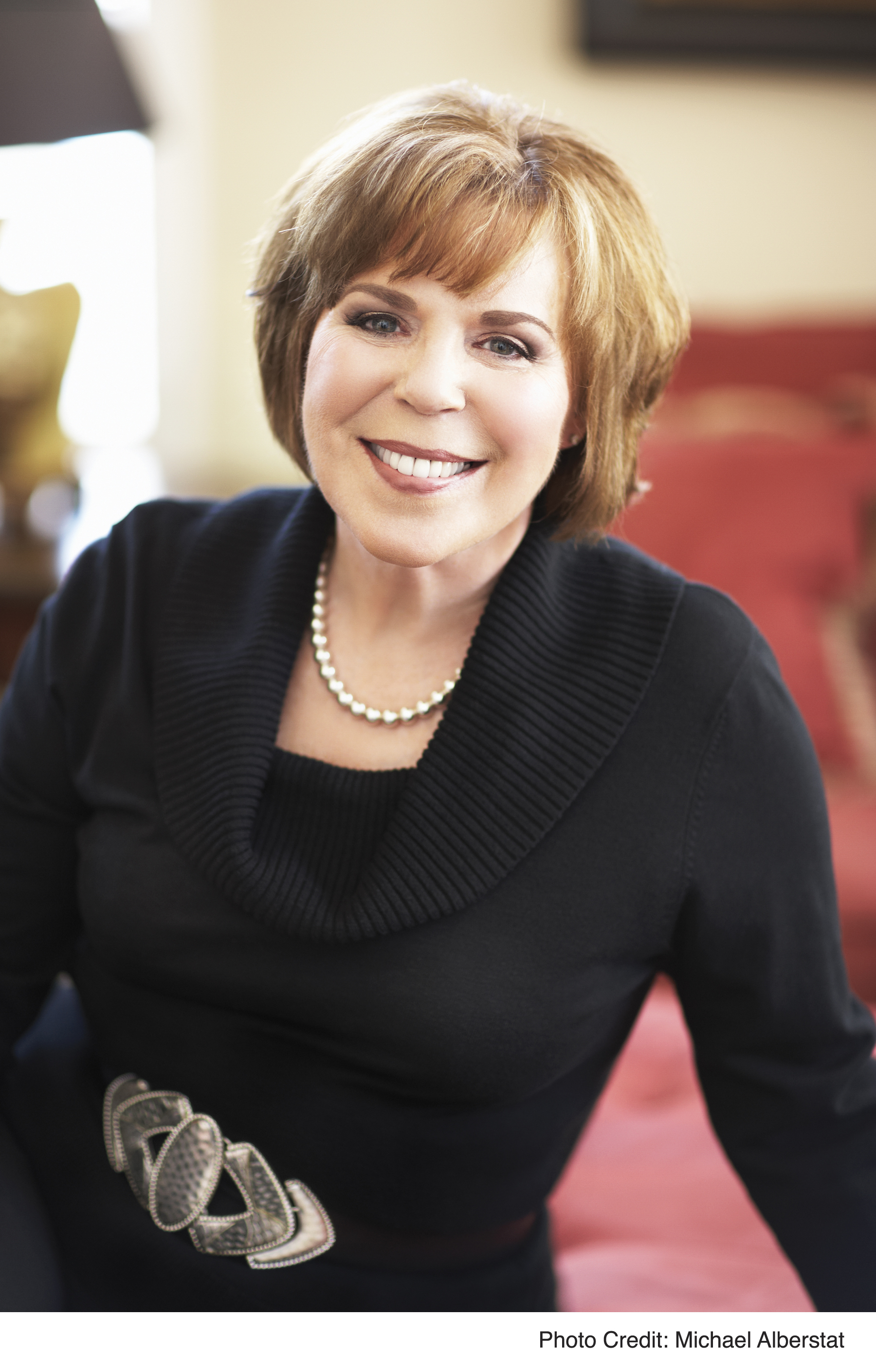 Please join us in giving a warm BLI welcome to #1 New York Times Bestselling Author Robyn Carr! Robyn is known for her wildly popular Virgin River Series. Today she is here to tell us more about the first book in her new Thunder Point Series– The Wanderer.
Robyn is taking time out of her busy schedule to share a Q & A with us today & there's also a chance to win something at the end of the post.
Q: Does the title of "#1 Bestselling Author" put extra pressure on you when you're writing new novels? Or do you have a writing groove you get into where you can just shut the rest of the world out and immerse yourself in the book you're working on?
A: It probably puts extra pressure on my editor, but for me, my happy place is the same—making up the stories! Developing characters and plots rings all my bells. Don't get me wrong, I'm very happy about that #1 slot—it means I'm connecting with the people I write the stories for! But sitting here in front of the computer, making up the story, that's what drives me.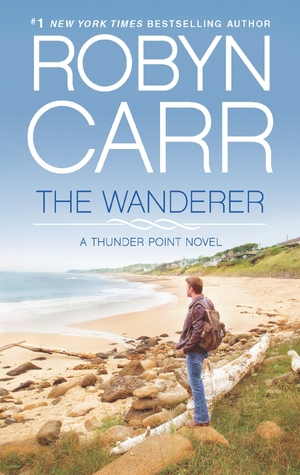 Q: Your books are centered in small towns and have a true sense of community in them. What do you think are some of the more significant differences between living in a small town versus a big city?
A: I think people tend to feel anonymous in big cities. I think they tend to feel invisible and as if they don't matter. In small communities where people have to depend on each other to get by, people tend to feel more useful, necessary. There's intimacy, sometimes forced, for people who grow up close to their neighbors. There's a kind of transparency. This is the way I grew up. My town wasn't small, but it was a collection of enclaves where family members all lived nearby (sometimes too nearby!). I lived with my grandparents—my grandfather was a janitor, and he built his own house with his bare hands. Sometimes his sons, my uncles, would help, but he hired the subcontractors and worked alongside them—and this on a working man's salary. We relied on neighbors and church members, and they relied on our family. I knew that neighborhood and beyond
like it was tattooed on my brain. Bums from the railroad tracks sometimes knocked on my grandma's back door and asked if there were any chores to do "for a little spare." And she'd give them a plate of something to eat and sometimes they'd do a few simple chores in return. There was a huge apple tree across the street—HUGE! And we kids climbed it relentlessly and stole the apples, and I bet I was thirty before I realized, the owner knew all along and just came outdoors and yelled at us occasionally to give us a little thrill. There was an old widow woman a few doors up the street who was a hoarder, a very bad hoarder, but we visited her regularly, my grandma and I. We didn't eat or drink anything, though. My grandfather used to feed a squirrel he had named Bushy Tail, and I was grown before I realized it wasn't one squirrel—it was any squirrel. There was a family up the street with no car—they pulled a wagon to the market a couple of times a week, and I was in college before I knew they weren't named the Walkers.
I don't live that way now, and yet, these are still the people I understand best.
Q: Which comes first for you … characters or the plot? When you're starting a new series, do you imagine multiple plot lines that will become other books or do you just dive in and start writing?
A: It's actually the setting that comes first—it has to be intriguing and sexy on some level—I want to see people in my head in that setting and what I see is important—is he splitting logs? Is she paddling into the calm bay? Are they having a greasy burger in a rundown but comfy diner? And then come the characters—what are they up against? What do they need in their lives and why are they in that setting? And then comes their dilemma, which is the plot.
I think what happens in good genre fiction is this—the reader is transported to a special place. It could be a town like Thunder Point or it could be a castle in medieval Scotland. The reader then empathizes with the characters and then assumes their problems and their need for resolution. It's a tripod—it's setting balanced with characterization balanced with plot. And if done well, the book is unputdownable.
Where to find Robyn: Website | Facebook | Twitter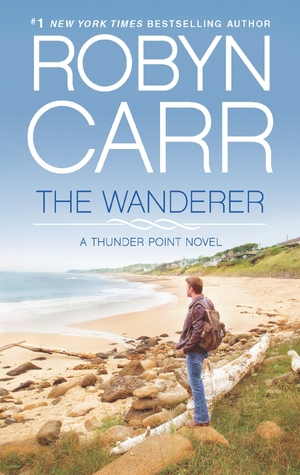 Format read: ebook provided by NetGalley
Series: Thunder Point, #1
Genre: Contemporary Romance
Release Date: March 26, 2013
Number of pages: 384 pages
Publisher: Harlequin MIRA
Formats available: ebook, hardcover, mass market paperback, audiobook
Purchasing Info: Author's website | Amazon | B&N | Kobo | Book Depository US | Book Depository (UK)
Read our review of The Wanderer.
Nestled on the Oregon Coast is a small town of rocky beaches and rugged charm. Locals love the land's unspoiled beauty. Developers see it as a potential gold mine. When newcomer Hank Cooper learns he's been left an old friend's entire beachfront property, he finds himself with a community's destiny in his hands.

Cooper has never been a man to settle in one place, and Thunder Point was supposed to be just another quick stop. But Cooper finds himself getting involved with the town. And with Sarah Dupre, a woman as complicated as she is beautiful.

With the whole town watching for his next move, Cooper has to choose between his old life and a place full of new possibilities. A place that just might be home.
~~~~~~~~~~~~~~~~~~~~~~~~~~~~~~~~~~~~~~~~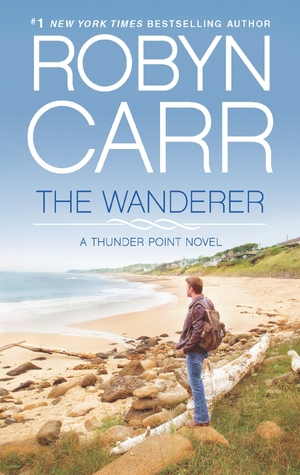 ~*~*Giveaway*~*~
Thanks to Little Bird Publicity & Robyn Carr's generosity we have a copy of The Wanderer for one lucky commenter  (Us Only) and we will throw in another one for the international readers!
All you have to do is tell us: Would you like to be a Wanderer like Hank or not?
(You can read our full giveaway policy here)
Please leave a valid email when placing your comment so we can inform you if you win.
*Please Note*: Tell us if you are an international or an US reader in your comment! Thank you!
Giveaway ends on Saturday, April 13th; and we will announce the winner on Sunday.
Good luck!