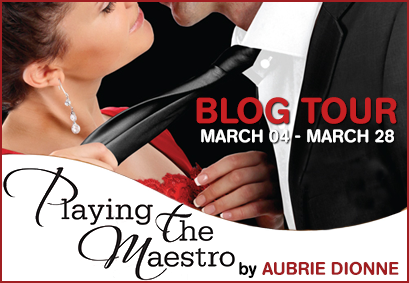 We are very happy to welcome author Aubrie Dionne here at Book Lovers Inc today. Aubrie is not only a writer, she's also a very musical person and plays and teaches the flute. Her newest release, Playing the Maestro is a contemporary tale about musicians and their entanglements. Today Aubrie will tell us an embarrassing story about herself. Make sure to tell us about one of yours in the comments to win your own copy.
Playing the Maestro starts out with Melody's most embarrassing musical moment, and something I've always feared- not having your music on the first day of rehearsal. In fact, sometimes I check to make sure I have my music two or three times before I leave the house! In Playing the Maestro, the violinist, A.K.A. Melody's ex claims he sent her the music and she lost it. See- he has a sister who wants Melody's principal chair. So, what do you think really happened?
My most embarrassing moment was at a musical festival in high school. I was first chair in an All New England Band, and I had this solo in the middle of a piece after a whole bunch of measures of rest. I'm not sure what happened, because I'm usually a good counter- I use my fingers just to make sure I keep track by pressing down a key of my flute per measure. And, I'd nailed the solo in rehearsal. But, this time, during the concert, the measure seemed to go by too fast, and I missed the entire solo. There was silence when the flute should have been playing.
I was mortified.
Usually the conductor has the soloists stand up at the end of a piece, but this time, he just went right on to the next piece. I'm not sure if he knew what to do about it, either. But, there was no standing ovation for me. I felt like crawling under my chair and dying. Not only that, but the second flute was good enough, she could have played it, and I bet she was wondering why she just didn't pick up her flute and come in for me.
Music mistakes happen, let's face it. The more you can look back and laugh at them, the better! If anything, it makes for a great story!
About the book:
Melody Mires has sworn off dating musicians, but when the sexy European conductor Wolf Braun takes over her struggling symphony, her hesitation almost flies out the window with the notes of her flute—until he opens his mouth. Wolf is arrogant, haughty, and seems to have a personal vendetta against Melody. Oh, and he's her boss. If she wants to keep her job as principal flutist, she'll have to impress Wolf while simultaneously keeping her undeniable attraction to herself.
Wolf came to America to get as far away from his past as possible, and to recover some of the swagger he had as one of the world's best maestros. He never imagined being forced to reassess the entire orchestra's talent—and potentially fire anyone who doesn't make his cut. Dating the attractive flutist is out of the question, but as their feelings reach a fever pitch, can they risk both their careers for a chance at love?
Amazon | B&N | Kobo | Publisher's Website | Goodreads
About the Author:
Aubrie Dionne is an author and flutist in New England. Her writings have appeared in Mindflights, Niteblade, Silver Blade, Emerald Tales, Hazard Cat, Moon Drenched Fables, A Fly in Amber, and Aurora Wolf. Her books are published by Entangled Publishing, Lyrical Press, and Gypsy Shadow Publishing. She recently signed her YA sci fi novel with Inkspell Publishing titled: Colonization: Paradise Reclaimed, which will release in October 2012. When she's not writing, Aubrie teaches flute and plays in orchestras. She's a big Star Trek TNG fan, as well as Star Wars and Serenity.
Twitter | Newsletter| Blog
~~~~~~~~~~~~~~~~~~~~~~~~~~~~~~~~~~~~~~~~
~*~*Giveaway*~*~
Aurbie brings you 2 chances to win today.
1. For winning an ebook copy of Playing the Maestro all you have to do is leave a comment telling us about one of your embarrassing moments.
(You can read our full giveaway policy here)
2. Tweet this
Want to name a character in @AUTHORAUBRIE 's next book? Add Playing the Maestro to Goodreads to enter to win: HTTP://AUTHORAUBRIE.BLOGSPOT.COM
and add your entry in the Rafflecopter form below to win a necklace and the chance to name a character in Aubrie's next books.
Please leave us a way to contact you.
(Email in blogger profile or twitter name – no way to contact you – no entry).
This giveaway is open to International entries!
Giveaway ends on Saturday, March 30, 2013 ; and we will announce the winner on Sunday.
(The Rafflecopter giveaway winner will be announced by Aubrie)
Good luck!
Blog Tour Giveaway
a Rafflecopter giveaway