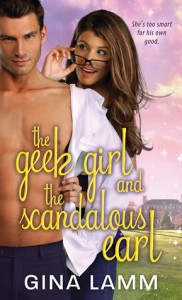 Format Read: ebook provided by NetGalley
Number of Pages: 352 pages
Release Date: March 5, 2013
Publisher: Sourcebooks Casablanca
Genre: Time Travel Romance
Formats Available: Mass Market Paperback, ebook
Purchasing Info: Amazon | B&N | Kobo | Book Depository US | Book Depository (UK) | Author's Website | Publisher's Website | Goodreads
Book Blurb:
THE STAKES HAVE NEVER BEEN HIGHER…

An avid gamer, Jamie Marten loves to escape into online adventure. But when she falls through an antique mirror into a lavish bedchamber—200 years in the past!—she realizes she may have escaped a little too far.

Micah Axelby, Earl of Dunnington, has just kicked one mistress out of his bed, and isn't looking to fill it with another—least of all this sassy, nearly naked girl who claims to be from the future. Yet something about her is undeniably enticing…

Jamie and Micah are worlds apart. He's a peer of the realm. She can barely make rent. She's wi-fi. He's horse-drawn. But soon the pair will do anything to avoid a Game Over.
My Thoughts:
The favorite ways to time travel are 1)standing stone circle and 2) fall through a mirror, followed by 3) witch's spell, often gone awry.
This one combines methods 2 and 3. (Word to authors, don't touch method 1 unless you are looking for a comparison to Diana Gabaldon. It's a really HIGH bar to get over)
The geek girl falls through a mirror cleaning out her uncle's antiques warehouse. She's a geek of the "too cool" school, up on all the latest gadgets. Her iPhone comes with her to the 19th century. Lucky for her it's just been powered up. Unfortunately for her, she's wearing an outfit that makes everyone mistake her for a trollop.
Jamie misses regular bathing. Not to mention toothpaste. Her descriptions of the clothes, and the lessons in manners, are very 21st century. She's sure it's all a mistake.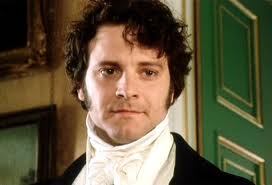 (And why do all 21st century girls think that historic men look like Colin Firth in Pride and Prejudice? Really! Are none of them blond? A little variation, please!)
Moving right along, our geek has been drawn back in time by a witch's spell, and not by accident. Micah's housekeeper has determined that Jamie is the perfect woman for him, because she is his equal, and won't give a damn about the scandal that surrounds him.
About that scandal…Micah's first mistress seems to have been poisoned. And his second mistress is a poisonous bitch. While these two things should not necessarily be related, it's pretty obvious to the reader that they probably are.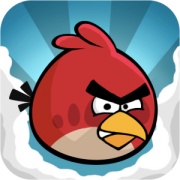 The geek has to get the earl to believe she is something out of the ordinary. Which she does by introducing him to her iPhone. And Angry Birds!
She also introduces him to what it is like to be cared for for himself, and not for his money or his title. Which is the greatest gift she can give him. Too bad the way she proves is is by saving his dog…in the 21st century.
Verdict: This is a hoot. True love through Angry Birds. Really. The deportment lessons alone were worth the time it took to read the book.
I will say that the Earl believes her improbable story just a bit too easily, and that the villain was incredibly obvious, but this story was intended as light-hearted fun.
But underneath the trappings of the time-mismatched lovers was the classic story of two people who need to see beneath the surface to find true love.
This story takes that premise to the edge of silliness a few times, but all in good fun.

I give The Geek Girl and the Scandalous Earl 3 1/2 stars flying over the heads of Angry Birds.
***FTC Disclaimer: Most books reviewed on this site have been provided free of charge by the publisher, author or publicist. Some books we have purchased with our own money and will be noted as such. Any links to places to purchase books are provided as a convenience, and do not serve as an endorsement by this blog. All reviews are the true and honest opinion of the blogger reviewing the book. The method of acquiring the book does not have a bearing on the content of the review.