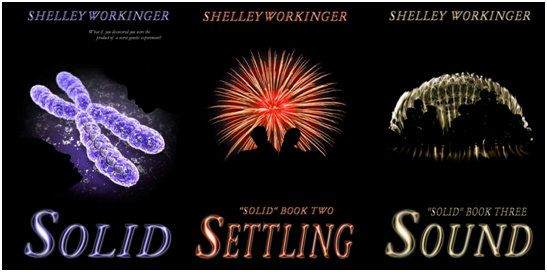 To celebrate the release of the 3rd book of the SOLID series,
Shelley Workinger has put together a giveaway game!
EVERY ENTRANT who COMPLETES the task will win
ebooks of BOTH "Solid" (Solid #1) AND "Settling" (Solid #2).
The GRAND PRIZE WINNER will win SIGNED COPIES of ALL 3 BOOKS,
including "Sound" (Solid #3) just as it hits the shelves on Nov. 1st!
The rules are simple:
1. Visit each blog on the list
2. Leave a quick comment to show you were there
3. Copy the image fragment and paste it into a Word .doc
There are 18 stops to visit, comment on, and collect pieces from; once you've hit all 18 stops and assembled* all of the pieces to complete the image, email your entry to the author at: SolidNovel@gmail.com.
4. Visit the author's blog: But What Are They Eating? and leave a comment letting her know you've sent in your completed entry.
ALL 4 STEPS are important because she will choose the Grand Prize Winner from her blog comments (using Random.org) and then check her email to verify the entry.
*Don't worry; the pieces are in order, so if you follow the list, it'll be easy. 🙂
The Game runs from Oct. 25th through Oct. 31st;
last day to enter is Oct. 31st and winner will be chosen Nov. 1st.
Good luck and get gathering!
Here's my piece:

And the rest of the stops:
3.  Paromantasy
10. Wanted Readers
12. My Reading Room
13. Reading Teen
14. Confessions of a Bookaholic
15. Royal Reviews
16. Books with Bite
17. Skyla 11377
18. Me, My Shelf & I
THANKS FOR PLAYING!