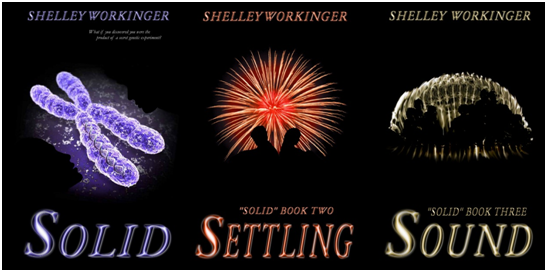 To celebrate the release of the 3rd book of the SOLID series,
Shelley Workinger has put together a giveaway game!
EVERY ENTRANT who COMPLETES the task will win
ebooks of BOTH "Solid" (Solid #1) AND "Settling" (Solid #2).
The GRAND PRIZE WINNER will win SIGNED COPIES of ALL 3 BOOKS,
including "Sound" (Solid #3) just as it hits the shelves on Nov. 1st!
The rules are simple:
1. Visit each blog on the list
2. Leave a quick comment to show you were there
3. Copy the image fragment and paste it into a Word .doc
There are 18 stops to visit, comment on, and collect pieces from; once you've hit all 18 stops and assembled* all of the pieces to complete the image, email your entry to the author at: SolidNovel@gmail.com.
4. Visit the author's blog: But What Are They Eating? and leave a comment letting her know you've sent in your completed entry.
ALL 4 …

featured,Giveaways,Shelley Workinger

27 Oct 2012

8 comments