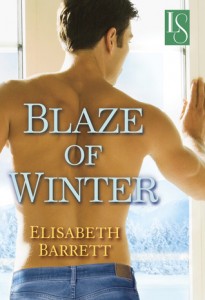 Format Read: ebook provided by NetGalley
Number of Pages: 310 pages
Release Date: September 10, 2012
Publisher: Loveswept
Genre: Contemporary Romance
Series: Star Harbor #2
Formats Available: ebook
Purchasing Info: Amazon | B&N | Kobo | Author's Website | Publisher's Website
Book Blurb:
Frustrated with her job in Boston, social worker Avery Newbridge welcomes the opportunity to reassess her life when family asks her to help manage the Star Harbor Inn. Trying to figure out her future is overwhelming enough, but she doesn't count on distraction in the form of one Theo Grayson, the gorgeous, green-eyed author who she knows is trouble from the moment he saunters into the inn.

Not only does he have a talent for writing swashbuckling adventures, but Theo also has a soft spot for big-hearted damsels in distress, especially a woman who's great at helping everyone—except herself. Avery's demons challenge him, but for desire this hot, he isn't backing down. With every kiss and heated whisper Theo promises her his heart . . . if only Avery is willing to open up and accept it.
My Thoughts: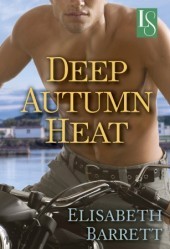 This book drove me bonkers. More specifically, Theo and Avery drove me bonkers. I like Star Harbor, and I like the people there. Deep Autumn Heat, the first Star Harbor book, was a lot of fun. And although the relationship between Seb and Lexie had its share of ups, downs and misunderstandings, the reasons made sense. They worked. Or when they didn't, the reader knew why they didn't.
Avery comes home to Star Harbor because her Aunt Kate, the woman who raised her, is recovering from cancer and chemotherapy. Kate needs help running the Star Harbor Inn. And Avery needs a break from her position as a social worker in Boston. Avery handles substance-abuse cases, and she just lost a client that she thought was going to make it. She's questioning her judgment, and her ability to stay detached enough or invest herself enough. Or where that line is.
Theo Grayson is a big-name author. T.R. Grayson. He left Star Harbor for San Francisco years ago. But he seems to have lost his spark, and writer's block has set in. He's come back to Star Harbor to see if he can find himself, his real self, again.
Both Avery and Theo are home for two months. In the winter. In a small town on the New England coast. With every single person in town shoving them together. And Christmas is coming.
Verdict: The reader gets a fairly clear picture of what is going on in Theo's head. He comes home and gets a handle on what's been wrong with his writing. He writes nautical historical fiction in the same vein as C.S. Forester and Patrick O'Brian, so he needs the inspiration of the water, the coast, and the New England history he grew up with. Coming home unsticks him.
He also falls in love with Avery pretty much at first sight.
Avery has stuff to work out. She's not sure whether she's cut out for social work. She emotionally invests in her clients a lot. It's what makes her good at her job, but it also devastates her when a client relapses or fails. She's decided that her time back home will be spent without relationships. She clearly has other issues, but she doesn't articulate them, even to herself.
She doesn't want to get involved with Theo. She's attracted to him, very, but not interested in a relationship. Even a fling while they're both in town. The reader doesn't get any clear picture of why not.
And Theo decides that he's going to override any objections she has and seduce her anyway, because he's decided that's what he wants. Since she's physically interested, her mental and emotional reservations aren't important. He figures he'll get her to overcome those later.
And that's where the story derailed for me. Even though I couldn't figure out why she didn't want a relationship, she was clear that she didn't want one. I couldn't get past that, as much as I like the people and the town.
The secondary story between Avery's Aunt Kate and the man who seems to have been pining for her forever was wonderful. The suspense plot that almost seemed like the Inn was haunted, not bad at all.
But Theo and Avery? I couldn't get past the beginning. He knew best, and he decided that her objections didn't matter. That plot went out when? The 80s?
I give Blaze of Winter 2 sadly disappointed stars.
***FTC Disclaimer: Most books reviewed on this site have been provided free of charge by the publisher, author or publicist. Some books we have purchased with our own money and will be noted as such. Any links to places to purchase books are provided as a convenience, and do not serve as an endorsement by this blog. All reviews are the true and honest opinion of the blogger reviewing the book. The method of acquiring the book does not have a bearing on the content of the review.