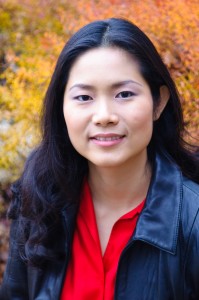 Today I'm very happy to welcome back to BLI Nadia Lee, who celebrates the release of her latest story, One Kiss, a delicious fairy tale retelling (her take on The Frog Prince) with a sexy post and an irresistible deal: until Friday you can get A Fairytale of Her Own, the first fairy tale retelling of Nadia (and which I LOVED!) for only 0.99 at Amazon! So hurry, grab a copy and read on to see what One Kiss will bring…
How to Make a Were-Frog Heroic (and Sexy)
The biggest challenge of basing One Kiss on The Frog Prince is the hero. I hadn't realized how easy I had it when I based the previous story, A Happily Ever After of Her Own, on Beauty and the Beast because at least Edward the Beast was manly.
Poor Robert is a frog! How many people think "sexy" when they see a frog? Robert himself is of course aware of his problem, and he bemoans it in the first chapter when he says he'd rather be a were-octopus since that's more dignified.
But sexy and heroic Robert must be, so I brainstormed all the ways I could make him sexy by thinking about what kind of qualities I want in a hero.
Yes, I want the hero to be tall, handsome and strong. (Who doesn't like a beefcake hottie?)
On the other hand, I can name plenty of men who fit that description…and who I find completely repulsive due to their personality or other intangible qualities. So I decided to focus on those first.
• Robert is rigidly honorable. He always keeps his promise, no matter how irritating the other person is or how outlandish the promise happens to be.
• He also has a sense of humor and enough self-awareness to know that no matter his rank, he's just not going to get much respect from others because of the way he looks.
• He thinks ahead and uses what he can to his advantage to foil bigger and stronger foes. And yes, this is how he saved the heroine Molly the Maid from his brutish cousin Prince John.
• Robert is also extremely responsible and understands that being a prince means more than just enjoying the privileges and power that come with the position. He knows he must be a good king to his people. He also desires to be the kind of king Molly deserves as he slowly begins to fall in love with her.
• He is big enough to own his mistakes and do everything he can to fix them, even if it means he may not get what he wants or even have to give up what he wants most in life. (Worry not! Since One Kiss is a romance, he gets a happy ending!)
I hope you find Robert just as heroic and worthy as I find him. 🙂
For a chance to win a copy of One Kiss, please share what qualities and/or actions you believe make a person heroic.
Note: The first book in the series A Happily Ever After of Her Own will be on a special time-limited sale on Amazon from November 28 – November 30. If you haven't had a chance to try it out yet, you can grab a copy for only 99 cents!
One Kiss by Nadia Lee

HE IS A LEGEND…

Robert is a royal prince cursed into his current predicament: remain a frog until he can get someone to kiss him…willingly. After years of searching, he finally finds a suitable royal princess.

SHE IS BUT A HUMBLE MAID…

Practical maid to the royal princess, Molly promises to help Robert in return for gold enough to fund her retirement. She doesn't want to waste her youth waiting on someone as capricious and shallow as the princess, instead of living her life.

BUT LOVE KNOWS NO BOUNDARIES…

Unexpected problems unravel Robert's plan. The princess thinks frogs are disgusting, and his evil cousin shows up to steal both the princess and the throne that rightfully belongs to Robert. To compound matters, all he can think about is the quick-witted Molly.

But to undo the curse and inherit the throne, Robert must have a kiss from a royal princess and marry her.

What's a cursed prince to do?

Based on THE FROG PRINCE.

Warning: This title contains the following: Fairy Godmother, a killer punt, porcupines of evil, the Wicked Witch's justice and a happily ever after (or two).

Buy at Amazon – other stores 
Bilingual former management consultant Nadia Lee has lived in four different countries and enjoyed many adventures and excellent food around the globe. In the last eight years, she has kissed stingrays, been bitten by a shark, ridden an elephant and petted tigers.

She shares an apartment overlooking a river and palm trees in Japan with her husband, baby boy, winter white hamsters and an ever-widening pile of books. When she's not writing, she can be found digging through old Asian historical texts or planning another trip.

Connect with Nadia at: Website – Twitter – Facebook – Goodreads
~~~~~~~~~~~~~~~~~~~~~~~~~~~~~~~~~~~~~~~~
~*~*Giveaway*~*~
Nadia has generously offered an ebook copy of One Kiss to a lucky commenter!
All you have to do is tell us: what qualities and/or actions do you believe make a person heroic?
(You can read our full giveaway policy here)
Please be sure to include a valid email address in the comment form (need not be in the actual body of the comment).
This giveaway is open to all!
Giveaway ends on Saturday, 8 December 2012; we will announce the winner on Sunday.
Good luck!