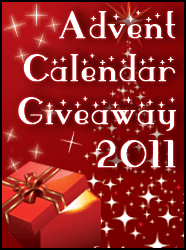 Welcome to the 10th day of Book Lovers Inc Advent Calendar. Each day we will offer you one great read in a giveaway on all 24 days till Christmas.
Today you will have the chance to win Carnal Secrets, a stellar (and sizzling!) contemporary romance both Lea and I fell in love with at first read!
Nadia Lee enchanted us with her gripping strorytelling, realistic characters and off-the-charts intense emotions. (The chemistry between the h/h was one of the hottest and most intense thing I have ever read!) So let us share this gem with you, and trust two of your resident Book Lovers when they say that Carnal Secrets is a novel you absolutely must read! 😉
Length: 132 Pages
Genre: Contemporary Romance
Release Date: February 17, 2011
Formats Available: eBook, Kindle, Nook
Purchasing Info: Smashwords, Author's Website, Goodreads, Kindle, Nook, All Romance e-Books
Book Blurb:
After a rapid change in management, Natalie Hall is surprised to find that she's being promoted so quickly. But when it becomes obvious that the new CEO is interested in her on a more personal level, she pushes him away — she doesn't want to repeat her past mistake of giving her heart to the wrong man.

A self-made billionaire, Alex Damon has his own reasons for pursuing Natalie. Her adoptive father, a powerful U.S. senator, is using his political clout to protect his friends the Rodales, who Alex intends to destroy for ripping his own family apart when he was a child. Furthermore, he suspects that Natalie is spying for the Rodales.

What he hasn't planned on is her unflinching sense of loyalty and integrity, the sizzling attraction between them that threatens to turn into something much more, and the dark secrets that can destroy them both.
The Review:
Stella's thoughts:
Both Lea and I jumped on the opportunity to review Carnal Secrets when we first heard about it (because the blurb sounded exciting), but we sure weren't prepared to what a terrific read it was going to be!
I can only tell you my story: on my way to an exam preparatory course I started reading
Carnal Secrets
, thinking it would be a good way to keep busy on the bus ride, well the story (and mostly the characters) sucked me in so intensely, that I only stopped reading while I went up the stairs, but unfortunately haven't heard a word in that course as I was too busy devouring Nadia Lee's novel in the back of the classroom. The outside world just ceased to exist for me I was so immersed in Alex and Natalie's world, I was possessed by
Carnal Secrets
and that's all thanks to Nadia Lee's wonderfully fluent and brilliantly intense writing!
I have difficulty telling you everything this novel made me feel. I loved every single minute of reading it! I love emotionally intense and charged stories and this one didn't spare the reader! I love to be involved in the story and Nadia Lee pulled me in right from the start. Even after I have finished and turned the last page, I kept feeling the lingering aftermath of the story, and even now, just thinking about Carnal Secrets, I get goosebumps. Yes, it was that good! *dreamy sighs*
Lea's thoughts:
I don't know about the rest of you who commit to read and review books but occasionally I get darn tired but know I have to keep pushing because otherwise I'll be so behind it will be a stressful "going down for the third time" situation. It was on such a day (I was also extremely grouchy I might add) that I opened Carnal Secrets on my e-reader and to be honest I was expecting to be underwhelmed. Well, I will say right now, I ate crow after I read Nadia Lee's story non-stop because once I started I couldn't put it down. I'm sure I will be unable to do this awesome, multi-layered, emotional story justice in a review, however, here it goes…
Ms. Lee writes with a lovely, articulate, sensual prose, and the graphic imagery in this story can only be described as stellar. She drew me into each scene that advanced a plot involving a passionate tempestuous romance, manipulation, treachery, corporate espionage, and, carnal secrets.
Carnal Secrets has rocketed to the top of my list of favorite reads so far this year. I've enjoyed it more than once and will read it again. A keeper for sure.
~~~~~~~~~~~~~~~~~~~~~~~~~~~~~~~~~~~~~~~~
~*~*Giveaway*~*~
Thanks to Nadia's generosity we have an ebook copy of Carnal Secrets for one lucky commenter!
All you have to do is tell us what is your favourite holiday song?
(You can read our full giveaway policy here)
Please leave a valid email when placing your comment so we can inform you if you win.
This giveaway is open to everyone!
Giveaway ends on Saturday, 24 December 2011; and we will announce the winner on Sunday.
Good luck!