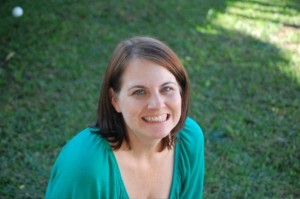 We are pleased to welcome Author Melinda Dozier to BLI for the next stop in her blog tour celebrating the release of her new novel, Time Changes Everything, which is available today from Entranced Publishing. Reading romance has always been at the top of Melinda's favorite past times. After hectic days of teaching English to middle school students, Melinda finds time to write and read in the evenings. She lives in Guatemala, Central America with her husband, three boys and German Sheppard. Melinda enjoys being the queen of her household and dreams of being pampered fully by her boys once they are grown. Melinda loves reality TV, traveling, blogging and playing Words With Friends.
We are looking forward to reading Melinda's Guest Post today which is entitled: I'm Not Crazy! The Voices and Research behind Time Changes Everything.
Be sure and enter Melinda's Giveaway opportunity via the Rafflecopter widget following her post, you could win a $25.00 Amazon Gift Card.
Take it away Melinda!
I'm so excited to be here. Time Changes Everything has been in the making for many years and today is release day!
Just last week, my sister-in-law asked me the most popular question for an author:  "Where did you get the idea for your book?" It seems like a simple question, but it's not a simple answer. How can I explain to people that my ideas just come to me from nowhere or that I actually have characters talking to me in my head? I'm not crazy. It's just one of the joys of being an author – all the voices that fill up my brain and scream to come out.
Jake and Amanda from Time Changes Everything screamed at me for a long time. On maternity leave with my youngest son, I had the time to sit down at my computer and wheedle out their ideas. It wasn't hard, but it was all new to me. I've heard the phrase, "Write what you know" so often, that I thought I did it all wrong. I know different now. I often write what I don't know and learn all about it. It's called research.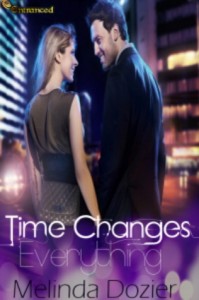 Length: Novel
Genre: Contemporary Romance
Release Date: May 13, 2013
Formats Available: eBook
Purchasing Info: Author's Website, Publisher
Book Blurb
"She wasn't going to admit that she liked that kiss. He wouldn't let her forget."

Amanda Larson is dedicated to her job and doesn't want to make time for anything else. Until she runs into Jake Edwards. He used to be the cute boy next door; now he's a sexy, big shot lawyer.

Jake Edwards isn't interested in commitment. He's successful, sexy, and single–and that's how he likes it. When he reconnects with Amanda, Jake realizes he might have to rethink his philosophy on the carefree, bachelor lifestyle.

But, is it too late for them? Or can he convince her that he's ready to give her his heart?
Some of the ideas I had to research for Time Changes Everything included:
Their professions. Jake is a Sports Attorney and Amanda is a Buyer at Macy's. Never in my life have I wanted to do either of these occupations, but they were perfect for these characters. It's actually fun to learn about different jobs and what they entail. Although I could never organize a fashion line or write a contract for a sports figure, I do know a little more than when I started.
The setting. New York City is a dream for me! I've sadly never been. I researched Manhattan and all the different places that Jake and Amanda visit. I also talked to my father-in-law who is from Brooklyn. He still tells so many stories, that I know New York will be in many new novels to come.
Fashion Shows. Fun, right? Amanda ends up running a fashion show for a VIP fashion designer, Denalo.  I've never had to be in charge of a fashion show. I can barely manage my own household. Research helped me view the new lines, the runway, models, stage setup, crews, hairdressers… you name it. It's a real adrenaline rush and Amanda takes us through it.
So, my answer to those who ask where I get my ideas is often, "The ideas are just there in my head." I call it imagination. Artistry. Fantasy. But, one of my favorite responses to that answer came from a friend last week. It was this: "She's just a bona fide romantic." And that's the truth!
Add Time Changes Everything to your Goodreads shelf!
Now it's your turn to share. What are some crazy ideas you'd love to research about? Leave a comment below!
Free Novella by Melinda available from Smashwords: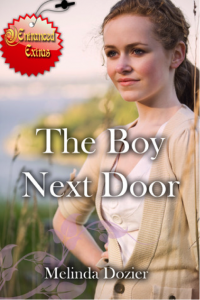 Where to find Melinda:
Website | Blog | Twitter | Facebook
~~~~~~~~~~~~~~~~~~~~~~~~~~~~~~~~~~~~~~~~
~*~*Giveaway*~*~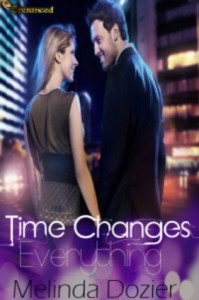 Melinda is generously giving away a $25 Amazon gift certificate & an ecopy of Time Changes Everything!
Enter Here:
Winner will be announced on Melinda's blog May 26th.
Good luck!