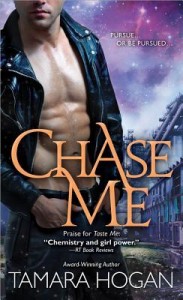 Format Read: ebook provided by the publisher
Number of Pages: 352 pages
Release Date: June 5, 2012
Publisher: Sourcebooks Casablanca
Series: Underbelly Chronicles #2
Genre: Urban Fantasy, Paranormal Romance
Formats Available: Mass Market paperback, ebook
Purchasing Info: Amazon | B&N | Kobo | Book Depository US | Book Depository (UK) | Author's Website | Goodreads | Publisher's Website
Book Blurb:
THE SECRETS SHE'S UNCOVERiNG WILL BE HIS TO KEEP…

Centuries ago, when their ship crashed to Earth, paranormals of all types settled secretly into our world, quietly going about their business with humans none the wiser. Self-ruling and careful to stay below the radar, all is threatened when Valkyrie archaeologist Lorin Schlessinger and her werewolf geologist partner Gabe Lupinsky inadvertently draw evil attention to Earth and its treasured natural resources.

As the threat intensifies, Lorin and Gabe struggle to contain the chaos they've unleashed, and to resist their explosive mutual attraction …
My Thoughts:
Tamara Hogan's Underbelly Chronicles are a wild blend of urban fantasy and paranormal romance with the teeniest, tiniest touch of science fiction. Well, the SF is there in the same way that Anne McCaffrey's Dragonriders of Pern were SF. I'll get back to that in a minute. Or a few paragraphs.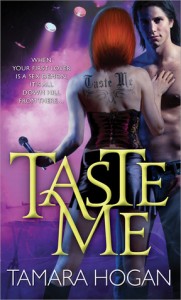 If you haven't read the first book in the series, Taste Me (I reviewed it over at Reading Reality) and you like your urban fantasy mixed with paranormal romance, check it out. Pretty much every race of supernatural not only exists, but they've all banded together and are not just hiding in plain sight, they police themselves. In Minneapolis.
In Chase Me, the scene is admittedly a bit less urban. The supernaturals in Hogan's Underbelly Chronicles are not indigenous to our world, they crashed here in a spaceship! Chase Me concerns the archeological dig to retrieve the "black box" from that crashed ship, over a millenia later, at least according to oral history.
However, the Valkyrie archeologist and the werewolf geologist have done nothing but butt heads since the first day they started working together, and that was when they were back in Minneapolis. Out on the dig site in Outer Nowhere Minnesota, fighting over who is in charge of what is going to wreak havoc with productivity.
Except that isn't what they're really fighting about. After all, werewolves and Valkyries are both species that use aggression as an outlet for other tensions. Like sex. The real issues are that werewolves mate for life, and that Valkyries usually screw 'em and forget 'em.
Then they discover that their site isn't far enough in the wilds that it can't be found by a strange vampire who kidnaps one of their student workers, who vanishes in front of their eyes as if she was whisked away by a Star Trek transporter.
And yes, they do find that "black box". Only to discover that most of their oral traditions about their origins are not quite on the mark. For one thing, their people have been on Earth four millennia, not just one. And there is genetic material in the box that might still be viable.
Verdict: The whole Underbelly Chronicles world is incredibly absorbing. I dove straight from the first book to this one without stopping. I'm just sorry that the next book, Tempt Me, isn't out yet.
The relationship building between Lorin (the Valkyrie) and Gabe (the werewolf) was terrific. Lorin thinks she doesn't want a relationship with Gabe because she thinks he's going to be a pushover, then she's very pleasantly surprised to discover that he is anything but! Gabe is also a geek hero, which is always cool.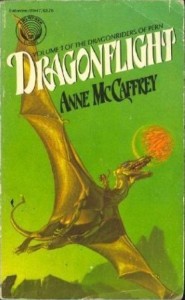 One of the subplots is that the werewolves in general, and particular Gabe's family, have a lot of genetic problems, because the Alpha won't permit the weres to mate with other supernaturals. There is just too much inbreeding. Gabe is losing his vision because of genetic problems. His mother and sister were both born with a missing limb. His family are practically outcasts because of their genetics. Gabe feels unworthy because of his family's status in the pack.
About the reference to McCaffrey's Pern. At the very beginning of Dragonflight, there's a prologue with all the clues to tell the reader that the story is science fiction. Pern is a lost colony. But it reads so much like fantasy, that everyone forgets until they find the ruins of the ship, several books later. The supernaturals are descendants of a crashed ship. They know it. That black box is a beacon. When it is recovered, it sends a signal. That signal gets answered.
The perspective of the person on board the ship answering that signal always seems slightly confused to me. There's more going on at his end of the story than we see. I know it's intended to keep things mysterious for the reader, but it just left me too much in the dark.

And that's what keeps me from giving this a 5 star rating. So I give Chase Me by Tamara Hogan 4 and 1/2 stars.
***FTC Disclaimer: Most books reviewed on this site have been provided free of charge by the publisher, author or publicist. Some books we have purchased with our own money and will be noted as such. Any links to places to purchase books are provided as a convenience, and do not serve as an endorsement by this blog. All reviews are the true and honest opinion of the blogger reviewing the book. The method of acquiring the book does not have a bearing on the content of the review.