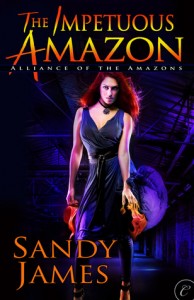 Format Read: ebook provided by NetGalley
Number of Pages: 261 pages
Release Date: January 14, 2013
Publisher: Carina Press
Series: Alliance of the Amazons #2
Genre: Fantasy Romance, Paranormal Romance
Formats Available: ebook, audiobook
Purchasing Info: Amazon | B&N | Kobo | Author's Website | Publisher's Website | Goodreads
Book Blurb:
Megan Feurer is strong and impetuous, like the Fire element she represents. She is an Amazon, sworn to protect humanity from demons, demigods and all manner of supernatural beings who wish ill upon the world. But her fire burns hot and fast, and her unpredictable control of the element brings into question her fitness as an Amazon.

Johann Herrmann chose the life of a Sentinel—a trainer of the four Amazons—to save his sister's life. Now bound to the patron goddess Rhiannon, he knows his duty demands a …

3 1/2 Stars,featured,Giveaways,Review,Sandy James,The Rocket Lover

23 Jan 2013

15 comments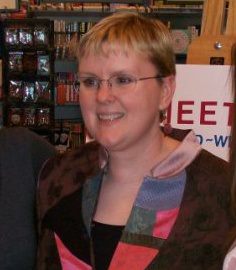 Please welcome Sandy James to Book Lovers Inc. Sandy is here to celebrate the release of her first full-blown fantasy romance, The Reluctant Amazon. This blend of romance, fantasy and multiple-multiple mythologies is the first of a four-book series about modern Amazon warriors saving the world, and it's gets off to an earth-shaking start (review here). Sandy's going to talk about myths, movies and horses, but not necessarily in that order!
You can win a copy of either The Reluctant Amazon or Sandy's first book from Carina Press, The Rules of The Game, so be sure to leave a comment at the end.
Marlene: Hi Sandy, welcome to Book Lovers Inc! Can you please tell us a bit about yourself?
Sandy: Thanks so much for having me, Marlene!
Writing is actually my third "career." My husband and I married right out of college, and our first child came along …

featured,Giveaways,Interview,Sandy James,The Rocket Lover

26 Oct 2012

11 comments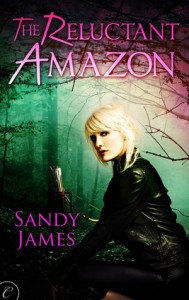 Format Read:ebook provided by NetGalley
Number of Pages:258 pages
Release Date: September 3, 2012
Publisher: Carina Press
Series: Alliance of the Amazons #1
Genre: Contemporary fantasy romance, paranormal romance
Formats Available: ebook, audiobook
Purchasing Info: Amazon | B&N | Kobo | Book Depository US | Book Depository (UK) | Author's Website | Publisher's Website | Goodreads
Book Blurb:
The last thing Rebecca Massee expects on her wedding day is to go from jilted kindergarten teacher to Amazonian Earth warrior. But when she causes an earthquake after her groom says I don't, she discovers that not only does she possess incredible powers, she is one of four lost chosen sisters who must fight to keep humanity safe from rogue gods and demons. Luckily she has help: ruggedly handsome Scottish warrior Artair MacKay, her protector and teacher.

An …

3 Stars,featured,Review,Sandy James,The Rocket Lover

24 Oct 2012

3 comments