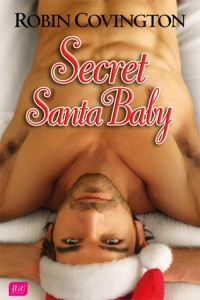 Format read: ebook
Series: N/A
Genre: Contemporary Romance
Release Date: Dec. 18, 2012
Number of pages: 54 pages
Publisher: Entangled Publishing
Formats available: ebook
Purchasing Info: Amazon | B&N | Kobo | Book Depository US | Book Depository (UK)
Tessa Stoneman hasn't been able to get long-time friend and business partner Nicholas Boone out of her head since they shared a single kiss in college. Even when she dated Nicholas's best friend. Now that she's giving up her position at GameNerdz to strike out on her own—and now that she's single—maybe it's the right time to see if there's still something between them.

Nicholas knows once Tessa leaves the company she helped found, they might drift apart. Before she starts her own company in the new year, he wants to woo the woman he fell in love with during college. So he poses as her Secret Santa, gifts her with items from the song "Santa Baby," and plans a big reveal at the company holiday party. But when his best friend wants to rekindle his romance with Tessa, will Nicholas lose his last chance?
My Thoughts:
With this being a mere 54 pages, one thing was needed to really kick this story into action right away: a good back story. I think it is something that Robin Covington does very well. The current actions are contrasted nicely with what had gotten Tessa and Nicholas to the make or break point. So, all that was left was to finally get them together. But the author threw a couple of obstacles in the path with the on again/off again relationship  that Tessa had with Damien as well as Nicholas being a reserved character that had always held back.
But it is this minor character flaw in Nicholas, that sets the perfect stage for the Secret Santa gifts to ease the way into something more for both of them. Again, Covington, with the flash back to an ill-advised drunken karaoke from the previous year's Christmas party, plays heavily on the song, "Santa Baby" with the list of gifts Tessa receives in neat ways. For me, it meant having the song repeat in my head, (in Madonna's voice because that's the version I'm most familiar with) to try to remember what the singer was asking for 😉 Whichever version you know, it's easy to see how Tessa would be utterly spoiled.
The one thing that irked me was the relationship Tessa had had with Nicholas' best friend. It's probably one of those inane rules in my own head where it's never cool to date your exes best friend, but I did like how both Tessa and Nicholas had to wrestle with this issue. I'll say that it all wrapped up nicely (pun fully intended) in the end for all parties involved. There was also a scene where things were getting hot and heavy but…. well, you'll just have to read it for yourself to find out.
So, who says you can't read Christmas stories AFTER the holidays are over?! Well I did and I enjoyed it. Secret Santa Baby is a fun, quick read that will delight readers year round 🙂
I give  ***Secret Santa Baby*** 3 1/2 stars!

***FTC Disclaimer: Most books reviewed on this site have been provided free of charge by the publisher, author or publicist. Some books we have purchased with our own money and will be noted as such. Any links to places to purchase books are provided as a convenience, and do not serve as an endorsement by this blog. All reviews are the true and honest opinion of the blogger reviewing the book. The method of acquiring the book does not have a bearing on the content of the review.