Welcome to this week's news post! For this edition, we have  long anticipated cover reveals and title from Nalini Singh's Psy Changeling series, as well as Ilona Andrews and Sylvia Day.
First up! John Scalzi has announced he is stepping down as SFWA (Science Fiction and Fantasy Writers of America) President later this year. However author, Jim C. Hines, has posted that already two authors have chucked their hats into the ring for the presidency, while Steven Gould looks like a good candidate, the other potential is Theodore Beale who is also known as the controversial blogger and writer, Vox Day who is behind some pretty sexist and trolltastic articles on women, which Jim has summarised and linked here. It will be interesting to see how this contest will go.
And mentioning Jim C. Hines, he has also spoken about the financial realities in writing genre fiction, which isn't that profitable. Along with Hines, horror and  and fantasy authors Brian Keene and Mark Lawrence have written their experiences in trying to make a good living writing, which is much harder than it is expected especially for genre fiction which is considered to be much more profitable than sub-genres such as literary fiction.
There is moar YA adaptions in the horizon! It really does seem that Hollywood has totally fallen in love with this genre. Lifetime, has ordered Melissa de la Cruz, Witches of East End for a ten episode pick up. Julia Ormand will star and it will follow the exploits of two sisters who discover they are descended from a long line of witches.
While Ally Condie's dystopian, Matched – which is about a young girl whose fate is predestined by an authoritative government. Disney will be bringing the book to the big screen, with Sherlock Homes: A Game of Shadows writers Michelle and Kieran Mulroney, scripting, and Step UP and GI Joe director, John Chu, helming the movie.
And now we have a special books to watch out for edition! The long anticipated and mysterious cover and title for Nalini Singh's upcoming 12th Psy/Changeling book. There has been much speculation about this book, especially as the title, and the blurb and the heroes have been kept secret. But the title was posted yesterday (which was entitled Heart of Obsidian)  along with a gorgeous cover.  Nalini will post the blurb around March – she also announced that the title of the next Guild Hunter book – Archangel's Legion. This is slated for the fall and it will focus back onto Raphael and Elena as the main couple.
Sylvia Day has also posted the US cover for the 3rd Crossfire book. Entwined with You. It is scheduled for release later this year and I can't wait!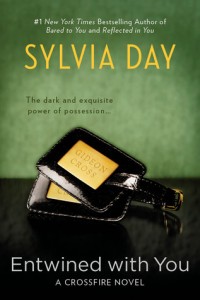 The worldwide phenomenon continues as Eva and Gideon face the demons of their pasts, and accept the consequences of their obsessive desires…

From the moment I first met Gideon Cross, I recognized something in him that I needed. Something I couldn't resist. I saw the dangerous and damaged soul inside–so much like my own. I was drawn to it. I needed him as surely as I needed my heart to beat.

No one knows how much he risked for me. How much I'd been threatened, or just how dark and desperate the shadow of our pasts would become.

Entwined by our secrets, we tried to defy the odds. We made our own rules and surrendered completely to the exquisite power of possession…
And finally! Ilona Andrews also posted their 6th Kate Daniels book, Magic Rises – I really love the tone and a snarling Curran! It also looks like it will be an epic instalment with Kate journeying into Europe for a mission.
So who do you think the hero for Heart of Obsidian is going to be? Do you have any theories on who the ghost?