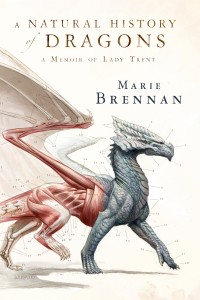 Format Read: eARC from Netgalley (also, Hardcover).
Series: Memoirs of Lady Trent #1.
Genre: Fantasy/Historical Fiction.
Release Date: February 5, 2013.
Publisher: Tor.
Number of Pages: 336.
Formats Available: Hardcover, Paperback, eBook.
Purchasing Info: Author's Website, Goodreads, Amazon, BookDepository.
Book Blurb:
You, dear reader, continue at your own risk. It is not for the faint of heart—no more so than the study of dragons itself. But such study offers rewards beyond compare: to stand in a dragon's presence, even for the briefest of moments—even at the risk of one's life—is a delight that, once experienced, can never be forgotten. . . .

All the world, from Scirland to the farthest reaches of Eriga, know Isabella, Lady Trent, to be the world's preeminent dragon naturalist. She is the remarkable woman who brought the study of dragons out of the misty shadows of myth and misunderstanding into the clear light of modern science. But before she became the illustrious figure we know today, there was a bookish young woman whose passion for learning, natural history, and, yes, dragons defied the stifling conventions of her day.Here at last, in her own words, is the true story of a pioneering spirit who risked her reputation, her prospects, and her fragile flesh and bone to satisfy her scientific curiosity; of how she sought true love and happiness despite her lamentable eccentricities; and of her thrilling expedition to the perilous mountains of Vystrana, where she made the first of many historic discoveries that would change the world forever. Marie Brennan introduces an enchanting new world in A Natural History of Dragons.
My Thoughts: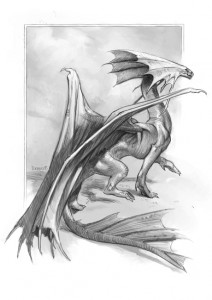 Well-
So-
GAH! I cannot handle the pressure! How does one review a book that is not just a book, but also a literary manifestation of ultimate perfection?!
I really cannot think of one single thing to complain about. Everything from the gorgeous illustrations by Todd Lockwood, to the memoir-style delivery is executed flawlessly.
I am a sucker for dragon books – especially with illustrations – so I actually started reading this one without even looking at the blurb. Which made the writing even more exciting!
I was instantly sucked into the world elderly Isabella was describing. No matter if she was detailing the events of her childhood and first dragon adventures, or tossing out tantalizing tidbits for future books – I was entranced, and utterly unable to stop wildly speculating about what will occur in later installments.  (You can't just offhandedly reference something like 'The Aerial War' and then just move on to mundane shit! WHEN WILL THIS BE EXPLAINED?)
I'm sure you can imagine my relief when I discerned that the sequel has already been optioned.
The dragons themselves were a well-realized part of the world. From the Sparklings to the runts in the Royal Menagerie, I was captivated by every discovery Isabella shared regarding dragons and their place in her world. These dragons were not simply shoe-horned into a pseudo-Victorian England, but were an an active, breathing part of its imperialist culture, scientific advancement, and societal standards.
(Note: Anyone who loved the Fire Lizards in Anne McCaffery's Rapingtimes of Pern series, is going to be utterly enamored with The Great Sparkling Inquiry.)
I could go on for DAYS about the general gloriousness of the dragons, but I know my fellow bloggers and readers, and you barbarians only care about the romance. Which I can assure you is also amazing.
Jacob and Isabella manage to develop a realistic relationship based on mutual respect and a passion for the natural sciences – which then turns to love – in a time period where the science is unladylike, and the respect is ungentlemanly. They both step outside their assigned gender roles and meet halfway. Not so far as to be anachronistic, but far enough to keep this modern feminist rooting for them. Consider the following exchange during The Proposal:
He regarded me with a bemused expression. "You want me for my library."

Put so baldly, it sounded ridiculous. "Oh dear—I don't mean to insult you—"

This time his laugh was more full-bodied. "It's the strangest insult I've ever suffered, if indeed I would give it that name."
See? How awesome is that! Two people having an open and honest discussion of what they are looking for in potential spouses and hope for marital life. It just so happens to involve books. About dragons. How can you not want these two crazy kids to make it?
They may be one of my favorite couples of all time.
There are so many other things to recommend this books that I can't list them all. Though I will try.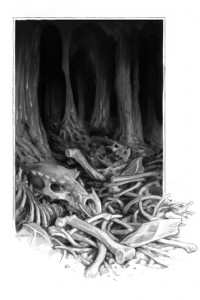 Dragon Graveyard (like Elephant Graveyards! But more amazing.);
Rabid Dragons;
Diligent scientific inquiry amongst children and adult explorers alike;
Demon-Dragon superstition;
Ancient dragon-worshipping civilizations;
Casual, socially accepted (even expected) atheism of scientists;
Feminism (though only minimal understanding of classism and imperialism);
Smuggling (and sexy smugglers);
Mad Scientists;
Political intrigue;
International travel;
Tragedy and heartbreak.
Basically, there is something for everyone – and though it may seem like an overfull list, I assure you, each piece is part of an intricately woven puzzle. You cannot remove even one strand of this story without having the whole thing crumble down around you.
As I said. Embodiment of literary perfection.
Which leads me right back to my initial problem. BLI's ridiculously limited rating system. How can I give this book a mere five stars?
This dilemma held up this review for weeks. Thankfully I found a solution in Photoshop. Ergo, I give A Natural History of Dragons 15 stars!

Do you have your credit card or paypal password handy? Yes? Good. Because each and every one of you must immediately purchase this book. In all three formats. The Hardcover (to prominently display on your premier bookshelf), the Paperback (to gift to any newlyweds or graduates or whomever), and the eBook (to ensure you have a copy on hand at all times).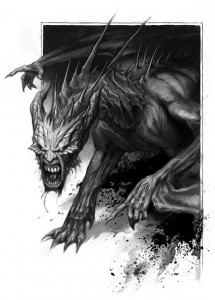 Also, pre-order book 2, The Tropic of Serpents. Which is tragically not going to be released until March. (Excuse me as I go sob inconsolably in the corner.)
DO MY BIDDING MINIONS, OR FEEL MY WRATH!
*All illustrations copyright of Todd Lockwood – and directly from the book. See? Hardcover necessary. You just can't appreciate the beauty on a screen.
~~~~~~~~~~~~~~~~~~~~~~~~~~~~~~~~~~~~~~~~
~*~*Giveaway*~*~
The spectacular people over at Tor appreciate the agonizing anticipation of waiting for book 2, and so have generously offered THREE copies of A Natural History of Dragons to THREE lucky US/Canadian commenters! We will be offering an additional copy to an international commenter.
All you have to do is leave a meaningful comment about the post. (There will be additional chances to win throughout Dragon Day! Stay Tuned.)
(You can read our full giveaway policy here)
Please be sure to include a valid email address in the comment form (need not be in the actual body of the comment) AND tell is if you are international or US/Canadian!
Giveaway ends on Saturday, June 29th, 2013; we will announce the winner on Sunday.
Good luck!!!!
 ~~~~~~~~~~~~~~~~~~~~~~~~~~~~~~~~~~~~~~~~
***FTC Disclaimer: Most books reviewed on this site have been provided free of charge by the publisher, author or publicist. Some books we have purchased with our own money and will be noted as such. Any links to places to purchase books are provided as a convenience, and do not serve as an endorsement by this blog. All reviews are the true and honest opinion of the blogger reviewing the book. The method of acquiring the book does not have a bearing on the content of the review.