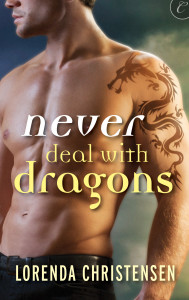 Format read: ebook.
Series: DRACIM #1.
Genre: Urban Fantasy/Paranormal Romance.
Release Date: July 22, 2103.
Number of pages: 209 pages.
Publisher: Carina Press.
Formats available: ebook.
Purchasing Info: Author's Site, Goodreads.
Book Blurb:
Consoling a sobbing dragon and serving pig buffets are just part of the job for Myrna Banks. Working for a mediation firm, it's her job to get humans compensated for damages caused by the dragons who now rule. But her "typical" day is interrupted by Trian Chobardan, an old flame who sneaked out of her bed two years ago, taking her heart and a handful of classified documents with him.

Myrna would love to show Trian the door, but he's been sent by North America's reigning dragon lord for help negotiating a truce with a powerful rival to avert war. Myrna agrees to help, even though she'll be stuck with Trian as a partner.

As the two work together, Myrna finds Trian to be surprisingly supportive—and still irresistibly attractive. Though her brain tells her not to forget his betrayal, her body feels differently. When they learn the enemy dragon lord is planning something no one could have imagined, Myrna has to learn who she can trust before she loses not only her heart, but her life.
My Thoughts:
As many of you are no doubt aware, I love dragons with a passion only matched by my utter contempt for the romance genre. Putting the two together tends to incite outrage, snark, and hangovers.
But sometimes, you just want to read something so you can hate it. I've always maintained that a good rant is good for the soul. It's unhealthy to keep opinions and emotions all bottled up. Ergo I decided to read Never Deal with Dragons instead of Eona.
Imagine my surprise when I realized I was not reading a trashy paranormal romance book with chapter after chapter of superfluous magic woo-woo sex. Instead, I found myself reading a very engaging book about a post-WWIII world where we tried to cure cancer, but created dragons.
Basically your standard anti-science apocalypse. BUT WITH DRAGONS. I don't know about you, but if gene splicing is going to create dragons instead of zombies, I am all in. (Is it too late to change my career focus to biomedical ethics and patent law?)
Also? No unnecessary chapters of sex. No magic-healing vagina. No mineminemine possessive alpha male bullshit. In fact, there is only one explicit sex scene. Making it no more a romance than any other speculative fiction book I've every read. Hell, I can think of so-called "hard scifi" that provides more titillation.
Which gets me back to where we started. What the fuck is with the cover?
Believe me, I KNOW we aren't supposed to judge books by their covers. Especially since so many of them are godawful and provide little to no representation of the content of the novel – but all of that has been repeatedly brushed off and justified by marketing folks as necessary branding. I can casually walk into a bookstore and know, even if the shelves aren't labeled, what genre I am in:
Profile of teen girl in ridiculous evening gown at night = YA paranormal romance.
Bad-ass woman in leather (or jeans with midriff baring shirt) holding weapon = urban fantasy.
Close up of Naked Man Chest with vaguely mystical or tribal tattoo = paranormal romance
Cartooney woman with graphics of clothes/makeup/shoes = chick lit.
Anything with plaid = Scottish Porn.
Anything with boots and a cowboy hat = Cowboy Porn
Two-toned close-up of cityscape or street = Thriller.
Empty old house = Horror.
Etc, etc. (Seriously, we could go on forever.)
Which is why I am so utterly flummoxed at the cover choice here. Those picking it up hoping for dragon shifter porn will be disappointed. And those, like me, who would appreciate it for  AWESOME DRAGON SOCIETY are likely to walk right on by.
Seriously Carina Press, what the fuck?
Issues with branding and marketing aside. I loved this book. Dragons are always a win, but so is an urban fantasy book that features a non-badass mediator as the lead. Because sometimes it's nice to see ass-kicked in the less literal sense.
And to top that all off, Lorenda Christensen deftly managed to show some of daily struggles in a future society where we aren't just dealing with international legal disputes and economic crises, but interspecies jurisdictional and trade clusterfucks. Bring on the sociopolitical ramifications of dragons among us!
(Note: Pretty clear set up at the end for Book 2 being about the Best Friend and her Terrorist Boyfriend. YAWN. Nobody should read a book asking us to empathize with a dragon-killer.)
 I give Never Deal with Dragons 4 stars!


***FTC Disclaimer: Most books reviewed on this site have been provided free of charge by the publisher, author or publicist. Some books we have purchased with our own money and will be noted as such. Any links to places to purchase books are provided as a convenience, and do not serve as an endorsement by this blog. All reviews are the true and honest opinion of the blogger reviewing the book. The method of acquiring the book does not have a bearing on the content of the review.