Some of you may have noticed that Book Lovers Inc. was briefly taken over by dragons! In an effort to appease our new draconic overlords, you battled for draconic treasures, and voted as to which dragons we should next honor with the same exuberant adulations heaped upon Lady Trent and Seraphina.
The results are in! Next on The Dragon Lovers' Dragon Reading List is….
The Eon Duology by Alison Goodman!* Comprised of: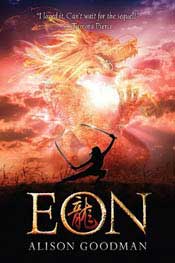 Eon (aka Two Pearls of Wisdom)
Eon has been studying the ancient art of Dragon Magic for four years, hoping he'll be able to apprentice to one of the twelve energy dragons of good fortune. But he also has a dark secret. He is actually Eona, a sixteen-year-old girl who has been living a dangerous lie for the chance to become a Dragon-eye, the human link to an energy dragon's power. It is forbidden for females to practice the Dragon Magic and, if discovered, Eon faces a terrible death. After a dazzling sword ceremony, Eon's affinity with the twelve dragons catapults him into the treacherous world of the Imperial court, where he makes a powerful enemy, Lord Ido. As tension builds and Eon's desperate lie comes to light, readers won't be able to stop turning the pages…
&
Eona (aka The Necklace of the Gods)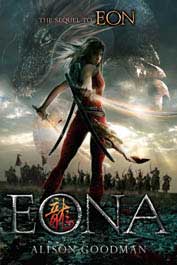 Eon has been revealed as Eona, the first female Dragoneye in hundreds of years. Along with fellow rebels Ryko and Lady Dela, she is on the run from High Lord Sethon's army. The renegades are on a quest for the black folio, stolen by the drug-riddled Dillon; they must also find Kygo, the young Pearl Emperor, who needs Eona's power and the black folio if he is to wrest back his throne from the selfstyled "Emperor" Sethon. Through it all, Eona must come to terms with her new Dragoneye identity and power – and learn to bear the anguish of the ten dragons whose Dragoneyes were murdered. As they focus their power through her, she becomes a dangerous conduit for their plans. . .
However. I couldn't help but notice a certain, shall we say, barabaric, demographic in my readership. A prurient element only interested in reptilian-themed pornography. Hence, Dragon Bound and Playing With Fire tied for second place (SUCH a shame the genre vote was split).
Fear not, barbarians! Dragon Day was not bound by genre conventions. And so Dragon Bound shall be honored with an overabundance of ablutions. Stay tuned and discover if alcohol can truly scour away romance tropes, leaving nothing but the glorious dragon behind.**
*Don't even ask me what is going on with the crazy title changes and vastly different editions. I'm just going to read the whole thing in whichever edition has the superior cover art.
** Hangover not included.