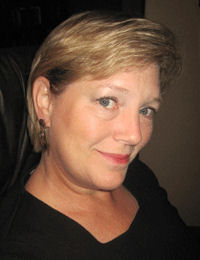 14 Mar 2013

12 comments
It's seductive, it's dangerous…it's voodoo! Today we're pleased to welcome multipublished, award-winning author Elle James, who visits for a chat about her latest release, Voodoo on the Bayou (from Entangled Publishing). She also shares some of her thoughts on reading and writing–including some of her upcoming titles from Entangled! Please show her a warm BLI welcome. 
——–
Stella: Hi Elle, welcome to Book Lovers Inc! Can you please tell us a bit about yourself?
Elle James spent twenty years in South Central Texas, ranching horses, cattle, goats, ostriches and emus. A former IT professional, retired Army and Air Force Reservist, she's proud to be writing full-time, penning intrigues and paranormal adventures that keep her readers on the edge of their seats or laughing out loud. Now, living in northwest Arkansas, she's given up wrangling cattle and exotic birds to wrangle her muses, a malti-poo and a yorkie. When …

12 Mar 2013

6 comments
Title: Poison
Author: Bridget Zinn
Genre: fantasy (YA)
Release date: March 12, 2013 by Disney Hyperion
Description:

Sixteen-year-old Kyra, a highly-skilled potions master, is the only one who knows her kingdom is on the verge of destruction—which means she's the only one who can save it. Faced with no other choice, Kyra decides to do what she does best: poison the kingdom's future ruler, who also happens to be her former best friend.

But, for the first time ever, her poisoned dart . . . misses.

Now a fugitive instead of a hero, Kyra is caught in a game of hide-and-seek with the king's army and her potioner ex-boyfriend, Hal. At least she's not alone. She's armed with her vital potions, a too-cute pig, and Fred, the charming adventurer she can't stop thinking about. Kyra is determined to get herself a second chance (at murder), but will she be able to find …

5 Mar 2013

19 comments
Title: Frost Burned
Series: (Mercedes Thompson, #7)
Author: Patricia Briggs
Genre: urban fantasy
Release date: March 5, 2013 by Ace
Description:

Mercy Thompson's life has undergone a seismic change. Becoming the mate of Adam Hauptman—the charismatic Alpha of the local werewolf pack—has made her a stepmother to his daughter Jesse, a relationship that brings moments of blissful normalcy to Mercy's life. But on the edges of humanity, what passes for a minor mishap on an ordinary day can turn into so much more……

After an accident in bumper-to-bumper traffic, Mercy and Jesse can't reach Adam—or anyone else in the pack for that matter. They've all been abducted.

Through their mating bond, all Mercy knows is that Adam is angry and in pain. With the werewolves fighting a political battle to gain acceptance from the public, Mercy fears Adam's disappearance may be related—and that he and the pack are in serious danger. Outclassed and on …

26 Feb 2013

6 comments
Title: Winterblaze
Series: (Darkest London, #3)
Author: Kristen Callihan
Genre: paranormal historical romance
Release date: February 26, 2013 by Grand Central
Description:

Once blissfully in love . . .

Poppy Lane is keeping secrets. Her powerful gift has earned her membership in the Society for the Suppression of Supernaturals, but she must keep both her ability and her alliance with the Society from her husband, Winston. Yet when Winston is brutally attacked by a werewolf, Poppy's secrets are revealed, leaving Winston's trust in her as broken as his body. Now Poppy will do anything to win back his affections . . .

Their relationship is now put to the ultimate test.

Winston Lane soon regains his physical strength but his face and heart still bear the scars of the vicious attack. Drawn into the darkest depths of London, Winston must fight an evil demon that wants to take away the last hope of reconciliation …

19 Feb 2013

5 comments
Title: Mind Games
Series: (Mind Games, #1)
Author: Kiersten White
Genre: urban fantasy (YA)
Release date: February 19, 2013 by HarperTeen
Description:

Fia was born with flawless instincts. Her first impulse, her gut feeling, is always exactly right. Her sister, Annie, is blind to the world around her—except when her mind is gripped by strange visions of the future.

Trapped in a school that uses girls with extraordinary powers as tools for corporate espionage, Annie and Fia are forced to choose over and over between using their abilities in twisted, unthinkable ways… or risking each other's lives by refusing to obey.

In a stunning departure from her New York Times bestselling Paranormalcy trilogy, Kiersten White delivers a slick, edgy, heartstoppingly intense psychological thriller about two sisters determined to protect each other—no matter the cost.
…
A Taste of Trouble by Gina Gordon
Bound For Keeps (Men of Honor, #5) by …

12 Feb 2013

5 comments
Title: How Beauty Saved the Beast
Series: (Tales of the Underlight, #2)
Author: Jax Garren
Genre: urban fantasy romance
Release date: February 11, 2013 by Carina Press
Description:

Jolie Benoit left her old life behind to become an agent of the Underlight. Training under Sergeant Wesley Haukon, she's honing her combat skills, all the while coping with the intense sexual attraction she feels for Hauk. She keeps their friendship casual, but when his high school sweetheart transfers into their division, Jolie finds herself grappling with jealousy.

The Underlight gave Hauk a purpose, but he can't escape his past completely. The physical and emotional scars from the fire that killed seven fellow Army Rangers will mark him forever. Jolie sends his protective instincts into overdrive, but he's convinced he'll never be worthy of her love.

Hauk is determined to keep Jolie from harm. But when the Order of Ananke ambushes them with a new …