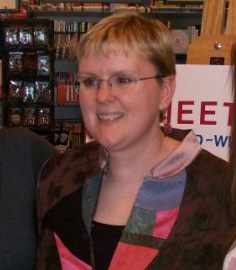 Please welcome Sandy James to Book Lovers Inc. Sandy is here to celebrate the release of her first full-blown fantasy romance, The Reluctant Amazon. This blend of romance, fantasy and multiple-multiple mythologies is the first of a four-book series about modern Amazon warriors saving the world, and it's gets off to an earth-shaking start (review here). Sandy's going to talk about myths, movies and horses, but not necessarily in that order!
You can win a copy of either The Reluctant Amazon or Sandy's first book from Carina Press, The Rules of The Game, so be sure to leave a comment at the end.
Marlene: Hi Sandy, welcome to Book Lovers Inc! Can you please tell us a bit about yourself?
Sandy: Thanks so much for having me, Marlene!
Writing is actually my third "career." My husband and I married right out of college, and our first child came along much faster then we'd planned. So I stayed home to raise my children when they were small while I attended night school to finish my Masters in Education. Then when they started elementary school, I started my teaching career. For the last eighteen years, I've been teaching psychology and US history at Greenwood High School. By the time my son was a senior, I realized that for the first time in my life, I'd have free time on my hands. (Free time! What an odd concept!) So I started writing my first book. That led to another…and another…and I was hopelessly addicted.
Marlene: Describe a typical day of writing? Are you a planner or pantser?
Sandy: I am a hybrid—a pantser who plots. Actually, I do tend to write by the seat of my pants, but I always have an idea of where the journey will end. The fun is getting there!
On weekdays, I try to find time to write in the evenings. Since I only like a few television shows, I don't tend to get distracted by the TV. It's usually on so my hubby can watch something or as background noise, but I can still focus on my story. Weekends are when I log the high word counts. I probably put in at least eight hours with my laptop most Saturdays and Sundays. Summers are sublime because I can pretend I'm a full-time author.
Marlene: What do you think is the difference between a reader and a real Book Lover?
Sandy: A reader is someone who just turns pages to get to the end of the story. A Book Lover is someone who feels everything the hero and heroine feels, who lets her emotions take her on a journey rather than just plod along a path.
Marlene: Most of your books have been, let's say, more straightforward contemporary romances than The Reluctant Amazon? What inspired you to change gears for this story? And what type of romance would you say The Reluctant Amazon is, exactly?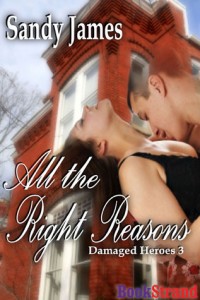 Sandy: I think I "evolved" as a fantasy romance writer. The first book I wrote was a time travel to the Old West. It was fun to be able to switch environments and make everyday people find a new life in a new place and time. Then I wrote Murphy's Law because of my love for harness racing. I figured I'd write a romance revolving around racing where the readers learned about that world right along with the hero. But then the fantasy elements started popping into my books. Free Falling has an empathic psychologist for a heroine. All the Right Reasons has a Romungro gypsy who possesses nearly psychic skills. Then the fourth Damaged Hero book—Faith of the Heart—has a faith healer. So the fantasy elements have always been there. I just let them take full flight in the Alliance of the Amazons series.
When I started writing The Reluctant Amazon, I wanted a story that turned all the clichés of fantasy and of romance upside down. Think about it… I have a typical historical romance hero in a contemporary story. I have a woman with special powers who doesn't want anything to do with them. I have not one culture's mythology but as many cultures as I can include. I throw in zombies yet take away the ability to use modern weapons. It was fun to see how many ways I could twist up the "rules."
I have to give my son, Kevin, credit. We actually hashed out the seeds of this series while waiting for a movie to begin. In fact, he's come to my rescue several times in the same way. When he was still living at home, we actually started going to movies thirty or forty minutes early simply to talk before the show and come up with yet another idea. He suggested using the four elements, and that sparked something in my mind. I just ran with it.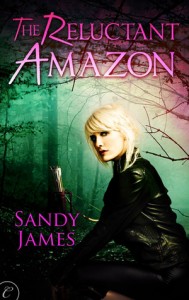 Marlene: What can readers expect of The Reluctant Amazon?
Sandy: First and foremost, my books are romances. Yes, there is fantasy, but I try to keep the focus on the love story. As the series goes on, more and more things happen on the fantasy side, but my hero and heroine and their discovery of love drive the story forward.
What I hope readers find is twofold—a foray into mythology and its place in this modern world as well as a journey for my hero and heroine to find their way to a happily ever after.
Marlene: Could you introduce readers to Rebecca and Artair, the heroine and hero of The Relucant Amazon?
Sandy:  MacKay. My tribute to one of my favorite authors—Hannah Howell. I re-read her Murray series every summer. I wanted a Scottish hero without having to write solely about Scotland. So I found a way to take a Scottish laird from his time into ours.
Rebecca Massee is every woman, as normal as they come. Within her, as I believe is within all of us, is the spark of greatness. I just thrust her into a world where that spark had to catch fire.
Marlene: Rebecca, your heroine in The Reluctant Amazon, turns out to have some amazing superpowers. If you could have superpowers, which would you choose?
Sandy: What a great question!
I'd love to be able to blink my eyes and travel from place to place. The time I waste in cars and airplanes seems "lost" in some ways. That or…I'd love to snap my fingers and let all my students' papers grade themselves.
Marlene: Can you summarize The Reluctant Amazon for us twitterstyle (140 characters or less)?
Sandy: What happens when a kindergarten teacher finds out she's a superhero who is destined to save the world?
Marlene: Will there be more books in the Alliance of the Amazons series?
Sandy: Book 2—The Impetuous Amazon—releases on January 13th. That's Megan's story. She's the Fire Amazon. Gina—the Air Amazon—follows in May with The Brazen Amazon. The series finale is The Volatile Amazon, which is Sarita's story. She's the Water Amazon. I love that it's a "closed" series with a definite end. I honestly believe the last book is the best I've ever written. I take everything that was sprinkled throughout the first three books and let it all combust until it explodes!
Marlene: What is next on your schedule? What other projects do you have planned for the future?
Sandy: I have three new series I'm developing. The first is a futuristic series that I pitch as "Beauty and the Beast meets Falling Skies." The second is another fantasy series that involves characters stumbling across supernatural beings in very unusual ways and very "normal" places. The third is a contemporary romance series involving four friends who all travel very different paths in life as they search for love.
Marlene: Now can you tell us 3 reasons why people should read your books?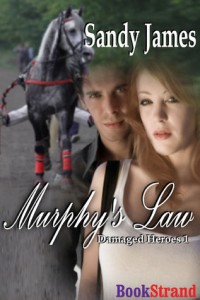 Sandy: Because I teach psychology, I believe my characters come across as "real people." I endow them with believable traits and personalities.
I have strong character arcs that allow my heroes and heroines to grow. For example, Murphy's Law was a hard sell to editors because Seth (the hero) is such a colossal jerk in the beginning. The book is all about Seth's transformation from spoiled rotten guy to hero. My editor made me cry when she told me his character arc was a "work of art."
I think I tell stories that are original because I take risks.  Most of my books take twists and turns that the readers often don't see coming. So I hope they enjoy surprises!
Marlene: Before I let you go, would you like to tell us a little bit about your horses?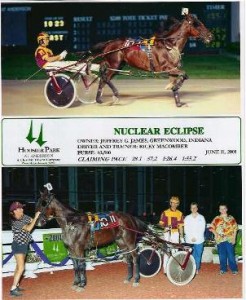 Sandy: My husband, Jeff, and I own a small stable of harness racing horses. I always consider acquiring those horses the result of my husband's mid-life crisis.
Right after we married, we moved to Chicago. The only people we knew there were my cousin and her husband, Mark O'Mara—one of the country's best harness drivers. We went to the track with them all the time and got addicted to the sport. Once we moved back to Indiana, we went to Off Track Betting to watch Mark and enjoy the races.
Then Jeff came home one day—right around his fortieth birthday—and said, "I want to buy a horse." Being an engineer, he'd analyzed the subject thoroughly. So…we bought one. I figured it was cheaper than a red sports car, and I wasn't about to let him get a trophy wife. Eleven years later, we're still in the business.
The Reluctant Amazon by Sandy James

The last thing Rebecca Massee expects on her wedding day is to go from jilted kindergarten teacher to Amazonian Earth warrior. But when she causes an earthquake after her groom says I don't, she discovers that not only does she possess incredible powers, she is one of four lost chosen sisters who must fight to keep humanity safe from rogue gods and demons. Luckily she has help: ruggedly handsome Scottish warrior Artair MacKay, her protector and teacher.

An immortal, Artair has trained countless warriors for more than four hundred years. He understands Rebecca's confusion at the new world she's been thrust into and worries she is too emotionally vulnerable, but that doesn't stop his growing feelings for the beautiful and fearless woman.

When an evil force threatens to destroy the Amazons, Rebecca must claim her full powers–but they come at a cost. Can she sacrifice the man she loves if it means saving the world?
~~~~~~~~~~~~~~~~~~~~~~~~~~~~~~~~~~~~~~~~
~*~*Giveaway*~*~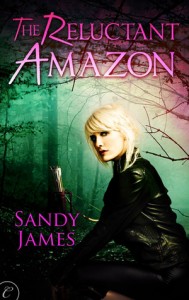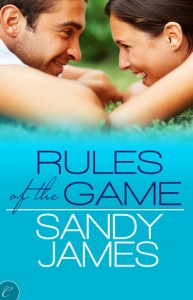 Sandy has generously the winner's choice of one ebook copy of either The Reluctant Amazon or Rules of the Game!
All you have to do is answer this question and tell us: If you could have superpowers, which would you choose?
(You can read our full giveaway policy here)
Please be sure to include a valid email address in the comment form (need not be in the actual body of the comment).
This giveaway is open to all!
Giveaway ends on Saturday, 3 November 2012; we will announce the winner on Sunday.
Good luck!