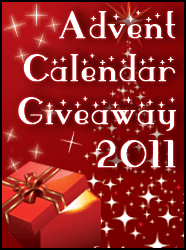 Welcome to the fourth day of Book Lovers Inc Advent Calendar. Each day we will offer you one great read in a giveaway on all 24 days till Christmas.
Today you will have the chance to win a copy of Settling. It's a YA novel that totally rocked my world. This book will make you scream for more.
Purchasing Info: Author's Website, Amazon, Goodreads

Book Blurb:
At the beginning of the summer, Clio Kaid was one of a hundred teens brought to a secret Army installation.
But it was no ordinary camp and they weren't ordinary kids…

Soon after learning they were the products of a secret genetic experiment, the teens began developing super-abilities ranging from bounding lightness to blocking heaviness; blinding brilliance and the ability to vanish. These same gifts made them targets of a psychopath in officer's clothing, and they found themselves fighting for their lives.

Picking up where "Solid" left off, Clio and her friends realize that they aren't ready to go home; they're determined to stay on campus and continue their journey of self- discovery. But someone doesn't feel the same way and will do anything to drive them away – even kill.

Friendships will be tested, abilities will evolve, and more secrets will come out as the teens race to stop the killer before he sets his sights on one of them…
The Review:
O.M.G O.M.G. O.M.G. !!! I love this series! *takes a deep breath * Seriously, I love this series! I know this phrase gets used a lot. But really, I just can't stop myself from reading it. The more and more I read, the more questions I have. Then more things progress in the characters. The more I end up with more questions. The more possibilities that pop up. Key word….. MORE! Read the rest of the review.
~~~~~~~~~~~~~~~~~~~~~~~~~~~~~~~~~~~~~~~~
~*~*Giveaway*~*~

Thanks to Shelley we have a signed paperback copy of Settling+ some swag  for one lucky commenter!
All you have to do is tell us about your funniest Holiday memory.
(You can read our full giveaway policy here)
Please enter a valid email addy when placing your comment  so we can inform you if you win.
This giveaway is open to everyone!
Giveaway ends on Saturday, December 17th and we will announce the winner on Sunday.
Good luck!