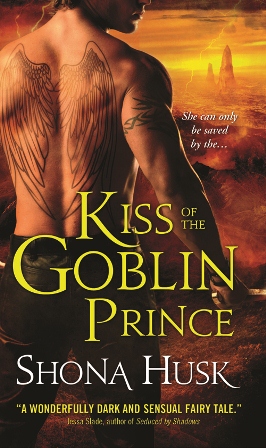 Format Read:egalley from NetGalley
Number of Pages:352 p.
Release Date:May 1, 2012
Publisher:Sourcebooks Casablanca
Series: Shadowlands #2
Genre: paranormal romance
Formats Available: Mass Market paperback, ebook
Purchasing Info: Goodreads, Author's Website, Amazon , Barnes & Noble, Book Depository
Book Blurb:
Trapped for centuries in the bleak Shadowlands, Dai clings to his humanity with a thirst for knowledge. But now he's free of the goblin curse, and some would say he knows too much—he can make nature bend to his will, influence the minds of others, and command magic. Yet love eludes him. Then he meets Amanda, a single mother with a sick daughter whom he feels compelled to protect. But could she possibly place her trust in the kiss of a goblin prince?



My Thoughts:

Kiss of the Goblin Prince is even better than The Goblin King, and The Goblin King was awfully, awfully good.
Okay, now that I've got that out of the way, …

5 Stars,featured,Shona Husk,The Rocket Lover

22 May 2012

6 comments