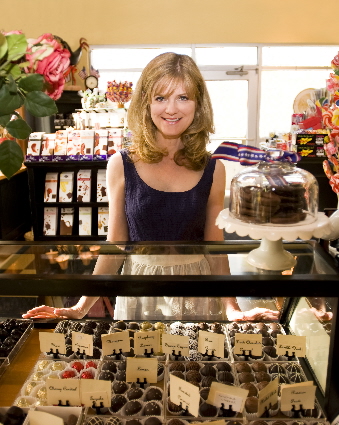 Today we are very excited to welcome Suzanne Selfors to Book Lovers Inc! Of course we're excited, we're all hyped up on lots of yummy chocolate after reading her delightfully delicious chocolate-covered fairy tale, The Sweetest Spell (review later today). But before the review, Suzanne is here to share with us how her desperate search for a midnight chocolate fix (can't we all relate?) led to this scrumptious story.
And if you're craving a little chocolate fairy tale of your own, just answer Suzanne's question for a chance at to win your very own copy of The Sweetest Spell!
Love + Chocolate = The Sweetest Spell
By Suzanne Selfors
How to take the fairy-tale formula of peasant girl meets prince and make it even more romantic? In my opinion, you add chocolate.
There are few things in life that stir such passion as a square of dark chocolate. I crave it. I LOVE it.
I'd …