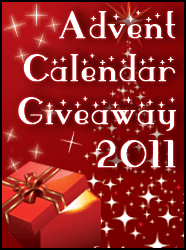 Welcome to the third day of Book Lovers Inc Advent Calendar. Each day we will offer you one great read in a giveaway on all 24 days till Christmas.
Today you will have the chance to win a copy of Touch of Frost, this first novel in Jennifer's Estep new Mythos Academy series.  Moe than one Book Lover nominated this book so you really should miss out on it. It gave me my interest in YA novels back- not an easy goal to achieve.
Purchasing Info: Goodreads, Amazon
, Book Depository (US), Book Depository (UK), Author's website

Book Blurb:
My name is Gwen Frost, and I go to Mythos Academy — a school of myths, magic and warrior whiz kids, where even the lowliest geek knows how to chop off somebody's head with a sword and Logan Quinn, the hottest Spartan guy in school, also happens to be the deadliest.

But lately, things have been weird, even for Mythos. First, mean girl Jasmine Ashton was murdered in the Library of Antiquities. Then, someone stole the Bowl of Tears, a magical artifact that can be used to bring about the second Chaos War. You know, death, destruction and lots of other bad, bad things. Freaky stuff like this goes on all the time at Mythos, but I'm determined to find out who killed Jasmine and why—especially since I should have been the one who died. . .
The Review:
Touch of Frost is the debut YA book by UF author Jennifer Estep and for me it felt like I was reading a Xena meets Veronica Mars meets the Vampire Academy books, and I loved it! The opening scenes with Gwen sussing and hunting on a case of a stolen bracelet. I loved that introduction and how cool and determined Gwen was and how she utilised her gift and I knew from that point that this was going to be a cool character, because she was an engaging narrator from the get go. Read the rest of the review.
~~~~~~~~~~~~~~~~~~~~~~~~~~~~~~~~~~~~~~~~
~*~*Giveaway*~*~

Thanks to Kensington we have a copy of Touch of Frost for one lucky commenter!
All you have to do is tell us what you favorite holiday decoration is (mine is a Rudolph ornament my mom always puts in the middle of her sitting room).
(You can read our full giveaway policy here)
Please leave us a way to contact you.
(Email in blogger profile or twitter name – no way to contact you – no entry).
This giveaway is open to everyone!
Giveaway ends on Saturday, December 17th, 2011 and we will announce the winner on Sunday.
Good luck!